About the continuing medical education
Based on the idea of life-long education, Shanghai Jiao Tong University School of Medicine established the the Continuing Education College by merging former College of Adult Education and College of Online Education. The college, since its inception, has been regarding Xi Jinping's thought of socialism with Chinese characteristics in the new era as the guidance, and the 14th Five-Year Plan of Shanghai Jiao Tong University School of Medicine as the blueprint. For the health industry, the college expands the scale of non-academic continuing education, improves the quality of education, and advocates the concept of life-long learning. It has developed into an indispensable part of first-class medical talents cultivation system. Also, it serves as a bridge and window for the School of Medicine to perform its social service function and is a base for continuing education to enhance medical leadership and job competency. All college faculties keep working hard, and are committed to standardized management, striving to build a connotative, professional and high-quality medical continuing education brand that matches the first-class medical school.
See Non-academic programs See CME programs
Education Principles
Focusing on medicine and sticking to professional development. Based on the field of medicine and health care, the college takes the path of medical specialization, focuses on its main responsibility and main business, integrates advantageous resources, expands core projects and establishes project clusters.

Forming the characteristics and sticking to connotative development. Taking the demand of economic and social development in healthcare as the starting point, the college promotes the connotative supply-side structural transformation, and gradually forms the characteristics of its education.

Building brand and sticking to high-quality development. The college, taking the demand of learners as the driving force and "famous teachers, famous courses and famous projects" as the goal, promotes the high-quality development of projects and builds the brand of Continuing Education of the School of Medicine.

Sticking to standardized management and sustainable development. The college gives priority to social benefits and takes economic benefits into accounts to promote sustainable development, establish rules and regulations, standardize management, and prevent the risk of running schools.
Organization Structure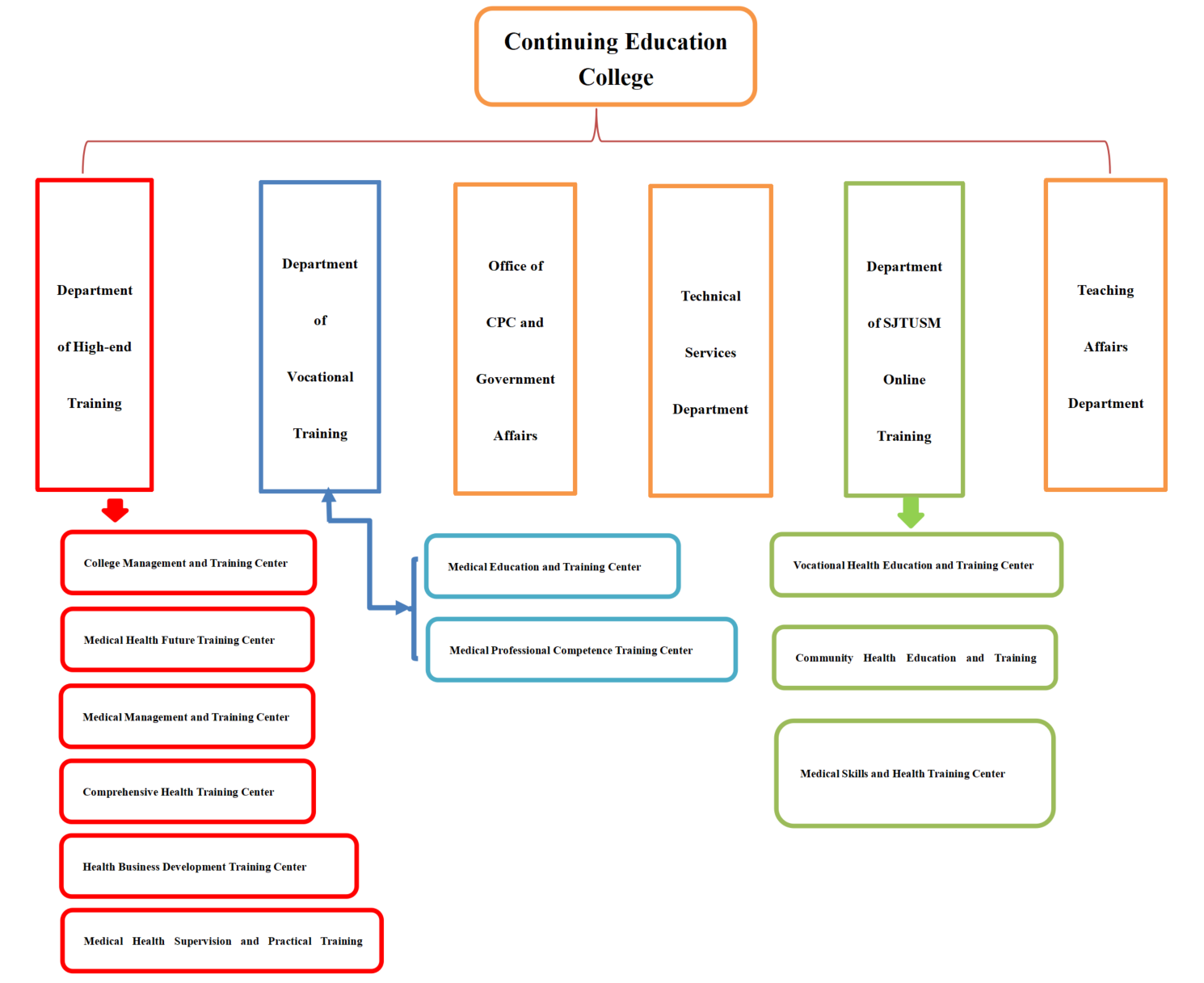 Future Planning
Community health services, occupational health management, parenting classes, international education and many other training programs with both personalized and social needs will be launched soon. These programs will not only satisfy public's aspirations for the hall of medicine, but also provide a broader space for the career of medical professionals. Please believe that every effort you make will lead you to success.
Contact
Find us at: https://www.shsmu.edu.cn/jx/
Dean's email: jjyz@shsmu.edu.cn
Address: No.1 Building, 227 South Chongqing Road, Huangpu District, Shanghai, China
Telephone:
+86 13817648807, Mr. Feng (High-end Training Department, Vocational Training Department, 021-63846590-776147)
+86 13917178269 Ms. Zhou (Online Training, 021-63846590-776184,)
Email:
fxy1977@shsmu.edu.cn (High-end Training Department, Vocational Training Department)
juliezn@shsmu.edu.cn (Online Training)