Tier 2 Professors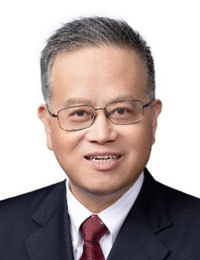 ZHANG Zhiyuan
Professor
Email:
Tel: 021-
Research Interests:
Biography
Professor ZHANG Zhi-yuan, Academician of Chinese Academy of Engineering, Distinguished Professor of Shanghai JiaoTong University, chief surgeon and doctoral supervisor.

From 1998 to 2014, he was the dean of Ninth People's HospitalAffiliated to Shanghai Jiaotong University School of Medicine. At present, he is the Academic Leader of Department of Oral and Maxillofacial Surgery, which is one of the National Key Disciplines. He is also the director of National Clinical Medical Research Center for Dental Disease, the director of National Research Center of Clinical Medicine for Oral Disease and Shanghai Key Lab of Stomatology. Currently, he serves as Honorary Chairman of Chinese Stomatological Association,Standing Council Member of Chinese Anti-cancer Association, Honorary Director of Head and Neck Tumor Committee,Fellowship of Royal Dental School of Edinburgh(UK), Fellow of the International College of Dentists, Honorary Fellow of College of Dental Surgeons, Hong Kong University, as well as Honorary Professor of Osaka Dental University in Japan and the Fourth Military Medical University in China. Meanwhile, Professor ZHANG is the Editor-in-Chief of Shanghai Journal of Stomatology, and the Editor-in-Chief of State-compiled Textbooks of Oral and Maxillofacial Surgery.

Professor ZHANG specializes in clinical and basic research of oral and maxillofacial-head and neck tumorsas well as hemangiomas and vascular malformations. He authors 334articles as the first author or the corresponding author, 124 of which have been indexed in SCI. Particularly, Prof. Zhang successfully carried outthe first prospective clinical trial of neoadjuvant chemotherapyin oral cancer in China. Thesefindings were publishedin well-known academic journals, such asJ ClinOncol, Cancer Reserch, Oncotargetand Carcinogensis. He is also the editor of 13 monographs, associate editor of 5 monographs, and co-author of 12 monographs (2 in English).

He has been awarded 19 research grants at national, provincial and ministerial level, including one National "863" Project, one National Key Technology Research and Development Project for the 11th Five-year Plan, two key projects from National Natural Science Foundation of China and five grants from National Natural Science Foundation.The honors and awards he has received include Second Prize for Science and Technology Advancement by Chinese Government (twice), First Prize for Science and Technology Advancement by Shanghai Municipal Government (twice), Second Prize of the National Science & Technology Award Nominated by Chinese Ministry of Education, First Prize of Shanghai Medical Science and Technology Advancement, Third Prize of Chinese Medical Science and Technology Award.

His work has been recognized by Award of Outstanding Young Expert conferred by the Chinese Ministry of Health, Medical Sciences and MateriaMedica Prize of Ho Leung Ho Lee Foundation, Outstanding Worker of National Science and Technology, Ten Elite Scholars of Shanghai Science and Technology. Six students have completed their postdoctoral research under his supervision, and fifty-five have received their doctoral degree, fifteen have received their master degree.