Ottawa-Shanghai Joint School of Medicine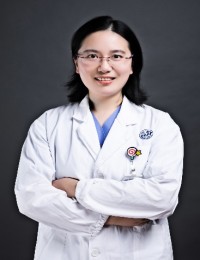 DAI Lan
Deputy chief physician
Email: cyunyan@126.com
Tel: 58752345
Research direction:Gynecologic tumor
Biography
Dr. Lan Dai, graduated from Shanghai Jiaotong University School of Medicine, received a Doctor degree in Obstetrics and Gynecology, and has been engaged in clinical work for more than 10 years. Currently, her clinical work focuses on comprehensive diagnosis and treatment of gynecological tumors, and she is good at laparoscopic gynecological surgery. Her research work focuses on the metastasis and drug resistance of epithelial ovarian cancer. She presided four projects, including programs of the National Natural Science Foundation of China and Provincial Natural Science programs, and published more than 10 SCI papers. She has received Shanghai "Medical Star" Award and Shanghai "Outstanding Young Physicians" Award.
Publications
Dai L, Wang C, Wang W, Song K, Ye T, Zhu J, Di W. Activation of SphK2 contributes to adipocyte-induced EOC cell proliferation. Open Med (Wars). 2022 Jan 31;17(1):229-238.

Dai L, Wang W, Liu Y, Song K, Di W. Inhibition of sphingosine kinase 2 down-regulates ERK/c-Myc pathway and reduces cell proliferation in human epithelial ovarian cancer. Ann Transl Med. 2021;9(8): 645.

Dai L, Wang C, Song K, Wang W, Di W. Activation of SphK1 by adipocytes mediates epithelial ovarian cancer cell proliferation. J Ovarian Res. 2021; 14(1): 62.

Dai L, Song K, Di W. Adipocytes: active facilitators in epithelial ovarian cancer progression? J Ovarian Res. 2020 Sep 23;13(1):115.

Song K, Dai L, Long X, Wang W, Di W. Follicle-stimulating hormone promotes the proliferation of epithelial ovarian cancer cells by activating sphingosine kinase. Sci Rep.2020; 10(1):62.

Song K, Dai L, Long X, Cui X, Liu Y, Di W. Sphingosine kinase 2 inhibitor ABC294640 displays anti-epithelial ovarian cancer activities in vitro and in vivo. Oncotargets and therapy. 2019; 12:4437-4449.

Dai L, Liu Y, Xie L, Wu X, Qiu L, Di W. Sphingosine kinase 1/sphingosine-1-phosphate (S1P)/S1P receptor axis is involved in ovarian cancer angiogenesis. Oncotarget. 2017 Aug 24;8(43):74947-74961.

Dai L, Lou W, Zhu J, Zhou X, Di W. MiR-199a inhibits the angiogenic potential of endometrial stromal cells under hypoxia by targeting HIF-1α/VEGF pathway. Int J Clin Exp Pathol. 2015 May 1;8(5):4735-44.

Dai L, Xia P, Di W. Sphingosine 1-phosphate: a potential molecular target for ovarian cancer therapy? Cancer Invest. 2014 Mar;32(3):71-80.

Dai L, Qi Y, Chen J, Kaczorowski D, Di W, Wang W, Xia P. Sphingosine kinase (SphK) 1 and SphK2 play equivalent roles in mediating insulin's mitogenic action. Mol Endocrinol. 2014 Feb;28(2):197-207.

Gu L, Dai L, Cao C, Zhu J, Ding C, Xu HB, Qiu L, Di W. Functional expression of TWEAK and the receptor Fn14 in human malignant ovarian tumors: possible implication for ovarian tumor intervention. PLoS One. 2013;8(3): e57436.

Dai L, Gu L, Di W. MiR-199a attenuates endometrial stromal cell invasiveness through suppression of the IKKβ/NF-κB pathway and reduced interleukin-8 expression. Mol Hum Reprod. 2012 Mar;18(3):136-45.

Dai L, Gu L, Ding C, Qiu L, Di W. TWEAK promotes ovarian cancer cell metastasis via NF-kappaB pathway activation and VEGF expression. Cancer Lett. 2009 Oct 8;283(2):159-67.