Ottawa-Shanghai Joint School of Medicine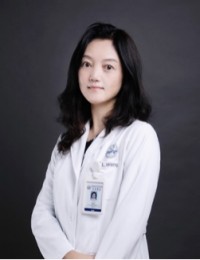 WANG Ling
Deputy chief physician
Tel: 13816817552
Email: shwangling@126.com
RESEARCH INTERESTS:Kidney Disease
Biography
Wang Ling: Female, MD&PhD, associate chief physician of nephrology department in Renji hospital Shanghai Jiaotong University School of Medicine, mainly engaged in clinical and basic research of acute kidney injury and chronic kidney diseases. The latest researches were published in Journal of American Society of Nephrology, Journal of American Society of Hypertension, American Journal of Nephrology and other core journals such as Chinese Medical journal and Chinese medical journal of nephrology, and have been conducted many academic exchanges in the international and domestic academic conferences as well. Won international prizes such as development prize, best abstracts awards and travel grants et al.

She graduated from Shanghai Jiaotong University School of Medicine and received her PhD degree of nephrology in 2009, and from 2013-2014, she was sent to Yale University School of Medicine to work as a visiting scholar by funding from ministry of education. She was also trained as a teacher in nephrology in Ottawa University School of Medicine in 2017.

As the project leader, she presided over the projects of Shanghai Science and Technology Commission and Shanghai Health Bureau, and participated in the National Natural Science Foundation of China project as the main creator. As the main member of the project team, she won the Shanghai Science and Technology Progress Award and China Science and Technology Progress Award. Responsible for the daily work of clinical treatment in the department, including outpatient department, ward, hemodialysis, abdominal dialysis, emergency department, responsible for the diagnosis and treatment of clinical patients, and the specific implementation of several clinical research topics.
Publications
Wang L, Velazquez H, Moeckel G, Chang J, Ham A, Lee HT, Safirstein R, DesirGV. Renalase prevents AKI independent of amine oxidase activity. J Am Soc Nephrol. 2014 Jun;25(6):1226-35.

Wang L, Qi C, Zhang M, Shao X, Chang X, Fan Z, Cao Q, Mou S, Wang Q, Yan Y, Desir G, Ni Z. Serum Renalase Levels Correlate with Disease Activity in Lupus Nephritis. PLoS One. 2015 Oct 2;10(10):e0139627.

Ling W, Zhaohui N, Ben H, Leyi G, Jianping L, Huili D, Jiaqi Q. Urinary IL-18 and NGAL as early predictive biomarkers in contrast-induced nephropathy after coronary angiography. Nephron Clin Pract. 2008;108(3):c176-81. Epub 2008 Feb 21. PMID: 18287807.

Huang G, Bao J, Shao X, Zhou W, Wu B, Ni Z, Wang L*. Inhibiting pannexin-1 alleviates sepsis-induced acute kidney injury via decreasing NLRP3 inflammasome activation and cell apoptosis. Life Sci. 2020 Aug 1;254:117791.

Wang L, Ni Z, Xie Z, Yang F, He B, Liu J, Dai H, Qian J, Jia M. Analysis of the urine proteome of human contrast-induced kidney injury using two-dimensional fluorescence differential gel electrophoresis/matrix-assisted laser desorption time-of-flight mass spectrometry/liquid chromatography mass spectrometry. Am J Nephrol. 2010;31(1):45-52. .Wang L, Velazquez H, Chang J, Safirstein R, Desir GV. Identification of a receptor for extracellular renalase. PLoS One. 2015 Apr 23;10(4): e0122932

Yin J, Wang F, Kong Y, Wu R, Zhang G, Wang N, Wang L, Lu Z, Liang M. Antithrombin III prevents progression of chronic kidney disease following experimental ischaemic-reperfusion injury. J Cell Mol Med. 2017 Dec;21(12):3506-3514.

Xiaojia Guo, Ling Wang, Heino Velazqueza, et al. Renalase: its role as a cytokine, and an update on its association with type 1 diabetes and ischemic stroke. Curr Opin Nephrol Hypertens. 2014; 23(5):513-518

Desir GV, Wang L, Peixoto AJ. Human renalase: a review of its biology, function, and implications for hypertension. J Am Soc Hypertens. 2012; 6(6):417-26

Ling Wang, Zhaohui Ni et al. Analysis of the urine proteome of human contrast induced kidney injury using 2-D fluorescence differential gel electrophoresis/ MALDI-TOF MS/ LC MS,Am J Nephrol 2010;31:45–52

Ling Wang, Zhaohui Ni, Ben He, et al: Urinary IL-18 and NGAL as early predictive biomarkers of acute kidney injury in contrast induced nephropathy after coronary angiography. Nephron Clinical Practice. 2008;108:c176-c181

Ling Wang, Zhaohui Ni, Zhensheng Xie. Identification of Mannose binding lectin by two-dimensional fluorescence difference in gel electrophoresis analysis of the urine proteome of contrast induced kidney injury. J Am Soc Nephrol. 2008; 19: 634A(SCI-Ab)

Ling Wang, Zhaohui Ni, Ben He, et al: Urine IL-18 predicts CIN 24 hours earlier than SCr and also correlated with later cardiac events. J Am Soc Nephrol. 2007; 18(10):796A (SCI-Ab)

Ling Wang, Zhaohui Ni, Zhengsheng Xie, et al. Research of different expressed urine protein of contrast induced acute kidney injury by 2D-DIGE and mass spectrometry. Chinese Journal of Medicine.2012; 32:2250-2253.

Ling Wang, Zhaohui Ni, Shan Mou, et al: Urinary proteomic research based on two dimensional fluorescence differential gel electrophoresis. Chinese Journal of blood purification. 2009,8(7)382-385 (In Chinese)

Ling Wang, Zhaohui Ni, Ben He, et al: The differences before and after coronary angiography of NAG and RBP and the predictive values in contrast induced nephropaty. Clinical medicine of China. 2009,25(9):904-907(In Chinese)

Ling Wang, Zhaohui Ni, Ben He, et al: Clinical study of contrast induced nephropathy in patients undergoing coronary intervention. Chinese Journal of Practical Internal Medicine.2006; 26, (S2):25-28 (In Chinese)

Ling Wang, Zhaohui Ni, Ben He, et al: Implication of urine IL-18 in early diagnose of Contrast induced nephropathy after coronary angiography. Chinese Journal of Nephrology. 2007; 23(12): 733-777(In Chinese)

Ling Wang, Zhaohui Ni, Ben He, et al: Contrast induced nephropathy and its advancement. Chinese Interventional Radiology. 2007;16 (1):66-69 (In Chinese)

Ling Wang, Zhaohui Ni: Immune response gene polymorphism and acute renal failure. International Journal of Urology and Nephrology. 2007; 01:97-100 (In Chinese)

Ling Wang, Shunhe Zhu, Ying Zhuang, et al: Effects of milrinone on worsening chronic heart failure with prolonged ß-blocker treatment. Journal of Clinical Emergency Call. 2007;8(5):266-268 (In Chinese)

Ling Wang, Li Liu, Shenxiang Dong, et al: Investigation of 100 patients with cerebral infarction complicating atrial fibrillation. Guide of China Medicine. 2005;9:1054-1056 (In Chinese)
Honors/Certification
"Renalase protects proximal tubule cells from cisplatin induced apoptosis in vivo and invitro" Travel Grant award from International Society of Nephrology World congress of Nephrology, 2013

"Analysis of urinary proteomic profiles between progrssive and non-progressive IgA nephropathy by 2D-DIGE and MALDI -TOF- MS Best abstract award from Asian Society of Nephrology in 2011

Best 10 abstracts award: 11th Asian Pacific Conference of Nephrology, May 2008

Development award: 11th Asian Pacific Conference of Nephrology, May 2008

3rd best paper award: Conference of Shanghai association of Critical Care Medicine, 2006

Board certified in Medical Doctor, China Board of Emergency Medicine Diplomat, 2000

Board certified in College Assistant Professor, Bureau of Education, China, 2001
Rencent Research Support:
2014 Shanghi Scientific committee"Renalase peptide regulate macrophage through NLRP3-Caspase1 pathway and the mechanism in fibrosis"(PI)Grant No:14ZR1424800

2013 National Nature Science Fund "NLRP3 and inflamasom in CI-AKI and its mechanism in chronic kidney fibrosis" (Co-PI) Grant No:81370794

2012 Shanghai Health Bureau "Prevent CKD progression before and after hospitalization by western and Chinese traditional medicine"(PI)Grant No:ZYSNXD-CC-ZDYJ002

2011 National Nature Science Fund "The different expression of peroxisome during acute kidney injury and its mechanism of anti-oxidation" (Co-PI) Grant No:81070548

2010 Shanghai education bureau:The different expression of urinary proteomic of Contrast induced acute kidney injury. (PI) Grant No:06BZ028