Ottawa-Shanghai Joint School of Medicine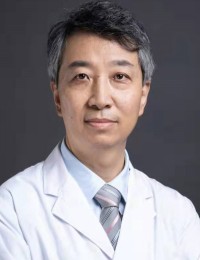 LU Winchi
Doctoral advisor
Email: 2429451757@qq.com
Tel: 13501803228
RESEARCH INTEREST: Epilepsy
Biography
Dr. LU, Qinchi is currently appointed as a Chief Neurologist in Department of Neurology, Renji Hospital and Joint Professor for Shanghai Ottawa School of Medicine. He was graduated from Shanghai Second Medical College and received his Medical Degree in 1987. He received his M.Sc degree in Neuroscience from Shanghai Second Medical University Graduate School in 1992. Dr. Lu obtained his Ph.D degree in Neurology from Shanghai Jiaotong University Graduate School in 2010. Dr Lu was a visiting professor in Truman Medical Center of University of Missouri School of Medicine in Kansas City, Health Science Center in Brooklyn, and the Hospital for Sick Children of University of Toronto during 1990-1999.

Dr. Lu is a clinical chief consultant neurologist and he takes care of neurological patients especially in epilepsy subspecialty. He is a teaching professor for medical students in the courses of Neurology as well as Palliative Medicine. Dr. Lu is also doing scientific research in basic as well as clinical research in the areas of Neuroscience and focus on epilepsy. He is a mentor for master and Ph.D students. Dr. Lu has many publications for scientific research paper .

Dr. Lu are members for Chinese Association of Anti-Epilepsy (CAAE), Chinese Physician Association as well Chines Medical Committee . He is also an editor for several medical journals and served as expert for National Research Funding.
Publications
Yan-Yan Chang,Xin-Wei Gong,Hai-Qing Gong,Pei-Ji Liang,Pu-Ming Zhang,Qin-Chi Lu( correspondence author).GABAA Receptor Activity Suppresses the Transition from Interictal to Ictal Epileptiform Discharges in Juvenile Mouse Hippocampus. Neurosci. Bull. https://doi.org/10.1007/s12264-018-0273-z(2018)

Jing Zou, Xinxin Wang, Ligang Huang, Juan Liu, Yingying Kong, Shengtian Li Qinchi Lu ( correspondence author)Kininogen Level in the Cerebrospinal Fluid May Be a Potential Biomarker for Predicting Epileptogenesis. Frontiers in Neurology.doi: 10.3389/fneur.2019.00037

Ligang Huang,Jing Zou, Qinchi Lu ( correspondence author) Silencing rno-miR-155-5p in rat temporal lobe epilepsy model reduces pathophysiological features and cell apoptosis by activating Sestrin-3.Brain Research 1689(2018):109-122

Ligang Huang,Xingxing Wang, Jiajia Li, Jing Zou, Qinchi Lu ( correspondence author)..Dysregulation of miR-1304-3p in hippocampus and serum of patients with intractable epilepsy.Int J Clin Exp Pathol.2017;10(4):4263-4272

Xing-xing Wang,Yonghua Li,Haiqin Gong, Pei-ji Liang ,Pu-Ming Zhang, Qin-Chi Lu ( correspondence author).The Subiculum: A Potential Site of Ictogenesis in a Neonatal Seizure Model Front Neurol. 2017; 8: 147