Ottawa-Shanghai Joint School of Medicine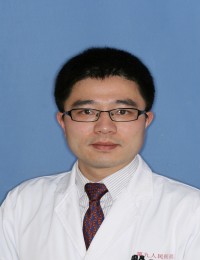 HU Jingzhou
Professor/ Chief Physician
Email: huyayi@163.com
Biography
Dr. Hu Jingzhou received his M.D./Ph.D. from Shanghai Jiao Tong University School of Medicine in 2007. He once worked at the Head and Neck Surgery Department of The University of Texas MD Anderson Cancer Center as a Visiting Scientist from 2012 to 2013. Currently, Dr. Hu is a Chief Physician and the Deputy Director of the Teaching and Research Office at the Department of Oral & Maxillofacial Head Neck Oncology, Shanghai Ninth People's Hospital, and also an instructor at Shanghai Jiao Tong University School of Medicine.

Dr. Hu's primary clinical interests have been in the surgical management of benign and malignant tumors in oral and maxillofacial-head and neck regions and the reconstruction of maxillofacial defects. His research studies are focused on two core areas related to clinical interests. One is clinical immunology of oral and maxillofacial-head and neck tumors. Particularly, he and his team have been working on the complex mechanisms of interferon-alpha (IFNα), which leads IFNα to function as a double-edged sword in head and neck squamous cell carcinoma (HNSCC). He and his team revealed that IFNα had a synergistic antitumor effect with epidermal growth factor receptor (EGFR)-targeting therapies in HNSCC, and endogenous IFNα-induced PD-L1 and PD-1 expression is an immunosuppression mechanism in HNSCC. He also works on the resistant mechanism of EGFR-targeting therapies in HNSCC. The other area is the maxillofacial region tissue engineering. In particular, he has worked on searching for alternative biomaterials that are degradable and have biological activity in the healing procedure of fractures and bone defects. Recently, he and his team have been interested in developing a multifunctional cancer theranostic nanoplatform, which combines hyperthermia and chemotherapy under magnetic control.

Dr. Hu has been serving on the editorial board of several scientific journals and has published scores of peer-reviewed journal papers. He has received 3 programs from the National Natural Science Foundation of China and 1 program from the Natural Science Foundation of Shanghai. He is the Vice Chairman of the Head and Neck Cancer Committee of China Medicine Education Association.
Major Publications
Ju H, Hu Z, Wei D, Huang J, Zhang X, Rui M, Li Z, Zhang X*, Hu J*, Guo W, Ren G*. A novel intronic circular RNA, circGNG7, inhibits head and neck squamous cell carcinoma progression by blocking the phosphorylation of heat shock protein 27 at Ser78 and Ser82. Cancer Commun (Lond). 2021 Nov;41(11):1152-1172.

Liu, S; Wang, Y; Han, Y; Xia, W; Zhang, L; Xu, S; Ju, H; Zhang, X; Ren, G; Liu, L; Ye, W*; Zhang, Z*; Hu, J. *; EREG-driven oncogenesis of Head and Neck Squamous Cell Carcinoma exhibits higher sensitivity to Erlotinib therapy, Theranostics, 2020, 10(23): 10589-10605

Ma, Hailong*; Chang, Hanyue; Yang, Wenyi; Lu, Yusheng; Hu, Jingzhou*; Jin, Shufang*; A novel IFNα-induced long noncoding RNA negatively regulates immunosuppression by interrupting H3K27 acetylation in head and neck squamous cell carcinoma, Molecular Cancer, 2020, 19(1): 4

Ma Hailong; Yang Wenyi; Zhang Liming; Liu Shuli; Zhao Mei; Zhou Ge; Wang Lizhen; Jin Shufang; Zhang Zhiyuan*; Hu Jingzhou*; Interferon-alpha promotes immunosuppression through IFNAR1/STAT 1 signalling in head and neck squamous cell carcinoma, British Journal of Cancer, 2019, 120(3): 3 17-330

Ma Hailong; Jin Shufang; Yang Wenyi; Zhou Ge; Zhao Mei; Fang Sijie; Zhang Zhiyuan*; Hu Jingzhou*; Interferon-alpha enhances the antitumour activity of EGFR-targeted therapies by upregulating RIG-I in head and neck squamous cell carcinoma.[J] .Br J Cancer, 2018, 118: 509-521.

Yang Wenyi; Jiang Chunlan; Xia Weiya; Ju Houyu; Jin Shufang; Liu Shuli; Zhang Liming; Ren Guoxin; Ma Hailong*; Ruan Min*; Hu Jingzhou*; Blocking autophagy flux promotes interferon-alpha-mediated apoptosis in head and neck squamous cell carcinoma.[J] .Cancer Lett, 2019, 451: 34-47.

Wenwen Jia; Yiyao Qi; Zhenrong Hu; Zuquan Xiong; Zhenyi Luo; Zhen Xiang; Hu Jingzhou*; Wei Lu*; Facile fabrication of monodisperse CoFe2O4 nanocrystals@dopamine@DOX hybrids for magnetic-responsive on-demand cancer theranostic applications, Advanced Composites and Hybrid Materials, 2021, (41): 1-13