Ottawa-Shanghai Joint School of Medicine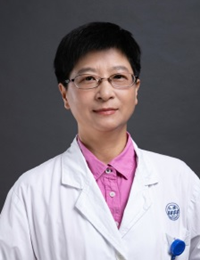 QIN Hui
Email: drqinhui@126.com
Tel: 15000663758
Research Interests: 慢性阻塞性肺疾病,支气管哮喘,肺部肿瘤,气管镜下介入诊治
Biography
Professor Qin Hui, Doctor of Medicine, chief physician, deputy director of the Respiratory department of Shanghai Jiao Tong University, School of Medicine, Ren Ji Hospital.
She has a long career in the respiratory medicine in the fields of clinical, teaching and basic research aspect. She went to the United State as visitor scholar for interventional operation of bronchoscopy in 2014. She is an expert in the fields of chronic obstructive pulmonary disease, asthma, lung tumor diseases and complicated bronchoscopy operations. She has worked as project leader and participant in several National and Shanghai scientific research projects. At present, she is a member of COPD group of Respiratory Disease Special Committee of Shanghai Medical Association, a member of Young Chinese Medical Association, a member of Shanghai Chronic Obstructive Pulmonary Disease Alliance, and a member of Chronic Respiratory Disease Group of Chronic Disease Prevention Branch of National Health Industry Enterprise Management Association.
Publications
Qin Hui; Xu Xiaoping; Zou Jing; Zhao Xuqi; Wu Huawei; Zha Qiongfang; Chen Shen; Kang Yu; Jiang Handong*; Krebs von den Lungen-6 associated with chest high-resolution CT score in evaluation severity of patients with interstitial lung disease. Pulmonology. 2019, 25(03):143-148.

Chen Bi; You Wenjie; Xue Shan; Qin Hui; Zhao Xuji; Zhang Miao; Liu Xueqing; Zhu Shuyan; Jiang Handong *; Overexpression of farnesoid X receptor in small airways contributes to epithelial to mesenchymal transition and COX-2 expression in chronic obstructive pulmonary disease, J Thorac Dis,2016 ,8(11):3063-3074.

Ye Qing; Li Yanqin *; Jiang Handong; Xiong Jiangfei; Xu Jiabo; Qin Hui; Liu Bin; Prevention of Pulmonary Fibrosis via Trichostatin A (TSA) in Bleomycin Induced Rats,Sarcoidosis Vasc Diffuse Lung Dis, 2014, 31(03):219-226.

Qin Hui; Guo Qiang *; Shen Nan *; Huang Xinfang; Wu Huawei; Zhang Minfang; Bao Chunde; Chen Shunle; Chest imaging manifestations in lupus nephritis, Clin Rheumatol, 2014, 33(06): 817-823.