Ottawa-Shanghai Joint School of Medicine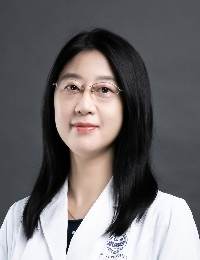 PANG Huihua
Associate Chief Physician
Email: dingsong1105@163.com
Tel: 13917180312
Research Interests: Interventional treatment of coronary heart disease and structural heart disease; intravascular luminal imaging and functional assessment and intervention; basic research and clinical translation of cardiovascular disease.
Biography
Pang Huihua, Nephrologist, Medical doctor,

Associate Chief Physician in Nephrology Division, Renji Hospital, Shanghai jiaotong university, School of Medicine,

Committee of Shanghai Medical Association Nephrology Specialty Society, Pudong Society

Specialist member of Chinese Medical Association Nephrology Specialty Society

Member of Chinese Medical Doctor Association

Specialist member of Shanghai Medical Association Nephrology Specialty Society
Dr. Pang graduated from Shanghai 2nd medical university and got her master degree in 1998, then got the doctor degree in 2003. She worked as a nephrologist from 1998, then attending doctor in Renal department of Renji Hospital from 2005, associate chief physician from 2019. She has been worked in Tokyo Juntendo University as a visiting scholar sending by Chinese Ministry of Health 2006-2008。In 2016, she has served as the head of medical team to Mouding county, Yunnan province for 6 months; it was a government-backed poverty alleviation project.
Dr. Pang has extensive knowledge in primary and secondary kidney disease, including lupus nephritis, diabetic nephropathy, acute and chronic renal failure, etc. Strong experience with clinical practice of hemodialysis and peritoneal dialysis.
Publications
Yes-associated protein regulates podocyte cell cycle re-entry and dedifferentiation in adriamycininduced nephropathy. Death and Disease, 2019

Protein Kinase A/CREB Signaling Prevents Adriamycin-Induced Podocyte Apoptosis via Upregulation of Mitochondrial Respiratory Chain Complexes. Molecular and Cellular Biology, 2018

Assessment of volume status on maintenance hemodialysis patients. Journal of Shanghai Jiaotong University (Medical Science) , 2018

Prognostic Value of the Delivery Dialysis Dose on Twice-Weekly Hemodialysis Patients. American Journal of Nephrology, 2017

Application of objective score of nutrition on dialysis for evaluating nutritional status in maintenance hemodialysis patients for 75 cases. Chinese Journal of Clinical Nutrition, 2012

Study of sleep quality and daytime sleepiness in maintenance hemodialysis patients. Chinese Journal of Nephrology, 2010

Body composition changes in maintenance hemodialysis patients with metabolic syndrome. Chinese Journal of Blood Purification, 2010

Prevalence of metabolic syndrome and analysis of risk factors among patients with maintenance hemodialysis. Journal of Shanghai Jiaotong University (Medical Science), 2010

Clinical application of new type peritoneal dialysate. Chinese Journal of Blood Purification, 2010

Assessment of statistical methods of peritonitis rate in peritoneal dialysis. Chinese Journal of Nephrology, 2004

Monitoring of permanent vascular access function in hemodialysis. Acta Universitatis Medicinalis Secondae Shanghai, 2000

Factors associated with arteriovenous fistula in hemodialysis. Chinese Journal of Nephrology,1999