Ottawa-Shanghai Joint School of Medicine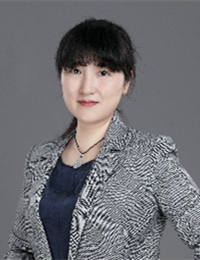 ZHU Lina
Deputy chief physician
Email: linazhu@126.com
Tel: 13391001807
Research Fields: Ophthalmology
Biography
Dr Lina zhu ,deputy chief physician of Ophthalmology of Renji Hospital
Member of Glaucoma Group of Ophthalmology Society of Shanghai Medical Association
Content Expert of Ophthalmology of OSJSM
Editor of 《Eye Science》
Chicago eye center& eye center of UPMC Pittsburgh USA (2016)
University of Ottawa Faculty of Medicine(2017) -shadowing
Major in Glaucoma &Cataract surgery &Retina Disease &Lacrimal duct Disease &Ocular surface Disease& Ametropia
Publications
Lou D, Zhu L, Ding H et al. Aberrant expression of redox protein Ape1 in colon cancer stem cells.Oncol Lett. 2014 Apr;7(4):1078-1082.

Zhu L, Ao J, Li P. A novel in situ gel base of deacetylase gellan gum for sustained ophthalmic drug delivery of ketotifen: in vitro and in vivo evaluation.Drug Des Devel Ther. 2015 Jul 29;9:3943-9..

Jiang S, Zhu L, Tang H et al. Ape1 regulates WNT/β-catenin signaling through its redox functional domain in pancreatic cancer cells. Int J Oncol. 2015 Aug;47(2):610-20.

Yang H, Wu LM ,Zhu L et al . Anti-inflammatory protein TSG-6 secreted by bone marrow mesenchymal stem cells attenuates neuropathic pain by inhibiting the TLR2/MyD88/NF-κB signaling pathway in spinal microglia. Journal of Neuroinflammation 2020,17(1):154.

Wang S, Zhou H, Zheng L, Zhu W, Zhu L et al.Global Trends in Research of Macrophage Associated With Acute Lung Injury Over Past 10 Years: A Bibliometric Analysis. Front Immunol. 2021 May 20;12:669539.

Huimin Deng, Lina Zhu et al, Differential Lung Protective Capacity of Exosomes Derived from Human Adipose Tissue, Bone Marrow, and Umbilical Cord Mesenchymal Stem Cells in Sepsis-Induced Acute Lung Injury. Oxidative Medicine and Cellular Longevity, vol. 2022, Article ID 7837837.

Shi X, Zhu L, et al. Magnesium Hydride Ameliorates Endotoxin-Induced Acute Respiratory Distress Syndrome by Inhibiting Inflammation, Oxidative Stress, and Cell Apoptosis. Oxid Med Cell Longev. 2022 Apr 26;2022:5918954.