Ottawa-Shanghai Joint School of Medicine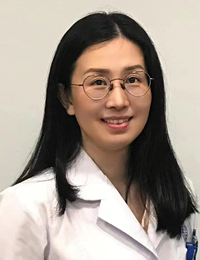 GENG Jieli
Email: gengjieli@renji.com
Tel: 13761960947
Research Fields: 认知障碍
Biography
I have more than 20 years of clinical working experience in Neurology department which gives me extensive clinical knowledge and strong communication skills with patients and their families. I received my Ph.D. in neurology at Shanghai Jiaotong University School of Medicine in 2015. My dissertation was about the endothelial progenitor cells therapy on the stroke mice. After that, I focused on clinical work and clinical research about cognitive impairment. Also, I was a visiting scholar in Sunnybrook Research Institute, University of Toronto in 2019. My research there was the image study of the post stroke cognitive impairment.
Clinical work
I have solid training in clinical neurology department. My routine job is shifting among the neurology emergency department, neurology inpatient ward and neurology clinics (general outpatient clinic and memory clinic).
I have been focusing on the following parts of clinical work:
‐Evaluation of dementia: to assess the cognitive impairment by some screening tests, like MMSE, MoCA, Clock test, TMT, Stroop C, DST, Digital span, BNT, AVLT, Rey-O and HAMD, etc.
‐Cause of dementia: to identify conditions and diseases that cause symptoms of dementia or mimic dementia by medical history, blood test and brain image.
‐Treatment for dementia: to treat potentially reversible dementias including nutritional deficiencies, autoimmune encephalitis, normal pressure hydrocephalus (referral to neurosurgery), neurosyphilis (referral to dermatology department), etc.; to treat vascular dementia by prevention of stroke; to prescribe some medications to slow down the cognitive decline; to help patients and their care-givers by patient education.
‐Primary and secondary prevention of stroke: to improve the quality of care for stroke patients, to bridge the gap of evidence-based medicine in stroke management in community hospital.
Clinical research
I also have been focusing on the following part of clinical research:
‐to determine whether brain MRI or PET-based information yield insights into the characteristic and outcome prediction of cognitive impairment.
I am the principal investigator of an ongoing phase II clinical trial of an Alzheimer's disease medicine.
Teaching experience
I have been involved in neurology teaching at Jiao Tong University School of Medicine for more than ten years. I had been a principle lecturer in Neurology for 3 years.

I took Shadowing Program at University of Ottawa in March 2016. In the process, I learned various teaching methods (CBL, PSD, UDA, LAB, etc.). I also gave lectures on some parts of "Introduction to Neurology" at Ottawa-Shanghai Joint School of Medicine.

Adjunct Professor in the department of Innovation in Medical Education, Faculty of Medicine, University of Ottawa. (2017.9.1-2022.8.31)
Publications
Wang LP, Geng J, Liu C, Wang Y, Zhang Z, Yang GY. Diabetes Mellitus-Related Neurobehavioral Deficits in Mice Are Associated With Oligodendrocyte Precursor Cell Dysfunction. Front Aging Neurosci. 2022 May 25;14:846739. (co-corresponding author)

Bai S, Zhi N, Geng J, Cao W, Chen G, Song Y, Wang L, Liu W, Guan Y. Distinct roles of right temporoparietal cortex in pentagon copying test. Brain Imaging Behav. 2022 Jan 27.

Geng J, Honjo K, Gao F, Ramirez J, Holmes M, Adamo S, Ozzoude M, Scott C J, Goubran M, Nyenhuis D L, Black S E. Abstract P359: Secondary Thalamic Atrophy Related to Brain Infarction is Associated With Post-Stroke Cognitive Impairment. Stroke, 2021, 52(Suppl_1): AP359.

Zhi N, Zhang L, Wang Y, Bai S, Geng J, Yu L, Cao W, Zhuang L, Zhou Y, Guan Y. Modified cerebral small vessel disease score is associated with vascular cognitive impairment after lacunar stroke. Aging (Albany NY). 2021 Feb 1;13(7):9510-9521.

Wang L, Geng J, Qu M, Yuan F, Wang Y, Pan J, Li Y, Ma Y, Zhou P, Zhang Z, Yang GY. Oligodendrocyte precursor cells transplantation protects blood-brain barrier in a mouse model of brain ischemia via Wnt/β-catenin signaling. Cell Death Dis. 2020 Jan 6;11(1):9. (co-corresponding author)

Qu M, Pan J, Wang L, Zhou P, Song Y, Wang S, Jiang L, Geng J, Zhang Z, Wang Y, Tang Y, Yang GY.MicroRNA-126 Regulates Angiogenesis and Neurogenesis in a Mouse Model of Focal Cerebral Ischemia. Mol Ther Nucleic Acids. 2019 Jun 7;16:15-25.

Wang L, Zhou P, Mu Z, Lin X, Jiang L, Cheng Z, Luo L, Xu Z, Geng J, Wang Y, Zhang Z, Yang GY. Dynamic Detection of Thrombolysis in Embolic Stroke Rats by Synchrotron Radiation Angiography. Transl Stroke Res. 2019 Jan 24.

Du J, Wang Y, Zhi N, Geng J, Cao W, Yu L, Mi J, Zhou Y, Xu Q, Wen W, Sachdev P. Structural brain network measures are superior to vascular burden scores in predicting early cognitive impairment in post stroke patients with small vessel disease. Neuroimage Clin. 2019;22:101712. doi: 10.1016/j.nicl.2019.101712.

Geng J, Wang L, Zhang L, Qin C, Song Y, Ma Y, Chen Y, Chen S, Wang Y, Zhang Z, Yang GY. Blood-brain barrier disruption induced cognitive impairment is associated with increase of inflammatory cytokine. Front. Aging Neurosci. 2018 May 7;10:129.

Geng J, Wang L, Qu M, Song Y, Lin X, Chen Y, Mamtilahun M, Chen S, Zhang Z, Wang Y, Yang GY. Endothelial progenitor cells transplantation attenuated blood-brain barrier damage after ischemia in diabetic mice via HIF-1α. Stem cell research & therapy.2017;11;8(1):163. doi: 10.1186/s13287-017-0605-3.

Wang L, Mu Z, Lin X, Geng J, Xiao TQ, Zhang Z, Wang Y, Guan Y, Yang GY. Simultaneous Imaging of Cerebrovascular Structure and Function in Hypertensive Rats Using Synchrotron Radiation Angiography. Front Aging Neurosci. 2017 Nov 2;9:359. doi: 10.3389/fnagi.2017.00359.

Chen Y, Song Y, Huang J, Qu M, Zhang Y, Geng J, Zhang Z, Liu J, Yang GY. Increased Circulating Exosomal miRNA-223 Is Associated with Acute Ischemic Stroke. Front Neurol. 2017 Feb 27;8:57. doi: 10.3389/fneur.2017.00057.

Geng J, Song Y, Jin H, Chen Y, LIN Y, SUN Y, PAN Y, YU L, SHI G, XU Q. Effectiveness and prognosis-related factors of intravenous thrombolysis in patients with acute ischemic stroke. Journal of Neurology and Neurorehabilitation. 2016;12(3):1-8. [Article in Chinese]

Geng J, Song Y, Mu Z, Xu Q, Shi G, Sun Y, Chen Y, Lin Y, Pan Y, Yu L, Yang GY, Li Y. Early Use of Statin in Patients Treated with Alteplase for Acute Ischemic Stroke. Acta neurochirurgica. Supplement. 2016;121:269-75. doi: 10.1007/978-3-319-18497-5_47.