Ottawa-Shanghai Joint School of Medicine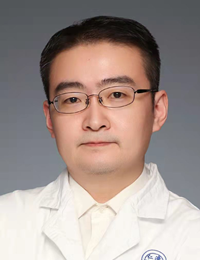 PAN Zhanyan
Associate chief Physician
E-mail: 24497752@qq.com
Tel: 13816283968
Research Interests: Skin tumors
Biography
Pan Zhanyan, male, 40 years old, doctor, deputy chief physician.
Department of Dermatology, Renji Hospital, Shanghai Jiaotong University School of Medicine
Specialties: Early diagnosis and treatment of skin tumors, outpatient skin surgery, diagnosis and treatment of acne, atopic dermatitis and psoriasis.
In 2011, he graduated from Huashan Hospital ,Fudan University with a Ph.D., under the tutelage of Professor Zheng Zhizhong, and won the honor of outstanding graduates of Fudan University. In 2013, he joined the team of Professor Ju Qiang, Department of Dermatology, Renji Hospital. The main research directions are the pathogenesis of environmental and skin tumors, and the clinical research of acne. He used Reflection Confocal Microscopy (RCM) earlier in China to assist in the diagnosis of benign and malignant skin tumors. He has successively received grants from the National Natural Science Foundation of China, the Natural Science Foundation of Shanghai, and the Asian Acne Foundation. He has published nine SCI papers as the first author or corresponding author.
Publications
Dong D., Xu X., Feng C., Xiong H., Pan Z. Comparison of responses of melanocyte lineages from p75(+) and p75 human scalp-derived neural crest stem cells under phototherapy. Lasers in Medical Science, 2021, 36(1): 139-146.

Hou X-X, Chen G, Hossini A M, Hu T, Wang L, Pan Z-Y, Lu L, Cao K, Ma Y, Zouboulis CC, Xia L, Ju Q. Aryl Hydrocarbon Receptor Modulates the Expression of TNF-alpha and IL-8 in Human Sebocytes via the myD88-p65NF-kappaB /p38MAPK Signaling Pathways [J]. Journal of innate immunity, 2019, 11(1),41-51.

PAN Z-Y, CHEN J, WU Q, Hu T-T, Lu L, Ju Q. Activation and overexpression of the aryl hydrocarbon receptor contribute to cutaneous squamous cell carcinomas: an immunohistochemical study [J]. Diagnostic Pathology, 2018, 13:59

Pan Z Y, Dong D K, Chen S J, Lu L Y, Hu T T, Ju Q. In vivo reflectance confocal microscopy in daily practice: Image features correlated to histopathology [J]. Skin Research and Technology, 2018, 24(2): 223-228.

Dong D-K, Pan Z-Y, Zhang J, Lu X-F, Jin C, Tao S-Q, Yang L-J. Efficacy and Safety of Targeted High-Intensity Medium-Band (304-312 nm) Ultraviolet B Light in Pediatric Vitiligo [J]. Pediatric Dermatology, 2017, 34(3): 266-270.

Hu T, Pan Z, Yu Q, Mo X, Song N, Yan M, Zouboulis CC, Xia L, Ju Q. Benzo(a)pyrene induces interleukin (IL)-6 production and reduces lipid synthesis in human SZ95 sebocytes via the aryl hydrocarbon receptor signaling pathway [J]. Environmental toxicology and pharmacology, 2016,(43),54-60.

Hu T, Wang D, Yu Q, Li L, Mo X, Pan Z, Zouboulis CC, Peng L, Xia L, Ju Q. Aryl hydrocarbon receptor negatively regulates lipid synthesis and involves in cell differentiation of SZ95 sebocytes in vitro [J]. Chemico-biological interactions, 2016, (258),52-8.

PAN ZY,LIANG J, ZHANG QA, LIN JR, ZHENG ZZ. In vivo reflectance confocal microscopy of extramammary Paget disease: Diagnostic evaluation and surgical management. [J]. J Am Acad Dermatol, 2012,Feb;66(2):e47-53.

PAN ZY, LIN JR, CHENG TT, WU JQ,WU WY. In vivo reflectance confocal microscopy of Basal cell carcinoma: feasibility of preoperative mapping of cancer margins [J]. Dermatol Surg,2012,38(12): 1945-50

PAN ZY, LIANG J, ZHENG Z-Z,WANG HH,XIONG HM. The application of ZnO luminescent nanoparticles in labeling mice[J]. Contrast Media & Molecular Imaging, 2011,6(4): 328-30