Ottawa-Shanghai Joint School of Medicine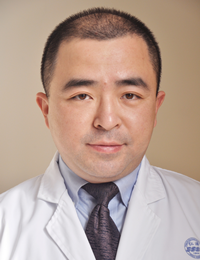 LIU Hua
M.D.& Ph.D.
E-mail: housman111@163.com
Tel: 18918349054
Biography
LIU Hua, male, born in 1973, M.D.& Ph.D., Vice Professor of the Department of General Surgery, member of the early clinical trial research collaboration group of the Professional Tumor Committee of Integrated Chinese and Western Medicine of the Chinese Anti Cancer Association, member of the Surgery Branch of the Chinese Medical Association, and member of the General Surgery Branch of the Chinese Medical Association.
He has focused on the basic and clinical research of thyroid and breast diseases, specializing in the comprehensive management of benign and malignant lesions of thyroid and breast including various routine and micro-invasive operation.
He graduated from the former Shanghai Second Medical University in 1999 with a master's degree in medicine. He has worked in the department of general surgery of Renji Hospital since then. In 2006, he received a doctor's degree in surgery from Shanghai Jiaotong University School of Medicine. In 2008, he went to the Hospital Civil affiliated to the University of Strasbourg in France for research. From October 2009 to October 2011, he participated in the Chinese medical aid team for Morocco and served as the team leader.
As the principal, he participated in many scientific research projects, such as the National Natural Science Foundation of China, the international cooperation project of the Ministry of Science and Technology, the Shanghai Discipline Leader Plan, and the clinical medicine key discipline project of the Shanghai Science and Technology Commission. He has published more than 60 papers in core journals, and 10 papers have been included in SCI. He also participated in the preparation of many surgical monographs, and assisted in the training of many master's and doctoral students. He was awarded the title of Outstanding Young Academic Backbone of Renji Hospital, Outstanding Young Teachers of Renji Hospital etc. In addition, he was selected into the "Hundred Talents Plan" of Shanghai Jiaotong University School of Medicine, the second prize of Shanghai Medical Science and Technology Award, the second prize of Shanghai Science and Technology Progress Award.
Publications
Zhiyuan Wang#, Hua Liu#, Yu Yan, Xiangyun Yang, Yaoyang Zhang*, Linshi Wu*. Integrated proteomic and N-Glycoproteomic analyses of human breast cancer. Journal of proteome research, 2020, 19(8): 3499-3509.

Yi Liu#, Hua Liu #, Chang-Lin Qian, Mei-Sui Lin, Feng-Hua Li*. Utility of quantitative contrast-enhanced ultrasound for the prediction of extracapsular extension in papillary thyroid carcinoma. Scientific Reports, 2017, 7(1472):1-8.

Yi Liu#, Hua Liu#, Shufei Jiang, Changlin Qian, Zhihua Han, Fenghua Li, Jianguo Xia*. Contrast-enhanced ultrasound features in papillary thyroid carcinomas with different sizes. Int J Clin Exp Med 2016, 9(8): 16052-16060.

Hua Liu#, Chang-Lin Qian , Zhi-Yong Shen*, Fu Ji. The clinical evaluation of the relationship between papillary thyroid microcarcinoma and Hashimoto's thyroiditis. Int J Clin Exp Med 2016, 9(5): 8348-8354.