Ottawa-Shanghai Joint School of Medicine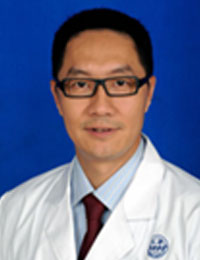 ZHU Mingli
Chief physician
Email: millionzhu525@126.com
Tel: 13701903155
Acute Kidney Injury, Sepsis, Renal Replacement Therapy
Biography
He graduated from The second military medical university in 1998. Now he is deputy director of the administrative in the department of critical care medicine, Renji hospital affiliated to school of medicine, Shanghai Jiaotong university. He is engaging in the diagnosis and treatment of acute or chronic renal injury combined multiple organ dysfunction and researching the mechanism of renal injury and prevention and cure of complications of the clinical and research work, and is good at critical individual and combined blood purification treatment. He was fellow at Renal Research Institute in New York for one year. In recent years, he has published more than 10 SCI papers. In the field of critical care, he used hybrid blood purification for severe acute kidney injury or MODS patients including CRRT and ECMO. Using these new technologies, through the combination of different treatment modes, so that more critically ill patients can be alive. He has rich clinical experience and theoretical knowledge for AKI and blood purification, Complete the relevant teaching tasks for 6-8 credit hours per year.
He is member of AKI and CRRT Group, Kidney Dialysis Committee, China Association of Non-Public Medical Institutions, Member of the first Blood transfusion Committee of Shanghai Association of Integrated Traditional Chinese and Western Medicine and Member of the second session of Disaster Medicine Professional Committee of Shanghai Association of Integrated Chinese and Western Medicine.
Publications
Feng J, Zhang S, Ai T, Wang L, Gao Y, Li W, Zhu M*. Effect of CRRT with oXiris filter on hemodynamic instability in surgical septic shock with AKI: A pilot randomized controlled trial. Int J Artif Organs. 2022 Oct;45(10):801-808.

Li Z, Chen C, Tan Z, Yao Y, Xing S, Li Y, Gao Y, Zhao Z, Deng Y, Zhu M*. Prediction of high-flow nasal cannula outcomes at the early phase using the modified respiratory rate oxygenation index. BMC Pulm Med. 2022 Jun 13;22(1):227..

Wu N, Dai J, Guo M, Li J, Zhou X, Li F, Gao Y, Qu H, Lu H, Jin J, Li T, Shi L, Wu Q, Tan R, Zhu M, Yang L, Ling Y, Xing S, Zhang J, Yao B, Le S, Gu J, Qin J, Li J, Cheng M, Tan D, Li L, Zhang Y, Zhu Z, Cai J, Song Z, Guo X, Chen LK, Zhu T. Pre-optimized phage therapy on secondary Acinetobacter baumannii infection in four critical COVID-19 patients. Emerg Microbes Infect. 2021 Dec;10(1):612-618.

Peng JC, Li YJ, Wang JM, Zhu ML*, Gao Y*. Incidence of chronic kidney disease after orthotopic liver transplantation in a Chinese cohort. Clin Exp Nephrol. 2020, 24(9):806-812.

Han Zhong1#, Ming-Li Zhu#, Yue-Tian Yu#, Wen Li, Shun-Peng Xing, Xian-Yuan Zhao, Wei-Jun Wang, Zhi-Chun Gu*, Yuan Gao*. Management of Bivalirudin Anticoagulation Therapy for Extracorporeal Membrane Oxygenation in Heparin-Induced Thrombocytopenia: A Case Report and a Systematic Review. Frontiers in Pharmacology. 2020, 11:565013.

Zhu M#, Wang J, Wang Q, Xie K, Wang M, Qian C, Deng Y, Han L, Gao Y, Ni Z, Xia Q, Gu L. The Incidence and Risk Factors of Low Oxygenation After Orthotropic Liver Transplantation. Ann Transplant. 2019 Mar 12;24:139-146.

M.Zhu#, L.Wang, J.Yang, K.Xie, M.Zhu, S.Liu, C.Xu, J.Wang, L.Gu, Z.Ni, G.Xu, M.Che. Erythropoietin Ameliorates Lung Injury by Accelerating Pulmonary Endothelium Cell Proliferation via Janus Kinase-Signal Transducer and Activator of Transcription 3 Pathway After Kidney Ischemia and Reperfusion Injury. Transplantation Proceedings. 2019;51:972e978

Yu W, Zhuang F, Ma S, Fan Q, Zhu M*, Ding F*. Optimized Calcium Supplementation Approach for Regional Citrate Anticoagulation. Nephron. 2019;141(2):119-127

Yu W, Zhuang F, Ma S, Zhu M*, Ding F*. Solutes removal characteristics at various effluent rates during different continuous renal replacement therapy modalities. Int J Artif Organs. 2019 Jul;42(7):354-361.

Suqin L, Mingli Z#, Shiteng S, Honglan M, Lan Z, Qihong N, Qing L. Assessment of the Hemodynamics of Autogenous Arteriovenous Fistulas With 4D Phase Contrast-Based Flow Quantification MRI in Dialysis Patients. J Magn Reson Imaging. 2019 Oct 4. doi: 10.1002/jmri.26936.