Ottawa-Shanghai Joint School of Medicine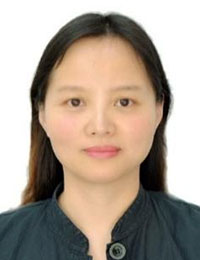 YU Xiaodan
主任医师
Email: xdyu1108@163.com
Tel: 15800719845
研究方向: 儿童营养与健康,儿童过敏性疾病与神经行为发育
Biography
Dr. Xiaodan Yu is the chief physician, doctoral supervisor, director in Department of Developmental Behavioral Pediatrics/Child Care, Shanghai Children's Medical Center, affiliated to Shanghai Jiao Tong University School of Medicine. Currently, she is the vice chairman of the Professional Committee of Maternal and Child Clinical Guidelines and Norms of China Maternal and Child Health Association, Director of Shanghai Trace Elements Society, vice chairman of Clinical Medicine Professional Committee, and Committee Member & Secretary-General of Pediatric Allergic Diseases Group, Chinese Society of Allergy, Chinese Medical Association, group leader of Pediatric Bone Metabolism Group, Chinese Osteoporosis Committee, Committee Member of Pediatrics Society of Shanghai Medical Association, Member of Shanghai Expert Group on Primary Prevention of Birth Defects. She won the 7th Soong Ching Ling Pediatric Medicine Achievement Award. He was selected into the "Double Hundred Talents Plan" of Shanghai Jiao Tong University School of Medicine. Dr. Yu focuses on her research on pediatric nutrition and health, childhood neurobehavioral development and allergic diseases. She specializes in the diagnosis and treatment of children with feeding difficulties, food allergies, micronutrient deficiencies and attention deficit/hyperactivity disorders. In recent years, she has leaded 2 Key projects of the National Key Research Program, 3 National Natural Science Foundation projects, 2 NIH projects and more than 10 projects at the provincial level. She awarded the 7th Soong Ching Ling Pediatric Medicine Achievement Award. She was selected into the "Double Hundred Talents Plan" of Shanghai Jiao Tong University School of Medicine. Presently, as the first author or corresponding author, she has published more than 60 science research papers domestic and overseas, including more than 40 papers published in journals indexed by SCI, with a total impact factor of more than 140 points. Dr. Yu first reported the linear relationship and threshold effect between bone strength and vitamin D status in children aged 0-6 years, and proposed that the 25(OH)D threshold level of low bone mineral density should be 20ng/ml. The polymorphisms of vitamin D receptor (VDR) gene at BsmI and FokI restriction sites were first found to be associated with bone mineral density in Han children aged 0-6 years by her. She organized and conducted a prospective cohort study and found a U-shaped relationship between vitamin D levels during pregnancy and the development of allergic diseases in children, proposed that a 25(OH)D level of 20-30 ng/ml could reduce the risk of food allergy, and confirmed with vitamin D deficiency rat model. She is the pioneer to reveal the cause of the low bone mineral density in children as a consequence of zinc deficiency, and the molecular mechanism of zinc deficiency affecting bone development. Since then, in children presented with clinical deficiency of zinc and calcium at the same time, zinc supplementation has been paid attention by pediatrics. She first proposed that there is a threshold for the effect of manganese on neonatal neurodevelopment and carried out a cohort study which confirmed selenium antagonizes manganese neurotoxicity through brain-derived nerve growth factor BDNF.
Publications
Hu Y(#), Ding G, Lv C, Zhang Q, Zhang Y, Yuan T, Ao J, Gao Y, Xia Y, Yu X (余晓丹)(*), Tian Y. Association between triclosan exposure and obesity measures among 7-year-old children in northern China. Ecotoxicol Environ Saf. 2022 Jul 1;239:113610.

Hu Y(#), Li J(#), Yuan T, Yu T, Chen Y, Kong H, Lin C, Shen Z, Tian Y, Tong S, Yu X(余晓丹)(*), Liu S. Exposure to antibiotics and precocious puberty in children: A school-based cross-sectional study in China. Environ Res. 2022 Sep;212(Pt C):113365.

Li J(#), Wang B, Liu S, Zhang Y, Chen C, Jin Y, Shen Z, Yuan T, Yu X(余晓丹)(*). Antibiotic exposure and risk of overweight/obesity in school children: A multicenter, case-control study from China. Ecotoxicol Environ Saf. 2022 Jul 15;240:113702.

Wang X(#), Jiao X(#), Tian Y, Zhang J, Zhang Y, Li J, Yang F, Xu M, Yu X(余晓丹)(*); Shanghai Birth Cohort Study. Associations between maternal vitamin D status during three trimesters and cord blood 25(OH)D concentrations in newborns: a prospective Shanghai birth cohort study. Eur J Nutr. 2021 Sep;60(6):3473-3483.

Li J(#), Li J, Ma Y, Chen B, Wang X, Jiao X, Jin Y, Shen Z, Yuan T, Yu X(余晓丹)(*). Urine concentrations of perfluoroalkyl acids in children and contributions of dietary factors: a cross-sectional study from Shanghai, China. Environ Sci Pollut Res Int. 2021 Apr;28(16):20440-20450.

Wang X(#), Jiao X, Xu M, Wang B, Li J, Yang F, Zhang L, Xu L, Yu X(余晓丹)(*). Effects of circulating vitamin D concentrations on emotion, behavior and attention: A cross-sectional study in preschool children with follow-up behavior experiments in juvenile mice. J Affect Disord. 2020 Oct 1;275:290-298.

Jiao X(#), Yuan Y(#), Wang X, Li J, Liu B, Yuan T, Yu X (余晓丹)(*). Development of a sensitive HPLC-MS/MS method for 25-hydroxyvitamin D(2) and D(3) measurement in capillary blood. J Clin Lab Anal. 2020 Jun 26:e23451.

Chen J(#), Zhao X(#), Cui L(#), He G, Wang X, Wang F, Duan S, He L, Li Q, Yu X (余晓丹) (*), Zhang F (*), Xu M (*). Genetic regulatory subnetworks and key regulating genes in rat hippocampus perturbed by prenatal malnutrition: implications for major brain disorders. Aging (Albany NY). 2020 May 11;12(9):8434-8458.

Chen M(#), Guo WL(#), Li QY, Xu JX, Cao YJ, Liu B, Yu XD (余晓丹) (*), Rao PF, Ni L, Lv XC(*). The protective mechanism of Lactobacillus plantarum FZU3013 against non-alcoholic fatty liver associated with hyperlipidemia in mice fed a high-fat diet. Food Funct. 2020 Mar 30.

Zeng F, Li T, Zhao H, Chen H, Yu XD (余晓丹) (*), Liu B(*). Effect of debranching and temperature-cycled crystallization on the physicochemical properties of kudzu (Pueraria lobata) resistant starch[J]. Int J Biol Macromol, 2019, 129: 1148-1154

Jiao X(#), Wang L(#), Wei Z, Liu B, Liu X, Yu X(余晓丹) (*). Vitamin D deficiency during pregnancy affects the function of Th1/Th2 cells and methylation of IFN-γ gene in offspring rats. Immunol Lett. 2019 Aug;212:98-105.

Chen W(#), Yang X, Wang B, Wang L, Yu X(余晓丹) (*) . The effects and possible mechanisms of triclosan on steroidogenesis inprimary rat granulosa cells[J]. Reproductive toxicology, 2019, 83: 28-37.

Wang B(#), Liu J, Liu B, Liu X, Yu X(余晓丹) (*). Prenatal exposure to arsenic and neurobehavioral development of newborns in China. Environ Int. 2018 Dec;121(Pt 1):421-427.

Jiao X(#), Chen W, Zhang J, Wang W, Song J, Chen D, Zhu W, Shi Y, Yu X(余晓丹) (*). Variant Alleles of the ESR1, PPARG, HMGA2, and MTHFR Genes Are Associated With Polycystic Ovary Syndrome Risk in a Chinese Population: A Case-Control Study. Front Endocrinol (Lausanne). 2018 Aug 30;9:504.

Chen W(#), Jiao X, Zhang J, Wang L, Yu X(余晓丹) (*). Vitamin D deficiency and high serum IL-6 concentration as risk factors for tubal factor infertility in Chinese women[J]. Nutrition, 2018,49:24-31.

Wang H(#),Yu X(余晓丹) (*),Huang LS,Chen Q,Ouyang FX,Wang X,Zhang J. Fetal vitamin D concentration and growth, adiposity and neurodevelopment during infancy[J].Eur J Clin Nutr, 2018, 72(10):1396-1403.

Lei X(#), Zhao D, Huang L, Luo Z, Zhang J, Yu X(余晓丹) (*), Zhang Y. Childhood Health Outcomes in Term Large-for-Gestational-Age Babies with Different Postnatal Growth Patterns[J] .Am. J. Epidemiol., 2018, 187(3): 507-514.

Wang L(#), Fu H, Liu B, Liu X, Chen W, Yu X(余晓丹) (*). The effect of postnatal manganese exposure on the NMDA receptor signaling pathway in rat hippocampus[J].J. Biochem. Mol. Toxicol., 2017, 31(12).

Fu HH(#), Chen WW, Yu HP, Wei ZZ, Yu XD(余晓丹) (*).The effects of preweaning manganese exposure on spatial learning ability and p-CaMKII a level in the hippocampus[J]. NeuroToxicology, 2016,52:98-103.

Wei Z(#), Zhang J, Yu X(余晓丹) (*). Maternal vitamin D status and childhood asthma, wheeze and and eczema: a systematic review and meta-analysis. Pediatr[J]. Pediatr Allergy Immunol, 2016, 27(6): 612-9.

Yu X(#), Chen W, Wei Z, Ren T, Yang X, Yu X(余晓丹) (*).Effects of maternal mild zinc deficiency and different ways of zinc supplementation for offspring on learning and memory[J].Food Nutr Res,2016, 60: 29467.

Rothenberg SE, Yu X(余晓丹) (*), Liu J, Biasini FJ, Hong C, Jiang X, Nong Y, Cheng Y, Korrick SA. Maternal methymercury exposure through rice ingestion and offspring neurodevelopment:a prospective cohort study[J].Int J Hyq Environ Health,2016,219(8):832-842.

Chuan H, Yu X(余晓丹) (*), Liu JH, Cheng Y, Sarah E. Low-level methylmercury exposure throughrice ingestion in a cohort of pregnant mothers in rural China[J]. Envir Res,2016,150:519-27.

Yu X(余晓丹) (*), Chen L, Wang C, Yang X, Gao Y, Tian Y. The role of cord blood BDNF in infant cognitive impairment induced by low-level prenatal manganese exposure: LW Birth cohort, China[J].Chemosphere, 2016, 163: 446-451.

Wei Z, Wang W, Zhang J, Zhang X, Jin L, YuX(余晓丹) (*). Urinary Iodine Level and Its Determinants in Pregnant Women of Shanghai, China[J].Br. J. Nutr, 2015, 113(9): 1427-32

Yu X(余晓丹), Zhang J, Yan C, Shen X.Prenatal Exposure to Manganese at Environment Relevant Level and Neonatal Neurobehavioral Development[J].Environ Res,2014,133: 232-8

Yu X(余晓丹) (*), Wang W, Wei Z,Ouyang F,Huang L,Wang X,Zhao Y,Zhang H,Zhang J.Vitamin d status and related factors in newborns in shanghai, china. Nutrients[J].Nutrients, 2014, 6(12): 5600-10.

Li L, Zhou H, Yang X, Zhao L, YuX(余晓丹)(*). Relationships between 25-Hydroxyvitamin D and Nocturnal Enuresis in Five- to Seven-Year-Old Children[J].PLoS ONE, 2014, 9(6): e99316.

Yang X, Bao Y, Fu H, Li L, Ren T, Yu X(余晓丹)(*). Selenium protects neonates against neurotoxicity from prenatal exposure to manganese[J].PLoS ONE, 2014, 9(1): e86611.

Huang L, Yu X(余晓丹), Keim S, Li L, Zhang L, Zhang J.Maternal prepregnancy obesity and child neurodevelopment in the Collaborative Perinatal Project[J].Int J Epidemiol, 2014, 43(3): 783-92.

Yu X(余晓丹)(*), Zhang J, Yan C, Shen X.Relationships Between Serum 25-Hydroxyvitamin D and Quantitative Ultrasound Bone Mineral Density in 0-6 years Old Children[J].Bone, 2013, 53(1): 306-10.

Yu X (余晓丹)(*), Cao L, Yu X, Elevated Cord Mn Level is Associated with a High Ponderal Index[J],Environ. Res., 2013, 121: 79-83.

R.Sarah E., Yu XD (余晓丹)(*). Prenatal methylmercury exposure through maternal rice ingestion: Insights from a feasibility pilot in Guizhou Province, China [J]. Environ pollut,2013,180:291-98.

Yu X (余晓丹)(*), Jin L, Zhang X, Yu X, Effects of Maternal Mild Zinc Deficiency and Zinc Supplement for Offspring on the Spatial Memory and Hippocampal Neuronal Ultrastructural hanges[J].Nutrition, 2013,29(2):457-61 (IF 3.734 SCI 3区)

Yu XD (余晓丹)(*), Ren TH, Yu XG. Disruption of α-CaMKII/BDNF Signaling is Associated with Zinc Deficiency-Induced Impairments in Cognitive and Synaptic Plasticity [J] .Br. J. Nutr., 2013, 110(12): 2194-200.

Yang X,Yu XD (余晓丹)(*), FuHH, LiLL, RenTH. Different levels of prenatal zinc and seleniumhad different effects on neonatal neurobehavioral development[J].Neurotoxicology, 2013, 37: 35-9.

Yu XD (余晓丹)(*), Branch DW, Karumanchi SA, Zhang J. Preeclampsia and Retinopathy of Prematurity in Preterm Birth[J].Pediatrics,2012,130(1):e101-7.

Huang L, Yu X(余晓丹), Zhang J, Liu X, Zhang Y, Jiao X, Yu X,Metal element excretion in 24-h urine in patients with Wilson disease under treatment of D-penicillamine[J] .Biol Trace Elem Res, 2012, 146(2): 154-9.

Yu XD (余晓丹)(*), Shen XM, Xue MB, Yan CH. Vitamin D receptor Gene Polymorphism and Bone Mineral Density in 0-6 Years old Han children[J].J Bone Miner Metab,2011, 29(1): 54-61.

Yu XD (余晓丹)(*), Yan CH, Shen XM, Tian Y, Cao LL, Yu XG, Zhao L, Liu JX, Prenatal exposure to multiple metals and neonatal neurobehavioral development in Shanghai, China [J].Neurotoxicol Teratol, 2011, 33(4): 437-43.