School of Pediatrics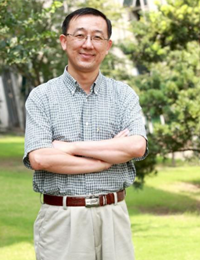 Wang Jun
MD, Chief Physician, Master's Supervisor
Organization: Department of Pediatric Surgery, Xinhua Hospital affiliated to Shanghai Jiao Tong University School of Medicine.
Email: wangjun@xinhuamed.com.cn
Cell phone: 13651752216
Expertise: Clinical diagnostic and therapeutic techniques and etiological study on neonatal surgery and congenital intestinal malformation.
Biography
Since 1987, he has been working in the pediatric surgery department of Xinhua Hospital affiliated to Shanghai Second Medical University. Now he is in charge of the pediatric general surgery department and neonatal surgery department. He is a member of Pediatric Surgery Branch of Chinese Medical Association and deputy leader of Neonatal Surgery Group, vice-chairman of Pediatric Surgery Branch of Shanghai Medical Association, standing member of the maternal-fetal Medicine Branch of China Maternal and Child Health Care Association, and a member of pediatric minimally invasive surgery Expert group of National Health and Family Planning Commission. As a senior visiting scholar, he has visited the Department of Surgery, University of Hong Kong Mary Hospital, Cancer Research Center, University of California, USA, Department of Surgery, Children's Hospital of Los Angeles, and Children's Hospital of San Francisco, Department of Surgery, Children's Hospital of University of Tubingen, Germany, and Department of Surgery, University of Leipzig Children's Hospital. He has in-depth research on neonatal surgery, pediatric general surgery, and minimally invasive surgery, and specializes in the treatment of various complex congenital structural malformations, such as congenital severe diaphragmatic hernia, various types of esophageal atresia, anorectal malformations, long segment, and whole colon megacolon, biliary tract malformations, etc. His research focuses on prenatal and postnatal diagnosis and risk assessment of severe congenital diaphragmatic hernia, comprehensive diagnosis and treatment of complex esophageal atresia and complications, technological innovation, and multidisciplinary cooperation. Early intervention of neonatal surgical malformations and surgical techniques in delivery rooms have been innovatively carried out in China, which has significantly improved the cure rate of some critical malformations. He has presided over and participated in the research projects of the National Natural Science Foundation of China and the Shanghai Science and Technology Commission. Participated in WOFAPS, IPEG, and other international pediatric surgery conferences and made speeches, and won the award for an excellent paper. He has published dozens of papers in SCI and domestic core journals. He has been the chief editor and co-editor of neonatal Surgery (second edition), Zhang Jinzhe Pediatric Surgery, pediatric tumor surgery, and many other monographs.
Publications
Zhang M, Lin Y, Xie W, Yu J, Huang Q, Li J, Yan W, Wang J. The multidisciplinary management of recurrent tracheoesophageal fistula after esophageal atresia: Experience with 135 cases from a tertiary center. J Pediatr Surg. 2021 Nov;56(11):1918-1925. doi: 10.1016/j.jpedsurg.2020.12.019. Epub 2021 Jan 7. PMID: 33454083.

Jiang Y, Pan W, Wu W, Gong Y, Lin Y, Huang S, Wang W, Sun S, Wang J. Laparoscopic-Assisted Longitudinal Incision and Transverse Anastomosis: A Novel Surgical Approach for Treatment of Esophageal Stenosis Caused by Tracheobronchial Remnants. J Laparoendosc Adv Surg Tech A. 2021 Mar;31(3):343-347. doi: 10.1089/lap.2020.0644. Epub 2021 Jan 5. PMID: 33400603.

Lu YJ, Yu WW, Cui MM, Yu XX, Song HL, Bai MR, Wu WJ, Gu BL, Wang J, Cai W, Chu X. Association Analysis of Variants of DSCAM and BACE2 With Hirschsprung Disease Susceptibility in Han Chinese and Functional Evaluation in Zebrafish. Front Cell Dev Biol. 2021 May 31;9:641152. doi: 10.3389/fcell.2021.641152. PMID: 34136475; PMCID: PMC8201997.

Li S, Wang J. Anorectal malformation with long perineal fistula: one of a special type. Sci Rep. 2021 Jan 18;11(1):1706. doi: 10.1038/s41598-021-81056-3. Erratum in: Sci Rep. 2022 Jan 28;12(1):1873. PMID: 33462249; PMCID: PMC7814064.

Wang Q, Liu Q, Zang J, Wang J, Chen J. Risk factors affecting postoperative pulmonary function in congenital diaphragmatic hernia. Ann Surg Treat Res. 2020 Apr;98(4):206-213. doi: 10.4174/astr.2020.98.4.206. Epub 2020 Mar 31. PMID: 32274369; PMCID: PMC7118320.

Wang W, Pan W, Chen J, Xie W, Liu M, Wang J. Outcomes of Congenital Diaphragmatic Hernia in One of the Twins. Am J Perinatol. 2019 Oct;36(12):1304-1309. doi: 10.1055/s-0038-1676830. Epub 2019 Jan 4. PMID: 30609432.

Cheng C, Wu Y, Pan W, Wang J, Wu Z, Lv F. Follow-Up Report of Laparoscopic Fundoplication in Different Types of Esophageal Hiatal Hernia in Children. J Laparoendosc Adv Surg Tech A. 2019 Oct;29(10):1320-1324. doi: 10.1089/lap.2019.0071. Epub 2019 Jul 26. PMID: 31347974.

Wang W, Pan W, Wang J, Xie W, Liu M, Wang L, Jiang Y. Predictive value of gestational age at diagnosis for outcomes in prenatally diagnosed congenital diaphragmatic hernia. J Matern Fetal Neonatal Med. 2021 Jul;34(14):2317-2322. doi: 10.1080/14767058.2019.1664464. Epub 2019 Sep 16. PMID: 31522571.

Suna Sun, Weihua Pan, Wenjie Wu, Yiming Gong, Jia Shi, Jun Wang: Elongation of esophageal segments by bougienage stretching technique for long gap esophageal atresia ot achieve delayed primary anastomosis by troracotomy or trhracoscopic repair: a first experience from China. Journal of Pediatric Surgery. 2018;Vol 53(8):1584-1587.

Yan W, Wu Y, Wu Z, Gong Y, Shi C, Wang J. Gastroschisis in monochorionic male twins. Pediatr Surg Int. 2017 May;33(5):627-629. doi: 10.1007/s00383-017-4071-x. Epub 2017 Feb 17. PMID: 28213679.

Wang J, Zhang M, Pan W, et al., Management of recurrent tracheoesophageal fistula after esophageal atresia and follow-up. Dis Esophagus, 2017. 30(9): p. 1-8.

Wang PL, Wang J, Zhou Y, Chen XS, Zhou KJ, Wen J, Zhang JJ, Cai W. Expression of programmed death-1 and its ligands in the liver of biliary atresia. World J Pediatr. 2017 Dec;13(6):604-610. doi: 10.1007/s12519-017-0018-5. Epub 2017 Mar 22. PMID: 28332100.

Jiang Y, Pan W, Wu W, Wang W, Sun S, Wang J. Can early surgery improve the outcome of patients with meconium peritonitis? A single-center experience over 16 years. BMC Pediatr. 2019 Dec 3;19(1):473. doi: 10.1186/s12887-019-1844-5. PMID: 31795969; PMCID: PMC6889670.

Wang J, Du L, Cai W, Pan W, Yan W. Prolonged feeding difficulties after surgical correction of intestinal atresia: a 13-year experience. J Pediatr Surg. 2014 Nov;49(11):1593-7. doi: 10.1016/j.jpedsurg.2014.06.010. Epub 2014 Jul 30. PMID: 25475800.