School of Pediatrics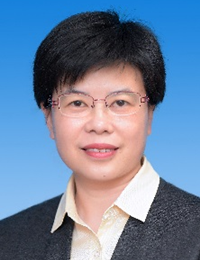 QIU Wenjuan
Email: qiuwenjuanxh@163.com
Tel: 021-25076454
Biography
She has long been engaged in the clinical diagnosis and treatment of endocrine genetic metabolic diseases and rare diseases in pediatrics, and has conducted in-depth research on the pathogenesis and biochemical molecular diagnosis of various congenital genetic metabolic diseases. Through nearly 20 years of diagnosis, treatment and series of studies on glycogen storage disease and congenital adrenal hyperplasia, it has established one of the largest single-disease clinical diagnosis, treatment and research centers for glycogen storage disease and congenital adrenal hyperplasia in China. In the past 5 years, she has carried out research on the clinical and molecular pathogenesis of various congenital genetic diseases such as congenital adrenal hyperplasia, glycogen storage disease, sitosterolemia, and mental retardation. Undertook one project of Shanghai Municipal Health and Construction Commission and participated in one key project of the Ministry of Science and Technology. Published more than 60 papers as correspondent or first author, including 17 SCI papers, co-edited 1 and co-edited 4 monographs related to genetic metabolic diseases, participated in the formulation of 5 consensuses on diagnosis and treatment of genetic metabolic diseases as the author or corresponding author , and won 1 national and municipal science and technology awards.
She is currently the deputy head of the Biochemical and Metabolic Genetics Group of the Genetics Branch of the Chinese Medical Association, a member of the Rare Disease Branch of the Shanghai Medical Association, a member of the Health Technology Evaluation and Economic Policy Group of the Birth Defect Prevention and Control Professional Committee of the Chinese Preventive Medicine Association, and a member of the Medical Genetics Group of the Chinese Medical Doctor Association. Member of the Clinical Biochemical Genetics Special Committee of the Branch and the Clinical Validation Group of the Youth Medicine Branch, member of the Genetics and Pediatrics Group of the Liver Disease Branch of the Shanghai Medical Association; Corresponding editorial board member of the Chinese Journal of Medical Genetics
Publications
Xia Y, Duan Y, Zheng W, Liang L, Zhang H, Luo X, Gu X, Sun Y, Xiao B, Qiu W*. Clinical, genetic profile and therapy evaluation of 55 children and 5 adults with sitosterolemia. J Clin Lipidol. 2022;16(1):40-51.

Luo X, Duan Y, Fang D, Sun Y, Xiao B, Zhang H, Han L, Liang L, Gong Z, Gu X, Yu Y, Qiu W*.Diagnosis and follow-up of glycogen storage disease (GSD) type VI from the largest GSD center in China. Hum Mutat. 2022;43(5):557-567.

Ye X, Fang D, He Y, Qiu W *, Sun Y*. Dual diagnosis of osteogenesis imperfecta (OI) and short stature and advanced bone age with or without early-onset osteoarthritis and/or osteochondritis dissecans (SSOAOD) reveals a cumulative effect on stature caused by mutations in COL1A1 and ACAN genes. European Journal of Medical Genetics. 2020;63(12):104074(IF:2.704)

Xia Zhang#, Wenjuan Qiu#, Huili Liu Xiantao Ye Yu Sun Yanjie Fan, Yongguo Yu. RT-PCR analysis of mRNA revealed the splice-altering effect of rare intronic variants in monogenic disorders. Ann Hum Genet. 2020 Nov;84(6): 456-462.

Luo X, Hu J, Gao X, Fan Y, Sun Y, Gu X, Qiu W*. Novel PYGL mutations in Chinese children leading to glycogen storage disease type VI: two case reports. BMC Med Genet. 2020 Apr 8;21(1):74.

Xiao B, Wang Lili,Liu Huili,Fan Yanjie, Xu Yan, Sun Yu*, Qiu Wenjuan*. Uniparental isodisomy caused autosomal recessive diseases: NGSbased analysis allows the concurrent detection of homogenous variants and copy‐neutral loss of heterozygosity. Molecular Genetics & Genomic Medicine. 2019 Oct;7(10):e00945.

Bing Xiao 1, Di Fang 1, Huili Liu, Lili Wang, Wenjuan Qiu*. A novel NFKB2 mutation in a Chinese patient with DAVID syndrome. Gene. 2019 Mar 1;687:319-322.

Yu Zhang, Mingming Xu, Xiaoxia Chen, Aijuan Yan, Guoyong Zhang, Zhenguo Liu* and Wenjuan Qiu*. Genetic analysis and clinical assessment of four patients with glycogen storage disease type IIIa in China. BMC Medical Genetics. 2018 Apr 4;19(1):54.

Xiao, B.; Qiu*, W.;Ji, X et al. Marked yield of re-evaluating phenotype and exome/target sequencing data in 33 individuals with intellectual disabilities. 2018 Jan;176(1):107-115.