College of Stomatology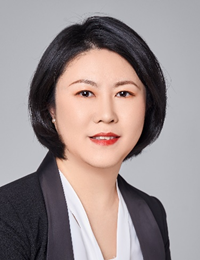 HE Dongmei
Professor
Email:lucyhe119@163.com
Biography
Dr. Dongmei HE, professor of College of Stomatology, Shanghai 9th People's Hospital affiliated to Shanghai Jiao Tong University. Her research focuses on the clinical and basic study of TMJ disease and related orthognathic surgery. After graduation from Peking University, School of Stomatology, she did fellowship with Prof. Michael Ehrenfield, Edward Ellis 3rd and Larry Wolford. She finished post-doctoral research following Prof. Kenneth Salyer and David Genecov. Dr. HE now works in the Department of Oral Surgery, Shanghai 9th People's Hospital.

As a surgeon, she is on top of TMJ surgeries including minimal invasive disc repositioning, total joint replacement, treatment of condylar fracture and TMJ ankylosis etc., and other surgeries such as trauma surgery, orthognathic surgery and dentoalveolar surgeries etc. As a professor, she did a lot of research on the classification and successful treatment methods on condylar fracture and TMJ ankylosis. She designed minimal invasive disc repositioning technique on open suturing and total joint prosthesis for Chinese TMJ characteristics. She developed digital medicine for the treatment of TMJ disease. She also studied mechanism of TMJ osteoarthritis and found a new stress sensitive circular RNA. On the reconstruction of biological condyle, she designed scaffold for cartilage and bone regeneration with BMSC.

She has published more than 150 papers including 60 scientific citation index ones. She gained 15 grants and attended more than 10 books writing. She acquired a lot of awards since 2014, including Science and Technology Awards from Hua Xia medicine and Chinese Stomatological Association, and Invention awards from Shanghai federation of trade unions. In 2021, she followed her mentor Prof. Yang acquired the National Science and Technology Award. Dr. HE had 20 patents including 5 of invention. She is now the international faculty of AO CMF, and member of Chinese TMJ standing committee.