College of Basic Medical Sciences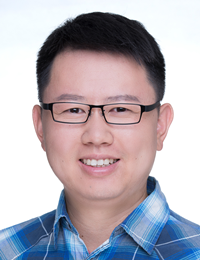 TANG Yujie
Email: yujietang@shsmu.edu.cn
Tel: 021-64282135
Research Field: Oncogenic mechanisms and targeted diagnostics/therapeutics of pediatric solid tumors
Personal Introduction
Yujie Tang, principle investigator and head of the Department of Histoembryology, Genetics and Developmental Biology, Shanghai Jiao Tong University School of Medicine, recipient of The Recruitment Program of Global Experts of China (National 1000-Youth Talents Program), The Program for Professor of Special Appointment (Eastern Scholar) at Shanghai Institutions of Higher Learning and the Shanghai Rising-Star Program. Received the bachelor degree at University of Science and Technology of China in 2003 and received the doctor degree at SIBCB, SIBS, CAS in 2010. Conducted the post-doctoral training at Stanford University School of Medicine from 2010 to 2015. Joined Shanghai Jiao Tong University School of Medicine in 2015 and worked in here since then.

My lab focuses on studying oncogenic mechanisms and targeted diagnostics/therapeutics of pediatric solid tumors. We are collaborating with clinicians from pediatric solid tumor related clinical departments of many affiliated hospitals, to study various types of pediatric solid tumor including DIPG, medulloblastoma, neuroblastoma, hepatoblastoma, Ewing sarcoma, osteosarcoma, and chondroblastoma. We are building tumor tissue bank and patient-derived primary tumor model bank, performing multi-omics profiling together with functional genomic screening and small molecule screening, to systematically dissect and illustrate novel oncogenic mechanisms and targeted diagnostic and therapeutic strategies. Our research has been published on various prestigious journals including Cancer Cell, PNAS, Cancer Research, Oncogene, Cell Death & Disease and Journal of Experimental & Clinical Cancer Research.
Publications
Jialin Mo#, Fang Liu#, Xi Sun#, Hongting Huang, Kezhe Tan, Xiaojing Zhao, Rui Li, Wenyan Jiang, Yi Sui, Xiaosong Chen, Kunwei Shen, Liye Zhang, Jie Ma*, Kewen Zhao* and Yujie Tang*, Inhibition of the FACT complex targets aberrant hedgehog signaling and overcomes resistance to smoothened antagonists, Cancer Research, 2021 Jun 1;81(11):3105-3120. doi: 10.1158/0008-5472.CAN-20-3186.

Jiajia Wang#, Yi Sui#, Qifeng Li#, Yang Zhao, Xiaoshu Dong, Jian Yang, Zhuangzhuang Liang, Yipeng Han, Yujie Tang*, Jie Ma*, Effective inhibition of MYC-amplified group 3 medulloblastoma by FACT-targeted curaxin drug CBL0137, Cell Death Dis, 2020 Dec 2;11(12):1029.

Fang Liu#, Wenyan Jiang#, Yi Sui#, Wei Meng, Linjun Hou, Tiantian Li, Meng Li, Lei Zhang, Jialin Mo, Jiajia Wang, Yang Zhao, Liye Zhang, Jie Ma*, and Yujie Tang*, CDK7 inhibition suppresses aberrant hedgehog pathway and overcomes resistance to smoothened antagonists, Proc Natl Acad Sci U S A. 2019 Jun 25;116(26):12986-12995. doi: 10.1073/pnas.1815780116. Epub 2019 Jun 10.

Ping Lu#, Jing Geng#, Lei Zhang#, Yu Wang, Ningning Niu, Yuan Fang, Fang Liu, Juanjuan Shi, Zhi-Gang Zhang, Yong-Wei Sun, Li-Wei Wang*, Yujie Tang*, Jing Xue*, THZ1 reveals CDK7-dependent transcriptional addictions in pancreatic cancer, Oncogene. 2019 May;38(20):3932-3945. doi: 10.1038/s41388-019-0701-1. Epub 2019 Jan 28.

Meng W#, Wang B#, Mao W#, Wang J, Zhao Y, Li Q, Zhang C, Tang Y*, Ma J*. Enhanced efficacy of histone deacetylase inhibitor combined with bromodomain inhibitor in glioblastoma. J Exp Clin Cancer Res. 2018 Oct 1;37(1):241. doi: 10.1186/s13046-018-0916-y.

Meng W#, Wang J#, Wang B#, Liu F, Li M, Zhao Y, Zhang C, Li Q, Chen J, Zhang L, Tang Y*, Ma J*. CDK7 inhibition is a novel therapeutic strategy against GBM both in vitro and in vivo. Cancer Manag Res. 2018 Nov 15; 10:5747-5758. doi: 10.2147/CMAR.S183696. eCollection 2018.

Nagaraja S, Vitanza NA, Woo PJ, Taylor KR, Liu F, Zhang L, Li M, Meng W, Ponnuswami A, Sun W, Ma J, Hulleman E, Swigut T, Wysocka J, Tang YJ*, Monje M*. Transcriptional Dependencies in Diffuse Intrinsic Pontine Glioma. Cancer Cell. 2017;31(5):635-652.e6.

Grasso CS#, Tang YJ#, Truffaux N#, Berlow NE, Liu L, Debily MA, Quist MJ, DavisLE, Huang EC, Woo PJ, Ponnuswami A, Chen S, Johung TB, Sun W, Kogiso M, Du Y, Qi L, Huang Y, Hütt-Cabezas M, Warren KE, Le Dret L, Meltzer PS, Mao H, Quezado M,van Vuurden DG, Abraham J, Fouladi M, Svalina MN, Wang N, Hawkins C, Nazarian J,Alonso MM, Raabe EH, Hulleman E, Spellman PT, Li XN, Keller C, Pal R, Grill J, Monje M. Functionally defined therapeutic targets in diffuse intrinsic pontine glioma. Nat Med. 2015 Jun;21(6):555-9. doi: 10.1038/nm.3855. Epub 2015 May 4.

Tang YJ, Gholamin S, Schubert S, Willardson MI, Lee A, Bandopadhayay P, Bergthold G, Masoud S, Nguyen B, Vue N, Balansay B, Yu F, Oh S, Woo P, Chen S, Ponnuswami A, Monje M, Atwood SX, Whitson RJ, Mitra S, Cheshier SH, Qi J, Beroukhim R, Tang JY, Wechsler-Reya R, Oro AE, Link BA, Bradner JE, Cho YJ. Epigenetic targeting of Hedgehog pathway transcriptional output through BET bromodomain inhibition. Nat Med. 2014;20(7):732-40.

Bender S*, Tang YJ*, Lindroth AM*, Hovestadt V, Jones DT, Kool M, Zapatka M, Northcott PA, Sturm D, Wang W, Radlwimmer B, Højfeldt JW, Truffaux N, Castel D, Schubert S, Ryzhova M, Seker-Cin H, Gronych J, Johann PD, Stark S, Meyer J, MildeT, Schuhmann M, Ebinger M, Monoranu CM, Ponnuswami A, Chen S, Jones C, Witt O, Collins VP, von Deimling A, Jabado N, Puget S, Grill J, Helin K, Korshunov A, Lichter P, Monje M, Plass C, Cho YJ, Pfister SM. Reduced H3K27me3 and DNA hypomethylation are major drivers of gene expression in K27M mutant pediatric high-grade gliomas. Cancer Cell. 2013;24(5):660-72.