College of Basic Medical Sciences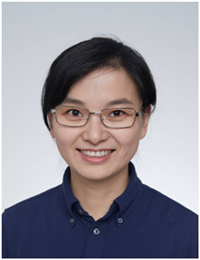 XU Yingjie
Email:xuyingjie@shsmu.edu.cn
Tel: 63846590-776492
Research Fields
Mechanism study and target discovery of cancer metastasis and drug resistance

Optimization of in vitro mRNA synthesis and in vivo delivery

Development of mRNA-based therapeutic applications: including mRNA vaccines for cancer and infectious diseases, mRNA protein replacement therapies for cancer and other diseases
Personal Introduction
Yingjie Xu, graduated from Shanghai Second Medical University with a seven-year program of clinical medicine. She obtained her doctorate degree from the Department of Experimental Medicine of McGill University in Canada in 2011. Yingjie Xu has extensive experience in in vitro synthesis and in vivo delivery of chemically modified mRNA. During her postdoctoral training at Boston Children's Hospital of Harvard Medical School, she carried out pioneering work on the treatment of metastatic prostate cancer with PTEN deficiency by nanoparticle delivery of the tumor suppressor PTEN mRNA. In July 2017, she joined the Department of Biochemistry and Molecular Cell Biology, School of Medicine, Shanghai Jiao Tong University as a Principal investigator. Dr. Xu and her team focus on mRNA-based therapeutic application and mechanism study, and are committed to building a technical platform and system from target discovery-mRNA molecule optimization-synthesis-delivery to clinical application. The research findings have been published in academic journals such as Nature Biomedical Engineering, Cell Research, etc., and have been authorized and applied for a number of mRNA application patents.
Previous Research Support
18PJ1406700 Xu (PI) 07/01/18-06/30/20
Shanghai Pu Jiang program (浦江人才计划)
TITLE: The mechanism of Prohibitin 1 mediated Lung Cancer Chemoresistance
2020yg xingguan01 Xu (Co-PI) 01/01/20-12/30/20
Shanghai Jiao Tong University (special fund for 2019-nCoV)
TITLE: Development of broad-spectrum neutralizing antibodies to SARS-CoV-2 utilizing humanized mouse model and development of novel vaccine strategy
Current Research Support
YG2022ZD001 Xu (PI) 01/01/22-12/30/24
Shanghai Jiao Tong University "Medicine-engineering interdisciplinary" key project:
TITILE: Immune cell-specific mRNA delivery for tumor immunotherapy
2021HX010 Xu (PI) 07/14/21-07/15/24
Horizontal project (横向课题)
TITLE: Therapeutic application of immune factor mRNA in cancer
2021YFA1301400) Xu (key member) 12/1/21-11/30/24
The Ministry of Science and Technology's 2021 key project "Biomacromolecules and Microbiome"
Topic 4: Immunological basis and coping strategies of individual differences in vaccines,
81872345 Xu (PI) 01/01/19-12/30/22
National Nature Science Fund of China (国自然面上)
TITILE: Mechanistic dissection of PTEN protein phosphatase regulation upon Foxk1 in Prostate cancer
2019TPA10 Xu (Co-PI) 01/01/20-12/30/22
Shanghai Jiao Tong University (重点前瞻布局基金,重点突破A)
TITLE: Evaluation the in vivo efficacy of novel nanoparticle delivery of mRNA in treatment of acute kidney injury and dissection of mechanisms
2020 Xu (PI) 07/01/20-06/30/23
Shanghai Jiao Tong University – The Hebrew University of Jerusalem Joint Seed Funding Scheme in Covid-19
TITLE: Identification and evaluation of COVID-19 viral entry inhibitors
Publications
Zhang J, Li Y, Liu H, Zhang J, Wang J, Xia J, Zhang Y, Yu X, Ma J, Huang M, Wang J, Wang L, Li Q, Cui R, Yang W*, Xu Y*, Feng W*. Genome-wide CRISPR/Cas9 library screen identifies PCMT1 as a critical driver of ovarian cancer metastasis.J Exp Clin Cancer Res.2022; 41: 24. doi: 10.1186/s13046-022-02242-3(*Co-corresponding author)

Lin K, Zhou Y, Ai J, Wang Y, Zhang S, … Xu Y, …Meng F. B cell Receptor Signatures Associating with Strong and Poor SARS-CoV-2 Vaccine Response. Emerg Microbes Infect. 2022; 11(1): 452–464.

Xia, J, Zhang, J, Wang, L, Xu, Y, Yang, W., Yu, Y. Non-apoptotic function of caspase-8 confers prostate cancer enzalutamide resistance via NF-κB activation. Cell Death Disease 2021;12,833. (*Co-corresponding author)

Zhang JH, Yin YN, Wang JH, Zhang JJ, Liu H, Feng WW, Yang W,Zetter B, XuYJ.Prohibitin regulates mTOR pathway via the interaction with FKBP8. Frontiers of Medicine2021;15,448-459

MaoC, Chen J, Xu Y, YangW, Liu, Z.Genome-wide analysis identify novel germline genetic variations in ADCY1 influencing platinum-based chemotherapy response in non-small cell lung cancer. Acta Pharmaceutica Sinica B. 2021. Oct

杭辰悦,徐山杉,吴其峰,张普昱,张宇,徐颖洁. mRNA 治疗及其应用前景.2021.科学通报, Z2期

Lu J, Lu G, Tan S, Xia J, Xiong H, Yu X, Qi Q, Yu X, Li L, Yu H, Xia N, Zhang T, Xu Y*, Lin J. A COVID-19 mRNA vaccine encoding SARS-CoV-2 virus-like particles induces a strong antiviral-like immune response in mice. Cell Research. 2020, 30(936-939). (*Co-corresponding author)

Saw PE, Zhang A, Nie Y, Zhang L, Xu Y*, Xu X. Tumor-associated fibronectin targeted liposomal nanoplatform for cyclophilin A siRNA delivery and targeted malignant glioblastoma therapy. Frontier in Pharmacology. 2018 (*Co-corresponding author)

Islam MA, Xu Y*, Tao,W, Ubellacker JM, Lim M, Aum D, Lee GY, Zhou K, ZopeHR,Yu M, Cao W, Oswald JT, Dinavand M, Mahmoudi M, Langer R, Kantoff PK, Farokhzad OC, Zetter BR, Shi J. Restoration of tumor suppression in vivo by systemic delivery of chemically modified PTEN mRNA nanoparticles. Nat. Biomed. Eng.2018 Sep 18 online. (*Co-first author)

Yang W, Nagasawa K, Münch C, Xu Y, Satterstrom K, Jeong S, Hayes SD, Jedrychowski MP, Vyas FS; Zaganjor E, Guarani V, Ringle A, Gygi SP, Harper JW, Haigis MC. Mitochondrial Sirtuin Network Reveals Dynamic SIRT3-dependent Deacetylation in Response to Membrane Depolarization. Cell. 2016 Nov; 4(167):985-1000

Xu Y, Yang W, Shi J, Zetter BR. Prohibitin 1 regulates tumor cell apoptosis via interaction with X-linked Inhibitor of Apoptosis Protein. J Mol Cell Biol. 2016 Jun; 8(3):282-5. doi: 10.1093/jmcb/mjw018.

Islam MA, Reesor EK, Xu Y, Zope HR, Zetter BR, Shi J. Biomaterial for mRNA delivery. Biomater Sci. 2015 Dec 10;3(12):1519-33. doi: 0.1039/c5bm00198f. Epub 2015 Aug 17.

Zhu X, Xu Y*, Solis LM, Tao W, Wang L, Behrens C, Xu X, Zhao L, Liu D, Wu J, Zhang N, Wistuba II, Farokhzad OC, Zetter BR, Shi J. Long-circulating siRNA nanoparticles for validating Prohibitin1-targeted non-small cell lung cancer treatment. Proc Natl Acad Sci U S A. 2015 Jun 23;112(25):7779-84. (*Co-first author)

Shi J, Xu Y*, Xu X, Zhu X, Pridgen E, Wu J, Alexander V, Zetter BR, Farokhzad O. Hybrid Lipid-Polymer Nanoparticles for Sustained siRNA Delivery and Gene Silencing. Nanomedicine. 2014 Mar 17. pii: S1549-9634(14)00124-5. doi: 10.1016/j.nano.2014.03.006. (*Co-first author)

Xu Y, Bismar TA, Su J, Xu B, Kristiansen G, Varga Z, Teng L, Ingber DE, Mammoto A, Kumar R, Alaoui-Jamali MA. Filamin A regulates focal adhesion disassembly and suppresses breast cancer cell migration and invasion. J Exp Med. 2010 Oct 25;207(11):2421-37. Epub 2010 Oct 11.

Alaoui-Jamali MA, Bismar TA, Gupta A, Szarek WA, Su J, Song W, Xu Y, Xu B, Liu G, Vlahakis JZ, Roman G, Jiao J, Schipper HM. A novel experimental heme oxygenase-1-targeted therapy for hormone-refractory prostate cancer. Cancer Res. 2009 Oct 15;69(20):8017-24. Epub 2009 Oct 6.

Bijian K, Mlynarek AM, Balys RL, Jie S, Xu Y, Hier MP, Black MJ, Di Falco MR, LaBoissiere S, Alaoui-Jamali MA. Serum proteomic approach for the identification of serum biomarkers contributed by oral squamous cell carcinoma and host tissue microenvironment. J Proteome Res. 2009 May;8(5):2173-85.

Xu Y, Benlimame N, Su J, He Q, Alaoui-Jamali MA. Regulation of focal adhesion turnover by ErbBsignalling in invasive breast cancer cells. Br J Cancer. 2009 Feb 24;100(4):633-43. Epub 2009 Feb 3.

Behmoaram E, Bijian K, Jie S, Xu Y, Darnel A, Bismar TA, Alaoui-Jamali MA. Focal adhesion kinase-related proline-rich tyrosine kinase 2 and focal adhesion kinase are co-overexpressed in early-stage and invasive ErbB-2-positive breast cancer and cooperate for breast cancer cell tumorigenesis and invasiveness. Am J Pathol. 2008 Nov;173(5):1540-50. Epub 2008 Oct 2.

Benlimame N, He Q, Jie S, Xiao D, Xu Y, Loignon M, Schlaepfer DD, Alaoui-Jamali MA. FAK signaling is critical for ErbB-2/ErbB-3 receptor cooperation for oncogenic transformation and invasion. J Cell Biol. 2005 Nov 7;171(3):505-16.
Patent
Shi J, Islam MA, Xu Y, Farokhzad OC, Zetter BR. "Restoration of tumor suppression using mRNA-based delivery system"#11090367

Yingjie Xu, Xiang Yu, Wei Xu, Wen Yang, Zheng Yang, Yu Zhang, "Painless nerve growth factor recombinant protein and its application" 202110981721.5

Yu Zhang, Yingjie Xu. "Thrombopoietin mRNA and application" 202110442348.6