College of Basic Medical Sciences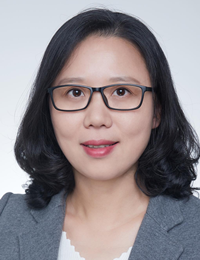 NIE Hong
Email: hnie0823@126.com
Tel: 63846590 776364
Research Field: Autoimmunity and Immune Intervention
Personal Introduction
Hong Nie, Principal Investigator. She obtained B.S. degree in 1993, M.S. degree in 1996, and Ph.D. degree in 2004 from Shanghai Second Medical University. Since 1996, she has served as a teaching assistant, research assistant, research associate, and research fellow of Shanghai Jiao Tong University School of Medicine. She is a Principal Investigator of Shanghai Institute of Immunology, Shanghai Jiao Tong University School of Medicine since 2016. The main research direction is the pathogenesis and immune intervention of autoimmune diseases. In recent years, her research field also involved the mechanism study of tumorigenesis and the exploration of new therapeutic targets. The research papers were published on academic journals, such as Theranostics, Immunology, Nature Medicine.
Publications
Jiang Y#, Yuan Y#*, Chen M, Li S, Bai J, Zhang Y, Sun Y, Wang G, Xu H, Wang Z, Zheng Y*, Nie H*. PRMT5 disruption drives antitumor immunity in cervical cancer by reprogramming T cell-mediated response and regulating PD-L1 expression. Theranostics. 2021, 11(18): 9162-9176.

Xu H#, Cai L#, Li Z#, Zhang L, Wang G, Xie R, Jiang Y, Yuan Y, Nie H*. Dual effect of IL-7/IL-7R signalling on the osteoimmunological system: a potential therapeutic target for rheumatoid arthritis. Immunology. 2021, 164(1): 161-172.

Wang Z#, Li Z#, Wang G, Sun Y, Yuan Y*, Nie H*. Salubrinal alleviates collagen-induced arthritis through promoting P65 degradation in osteoclastogenesis. Int J Mol Sci. 2021, 22(7): 3501.

Yuan Y, Nie H*. Protein arginine methyltransferase 5: a potential cancer therapeutic target. Cell Oncol (Dordr). 2021, 44(1): 33-44.

Duan W#, Sun Y#, Wu M#, Zhang Z, Zhang T, Wang H, Li F, Yang L, Xu Y, Liu ZJ, Hua T*, Nie H*, Cheng J*. Carbon-silicon switch led to the discovery of novel synthetic cannabinoids with therapeutic effects in a mouse model of multiple sclerosis. Eur J Med Chem. 2021, 226: 113878.

Zheng Y#*, Lu Y#, Huang X, Han L, Chen Z, Zhou B, Ma Y, Xie G, Yang J, Bian B, Li L, Nie H, Pan X*, Shen L*. BACH2 regulates the function of human CD4+ CD45RA- Foxp3l o cytokine-secreting T cells and promotes B-cell response in systemic lupus erythematosus. Eur J Immunol. 2020, 50(3): 426-438.

Yang L#, Chen S#, Zhao Q#, Sun Y*, Nie H*. The Critical role of Bach2 in shaping the balance between CD4+ T cell subsets in immune-mediated diseases. Mediators Inflamm. 2019, 2609737.

Xu H#, Cai L#, Zhang L, Wang G, Xie R, Jiang Y, Yuan Y*, Nie H*. Paeoniflorin ameliorates collagen-induced arthritis via suppressing nuclear factor-κB signalling pathway in osteoclast differentiation. Immunology. 2018, 154: 593-603.

Wei J#, Wu J#, Xu W#, Nie H, Zhou R, Wang R, Liu Y, Tang G*, Wu J*. Salvanic acid B inhibits glycolysis in oral squamous cell carcinoma via targeting PI3K/AKT/HIF-1 signaling pathway. Cell Death Dis. 2018, 9(6): 599.

Zhang H#, Qi Y#, Yuan Y#, Cai L, Xu H, Zhang L, Su B, Nie H*. Paeoniflorin ameliorates experimental autoimmune encephalomyelitis via inhibition of dendritic cell function and Th17 cell differentiation. Sci Rep. 2017, 7: 41887.

Cai L#, Xu H#, Zhang H, Zhang L, Wang G, Nie H*. Blockade of IL-7Rα alleviates collagen-induced arthritis via inhibiting Th1 cell differentiation and CD4+ T cell migration. Mol Immunol. 2016, 79: 83-91.

Zheng Y#, Sun L#, Jiang T, Zhang D, He D*, Nie H*. TNF promotes Th17 cell differentiation through IL-6 and IL-1 produced by monocytes in rheumatoid arthritis. J Immunol Res. 2014, 385352.

Sun Q#, Zheng Y#, Zhang Y#, Hu X, Wang Y, Zhang S, Zhang D, Nie H*. Novel immunoregulatory properties of EGCG on reducing inflammation in EAE. Front Biosci (Landmark). 2013, 18: 332-342.

Nie H#, Zheng Y#, Li R#, Guo T.B, He D, Fang L, Liu X, Xiao L, Chen X, Wan B, Chin Y.E, Zhang J*. Phosphorylation of FOXP3 controls regulatory T cell function and is inhibited by TNF- in rheumatoid arthritis. Nat Med. 2013, 19(3): 322-328.

Yin Q, Liu C, Wu Y, Wu S, Wang Y, Zhang X, Hu X, Pu J, Lu Y, Zhou H, Wang H, Nie H, Sun H*, Chen G*. Preventive and therapeutic effects of adenanthin on experimental autoimmune encephalomyelitis by inhibiting NF-κB signaling. J Immunol. 2013, 191(5):2115-2125.