College of Basic Medical Sciences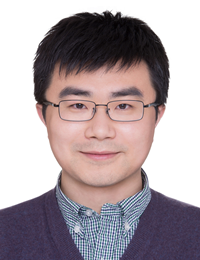 CHEN Lei
Email: lei.chen@sjtu.edu.cn
Research Field: Microbiome, Cancer Genomics, RNA-seq
Personal Introduction
2005.7, bachelor's degree in Fudan University.

2010.8, doctor's degree for computational and structural biology in Baylor College of Medicine.

2010.8-2014.3, post-doctor in University of Washington.

2014.3-2016.11, bioinformatician in The Jackson Labs for Genomic Medicine.

2016.11-now, principle investigator in Shanghai Institute of Immunology.
Long period work experience in large sequencing center for development of analytical tools, also served for several large-scale genomic projects. Currently, our lab endeavor to answer basic biological and clinical questions with sequencing and data mining skills. Primary achievements are as follows:
analytical work of first high throughput sequencing data of human genome. The first personal genome sequence in the world was completed with 454 sequencing technology in 2007, we leaded and finished the part of variant calling work and establish the basis for this field.

TIGRA software for structural variation calling with short read from next-generation sequencing. This is a novel method in which local assembly strategy was used for investigation of structural variation at that time.

Full engagement in the Human Microbiome Project(HMP) stage I and stage II, we lead the 16s analytical work in sequencing center of University of Washington.

Single cell sequencing and spatial transcriptomics in tumor microenvironment, these work are ready for publication. In addition, we made modifications for currently commercialized spatial transcriptomics and achieved spatial meta-transcriptomics.
Publications
Kayani, M. ur R.; Huang, W.; Feng, R.; Chen, L. Genome-Resolved Metagenomics Using Environmental and Clinical Samples. Briefings in Bioinformatics 2021, 22 (5). (Corresponding author, IF: 11.6)

Kayani, M. ur R.; Yu, K.; Qiu, Y.; Shen, Y.; Gao, C.; Feng, R.; Zeng, X.; Wang, W.; Chen, L.; Su, H. L. Environmental Concentrations of Antibiotics Alter the Zebrafish Gut Microbiome Structure and Potential Functions. Environmental Pollution 2021, 278. (Co-corresponding author, IF: 8.1)

Wang, A.; Ding, L.; Wu, Z.; Ding, R.; Teng, X.-L.; Wang, F.; Hu, Z.; Chen, L.; Yu, X.; Zou, Q. ZFP91 Is Required for the Maintenance of Regulatory T Cell Homeostasis and Function. J Exp Med 2020, 218 (2), e20201217. (Co-corresponding author, IF: 14.3)

Zhang, T.; Kayani, M. ur R.; Hong, L.; Zhang, C.; Zhong, J.; Wang, Z.; Chen, L. Dynamics of the Salivary Microbiome During Different Phases of Crohn's Disease. Front Cell Infect Microbiol 2020, 10, 544704. (Corresponding author, IF: 5.3)

Gao, C.; Zhang, M.; Chen, L. The Comparison of Two Single-Cell Sequencing Platforms: BD Rhapsody and 10x Genomics Chromium. Curr Genomics 2020, 21 (8), 602–609. (Corresponding author, IF: 2.2)

Li, QZ., Chang, YZ., He, ZM., Chen, L., Zhou, XW. Immunomodulatory activity of Ganoderma lucidum immunomodulatory protein via PI3K/Akt and MAPK signaling pathways in RAW264.7 cells. Journal of Cellular Physiology 2019, 234 (12), 23337-23348. (Co-corresponding author, IF: 6.4)

Chen, K.; Chen, L.; Fan, X.; Wallis, J.; Ding, L.; Weinstock, G. TIGRA: A Targeted Iterative Graph Routing Assembler for Breakpoint Assembly. Genome Res. 2014, 24 (2), 310–317. (Co-first author, IF: 11.1)
Patent
A system for analysis and identification of coronavirus transcriptome (ID: 202111152927.3)