College of Basic Medical Sciences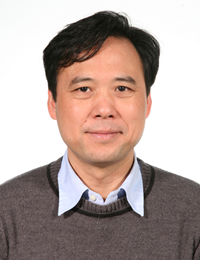 RONG Weifang
Email:weifangrong@hotmail.com;weifangrong@shsmu.edu.cn
Tel:021-63846590-776476
Research Field: Autonomic neuroscience and the gut-brain axis
Personal Introduction
Professor Weifang Rong graduated from The Second Military Medical University (now The Naval Military Medical University) with a medical degree in 1987 and obtained PhD in Physiology in 1992. He received postdoctoral training in autonomic neuroscience in Auckland University (New Zealand), Tsukuba University (Japan), University College London and Sheffield University (the United Kingdom). He joined Shanghai Jiaotong University School of Medicine in June 2005. He is currently a professor, project leader, doctoral supervisor, deputy director of the Department of anatomy and physiology and chief teacher of digestive system teaching team. He is the Vice Chairman of Committee for Digestive and Nutritional Sciences, Chinese Physiological Society and Vice Chairman of Shanghai Physiological Science Association, editorial board member of Journal of Physiology (London) and executive editorial board member of Shengli Xuebao(Acta Physiologica Sinica). His research is focused on autonomic neuroscience and the gut-brain axis. He has successively presided over a number of projects supported by the National Natural Science Foundation of China, the Shanghai Municipal Science and Technology Commission, the Sino-German Science Center, the Shanghai Municipal Education Commission, and has participated in major research projects of the Ministry of Science and Technology.
Scientific Research Projects
Analysis of the loop and molecular mechanism of G-Protein-Coupled Estrogen Receptor (GPER) in the rostral ventromedial medulla in reverse regulation of pain and itching sensation. National Natural Science Foundation of China.

Mechanism of GPER+ cholinergic neuron subpopulation mediated colonic slow transmission. National Natural Science Foundation of China.
Publications
Gao T, Dong L, Qian J, Ding X, Zheng Y, Wu M, Meng L, Jiao Y, Gao P, Luo P, Zhang G, Wu C, Shi X, Rong W. G-Protein-Coupled Estrogen Receptor (GPER) in the Rostral Ventromedial Medulla Is Essential for Mobilizing Descending Inhibition of Itch. Journal of Neuroscience, 2021, 41(37):7727-7741.

Zhu C, Gong H, Luo P, Dong L, Zhang G, Shi X and Rong W (2020). Oral Administration of Penicillin or Streptomycin May Alter Serum Serotonin Level and Intestinal Motility via Different Mechanisms. Front. Physiol. 11:605982. doi: 10.3389/fphys.2020.605982

Wu Y, Qi J, Wu C, Rong W. Emerging roles of the TRPV4 channel in bladder physiology and dysfunction. J Physiol. 2020 Oct 14. doi: 10.1113/JP279776.

Zheng Y, Wu M, Gao T, Meng L, Ding X, Meng Y, Jiao Y, Luo P, He Z, Sun T, Zhang G, Shi X, Rong W. GPER-Deficient Rats Exhibit Lower Serum Corticosterone Level and Increased Anxiety-Like Behavior. Neural Plast. 2020 Aug 28;2020:8866187. doi: 10.1155/2020/8866187.

Ding X, Gao T, Gao P, Meng Y, Zheng Y, Dong L, Luo P, Zhang G, Shi X, Rong W. Activation of the G Protein-Coupled Estrogen Receptor Elicits Store Calcium Release and Phosphorylation of the Mu-Opioid Receptors in the Human Neuroblastoma SH-SY5Y Cells. Front Neurosci. 2019 Dec 17;13:1351. doi: 10.3389/fnins.2019.01351. eCollection 2019.

Wu Y, Wang Y, Wang J, Fan Q, Zhu J, Yang L, Rong W. TLR4 mediates upregulation and sensitization of TRPV1 in primary afferent neurons in 2,4,6-trinitrobenzene sulfate-induced colitis. Mol Pain. 2019 Jan-Dec;15:1744806919830018.

Gao P, Ding XW, Dong L, Luo P, Zhang GH, Rong WF. Expression of aromatase in the rostral ventromedial medulla and its role in the regulation of visceral pain. CNS Neurosci Ther. 2017 Dec;23(12):980-989. doi: 10.1111/cns.12769.

Meng Y, Dong L, Sun B, Luo P, Zhang G, Rong W. In Vitro Characterization of the Electrophysiological Properties of Colonic Afferent Fibers in Rats. .J Vis Exp. 2017 Sep 27;(127):56090. doi: 10.3791/56090.PMID: 28994815

Yang M, Wang J, Yang C, Han H, Rong W, Zhang G. Oral administration of curcumin attenuates visceral hyperalgesia through inhibiting phosphorylation of TRPV1 in rat model of ulcerative colitis. Mol Pain. 2017 Jan-Dec;13:1744806917726416. doi: 10.1177/1744806917726416.Han H,

Liang X, Wang J, Zhao Q, Yang M, Rong W, Zhang G. Cannabinoid receptor 1 contributes to sprouted innervation in endometrial ectopic growth through mitogen-activated protein kinase activation. Brain Res. 2017 May 15;1663:132-140. doi: 10.1016/j.brainres.2017.03.016.