College of Basic Medical Sciences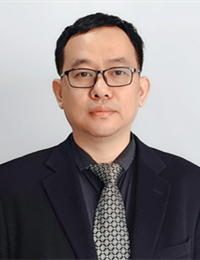 ZHONG Qing
Email: qingzhong@shsmu.edu.cn
Tel:021-63846590-776429
Research Field: Autophagy and Necrosis in Human Diseases
Personal Introduction
Qing Zhong, chair of Department of Pathophysiology, and director of Key Laboratory of "Cell Differentiation and Apoptosis" of Chinese Ministry of Education, Shanghai Jiao Tong University School of Medicine. Guangqi Endowed Chair Professor, Shanghai Jiao Tong University. Chairman of "Cell Death Research" branch of Chinese Society for Cell Biology, vice chairman of "Organelle" branch of Chinese society for Cell Biology.

Dr. Zhong dedicates to figure out how autophagy regulates cell fate. His research is focusing on the biochemical mechanisms and functions of autophagosome formation, substrate recognition and autophagosome-lysosome fusion in autophagy that impose significant impact on cell fate in normal and cancer cells. He has published more than 50 papers on high profile journals, which has been cited more than 5000 times. He was named one of "Chinese Most Cited Researchers" listed by Elsevier in 2021. He has been supported by several programs of National Natural Science foundation of China and National Basic Research Program of China, and served as editorial board member of several international academic journals.
Publications
Rong, Y., Zhang, S., Nandi, N., Wu, Z., Li, L., Liu, Y., Wei Y., Zhao Y., Yuan W., Zhou C., Xiao G., Levine B., Yan N., Mou S., Deng L., Tang Z., Liu X., Kramer H., Zhong, Q. STING controls energy stress-induced autophagy and energy metabolism via STX17. Journal of Cell Biology, 2022. Jul 4;221(7). PMID: 35510944

Wu, Y., Jiao, H., Yue, Y., He, K., Jin, Y., Zhang, J., Zhang J., Wei Y., Luo H., Hao Z., Zhao X., Xia Q., Zhong, Q., Zhang J. Ubiquitin ligase E3 HUWE1/MULE targets transferrin receptor for degradation and suppresses ferroptosis in acute liver injury. Cell Death & Differentiation, 2022, Mar 8. PMID: 35260822.

Yan G……Zhong Q, Yan X. KAT-7-mediated CANX (calnexin) crotonylation regulates leucine-stimulated MTORC1 activity. Autophagy, 2022, Mar 10:1-18. PMID: 35266843.

Chen Q, Hao M, Wang L, Li L, Chen Y, Shao X, Tian Z, Pfuetzner RA, Zhong Q, Brunger AT, Guan JL, Diao L. Prefused lysosomes cluster on autophagosomes regulated by VAMP8. Cell Death Dis. 2021, Oct 13; 12(10):939. PMID: 34645799.

Klionsky……Zhong Q, Galluzzi L, Pietrocola F. Autophagy in major human diseases. EMBO J. 2021, Aug. PMID: 34459017.

Zheng Z……Zhong Q, Ping Li, Xiaojun Xu. Discovery of a potent SCAP degrader that ameliorates HFD-induced obesity, hyperlipidemia and insulin resistance via an autophagy-independent lysosomal pathway. Autophagy. 2021, Jul;17(7):1592-1613. PMID: 32432943.

Li L, Tong M, Fu Y, Chen F, Zhang S, Chen H, Ma X, Li D, Liu X, Zhong Q. Lipids and membrane-associated proteins in autophagy. Protein & Cell. 2021 Jul;12(7):520-544. PMID: 33151516.

Arora K, Liyanage P, Zhong Q, Naren A. A SNARE protein Syntaxin 17 captures CFTR to potentiate autophagosomal clearance under stress. FASEB J. 2021, Feb;35(2). PMID: 33191543

Klionsky et al., Guidelines for the use and interpretation of assays for monitoring autophagy. Autophagy. 2021, Jan;17(4):1-382. PMID: 33634751.

Li P, He J, Yang Z, Ge S, Zhang H, Zhong Q, Fan X. ZNNT1 long noncoding RNA induces autophagy to inhibit tumorigenesis of uveal melanoma by regulating key autophagy gene expression MTORC1 mediated NRBF2 phosphorylation functions as a switch for PI3KC3 and autophagy. Autophagy. 2020, July;16(7):1186-1199. PMID: 31462126.

Galluzzi L……Zhong Q, Kroemer G. Molecular definitions of autophagy and related processes. EMBO J. 2017 Jul 3;36(13). PMID: 28596378.

Ma X, Zhang S, He L, Liu R, Wilz L, Sun Q, Fan W, Chen S, Yue Z, Kim J, Guan KL, Li D, Zhong Q. MTORC1 mediated NRBF2 phosphorylation functions as a switch for PI3KC3 and autophagy. Autophagy. 2017, Mar 4;13(3):592-607. PMID: 28059666.

Klionsky et al., Guidelines for the use and interpretation of assays for monitoring autophagy. Autophagy. 2016, 12(1):1-222. PMID: 26799652.

Li L, Zhong Q. Autophagosome-lysosome fusion: PIs to the rescue. EMBO. 2016;35(17):1845-7. PMID: 27440401.

Wang Y, Li L, Hou C, Lai Y, Long J, Liu JK, Zhong Q, Diao J. SNARE-mediated membrane fusion in autophagy. Semin Cell Dev Biol. 2016. S1084-9521. PMID: 27422330.

Li X, Zhu F, Jiang J, Sun C, Zhong Q, Shen M, Wang X, Tian R, Shi C, Xu M, Peng F, Guo X, Hu J, Ye D, Wang M, Qin R. Simultaneous inhibition of the ubiquitin-proteasome system and autophagy enhances apoptosis induced by ER stress aggravators in human pancreatic cancer cells. Autophagy. 2016:1-17. PMID: 27308733.

Levine B, Liu R, Dong X, Zhong Q. Beclin orthologs: integrative hubs of cell signaling, membrane trafficking, and physiology. Trends Cell Biol. 2015;S0962-8924(15). PMID: 26071895.

Diao J, Liu R, Rong Y, Zhao M, Zhang J, Lai Y, Zhou Q, Wilz L, Li J, Vivona S, Pfuetzner R, Brunger A, Zhong Q. ATG14 promotes membrane tethering and fusion of autophagosomes to endolysosomes. Nature. 2015;103(5):1244-1251. PMID: 25686604.

Zhi X and Zhong Q. Autophagy in Cancer. F1000Prime Rep. 2015;7:18. PMID: 25750736.

Zhang J, Zhong Q. Histone deacetylase inhibitors and cell death. Cell Mol Life Sci. 2014;71(20):3885-901. PMID: 24898083.

Tang Z, Zhu M, Zhong Q. Self-eating to remove cilia roadblock. Autophagy. 2014;10(2):379-81. PMID: 24343661.

Tang Z, Lin MG, Stowe TR, Chen S, Zhu M, Stearns T, Franco B, Zhong Q. Autophagy promotes primary ciliogenesis by removing OFD1 from centriolar satellites. Nature. 2013;502, 254-257. PMID: 24089205

Nazarko V and Zhong Q. ULK1 targets Beclin-1 in autophagy. Nat Cell Biol. 2013;15(7):727-8. PMID: 23817237.

Kim J, Kim Y, Fang C, Russell R, Kim J, Fan W, Liu R, Zhong Q, Guan KL. Differential regulation of distinct Vps34 complexes by AMPK in nutrient stress and autophagy. Cell. 2013;152(1), 290-303. PMID: 23332761.

Kim HJ, Zhong Q, Sheng ZH, Yoshimori T, Liang C, Jung JU. Beclin-1-interacting autophagy protein Atg14L targets the SNARE-associated protein Snapin to coordinate endocytic trafficking. J Cell Sci. 2012;125(Pt 20):4740-50. PMID: 22797916.

Chen D, Zhong Q. A tethering coherent protein in autophagosome maturation. Autophagy. 2012;8(6):985-6. PMID: 22617511.

Chen D, Fan W, Lu Y, Ding X, Chen S, Zhong Q. A mammalian autophagosome maturation mechanism mediated by TECPR1 and the Atg12-Atg5 conjugate. Mol Cell, 2012;45(5):629-41. PMID: 22342342.

Yan X, Sun Q, Ji J, Zhu Y, Liu Z, Zhong Q. Reconstitution of leucine-mediated autophagy via the mTORC1-Barkor pathway in vitro. Autophagy. 2012;8(2):213-21. PMID: 22258093.

Klionsky et al., Guidelines for the use and interpretation of assays for monitoring autophagy. Autophagy. 2012, Apr;8(4):455-544. PMID: 22966490.

Hao Z, Duncan GS, Su YW, Li WY, Silvester J, Hong C, You H, Brenner D, Gorrini C, Haight J, Wakeham A, You-Ten A, McCracken S, Elia A, Li Q, Detmar J, Jurisicova A, Hobeika E, Reth M, Sheng Y, Lang PA, Ohashi PS, Zhong Q, Wang X, Mak TW. The E3 ubiquitin ligase Mule acts through the ATM-p53 axis to maintain B lymphocyte homeostasis. J Exp Med. 2012 Jan 16;209(1):173-86. PMID: 22213803.

Zhang J, Kan S, Huang B, Hao Z, Mak TW, Zhong Q. Mule determines the apoptotic response to HDAC inhibitors by targeted ubiquitination and destruction of HDAC2. Genes Dev 2011, Dec 15;25(24):2610-8. PMID: 22016339.

Lin MG, Zhong Q. Interaction between small GTPase Rab7 and PI3KC3 links autophagy and endocytosis: A new Rab7 effector protein sheds light on membrane trafficking pathways. Small GTPases. 2011 Mar;2(2):85-88. PMID: 21776407

Wilz L, Fan W, Zhong Q. Membrane curvature response in autophagy. Autophagy. 2011 Oct;7(10):1249-50. PMID: 21738011.

Fan W, Nassiri A, Zhong Q. Autophagosome targeting and membrane curvature sensing by Barkor/Atg14(L). Proc Natl Acad Sci U S A. 2011 May 10; 108(19):7769-7774. PMID: 21518905.

Sun Q, Zhang J, Fan W, Wong KN, Ding X, Chen S, Zhong Q. The RUN domain of Rubicon is important for hVPS34 binding, lipid kinase inhibition and autophagy suppression. J Biol Chem. 2011. Jan 7;286(1):185-91. PMID: 21062745.

Sun Q, Westphal W, Wong K, Tan I, Zhong Q. Rubicon controls endosome maturation as a Rab7 effector. Proc Natl Acad Sci U S A. 2010 Nov 9; 107(45):19338-43. PMID: 20974968.

Fan W, Tang Z, Chen D, Moughon D, Ding X, Chen S, Zhu M, Zhong Q. Keap1 facilitates p62-mediated ubiquitin aggregate clearance via autophagy. Autophagy, 2010 July 22;6(5):614-21. PMID: 20495340.

Sun Q, Fan W, Zhong Q. Regulation of Beclin 1 in autophagy. Autophagy. 2009 Jul 24;5(5):713-6. PMID: 19372752.

Sun Q, Fan W, Chen K, Ding X, Chen S, Zhong Q. Identification of Barkor as a Mammalian Autophagy-Specific Factor for Beclin 1 and Class III Phosphatidyl-inositol 3-Kinase. Proc Natl Acad Sci U S A. 2008 Dec 9;105(49):19211-6. PMID: 19050071.

Hall JR, Kow E, Nevis KR, Lu CK, Luce KS, Zhong Q, Cook JG. Cdc6 stability is regulated by the Huwe1 ubiquitin ligase after DNA damage. Mol Biol Cell. 2007 Sep;18(9):3340-50. PMID: 17567951

Ding Q, He X, Hsu JM, Xia W, Chen CT, Li LY, Lee DF, Liu JC, Zhong Q, Wang X, Hung MC. Degradation of Mcl-1 by beta-TrCP mediates glycogen synthase kinase 3-induced tumor suppression and chemosensitization. Mol Cell Biol. 2007 Jun;27(11):4006-17. PMID: 17387146.

Zhong Q, Gao W, Du F, Wang X. Mule/ARF-BP1, a BH3-only E3 ubiquitin ligase, catalyzes the polyubiquitination of Mcl-1 and regulates apoptosis. Cell. 2005, 121(7): 1085-1095. PMID: 15989957.

Nijhawan D, Fang M, Traer E, Zhong Q, Gao W, Du F, Wang X. Elimination of Mcl-1 is required for the initiation of apoptosis following ultraviolet irradiation. Genes Dev., 2003,17(12):1475-1486.

Yun J, Zhong Q, Kwak JY, Lee WH. Hypersensitivity of Brca1-deficient MEF to the DNA interstrand crosslinking agent mitomycin C is associated with defect in homologous recombination repair and aberrant S-phase arrest. Oncogene. 2005 Jun 9;24(25):4009-16.

Zhong Q, Boyer TG, Chen P-L, and Lee W-H: Deficient nonhomologous end-joining activity in cell-free extracts from Brca1-null fibroblasts. Cancer Res. 2002, Jul 15;62 (14):3966-3970.

Zhong Q, Chen C-F, Chen P-L, and Lee W-H: BRCA1 facilitates microhomology-mediated end joining of DNA double strand breaks. J Biol Chem., 2002, Aug 9;277 (32):28641-28647.

Zhong Q, Chen C-F, Li S, Chen Y, Wang C-C, Xiao J, Chen P-L, Sharp ZD, and Lee WH: Association of BRCA1 with the hRad50-hMre11-p95 Complex and the DNA Damage Response. Science, 1999 Jul 30;285: 747-750. PMID: 10426999

Dong Z., Zhong Q, and Chen P-L: The Nijmegen Breakage Syndrome Protein Is Essential for Mre11 Phosphorylation upon DNA Damage.J. Biol. Chem., 1999, 274:19513-19516.

Zhong Q, Chen Y, Jones D, and Lee W-H: Perturbation of TSG101 Protein Affects Cell Cycle Progression. Cancer Res, 1998, 58: 2699-2702.

Zhong Q, Chen C-F, Chen Y, Chen P-L, and Lee W-H: Identification of Cellular TSG101 Protein in Multiple Human Breast Cancer Cell Lines. Cancer Res, 1997, 57: 4225-4228.