College of Basic Medical Sciences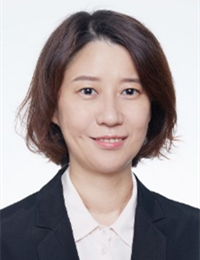 ZHAO Qian
Email: qzhao@shsmu.edu.cn
Tel: 021-64666992
Research Field: RNA and tumor cell fate determination
Personal Introduction
Education
1988-1992 Shanghai Jiaotong University B.S.

1994-1997 Fudan University M.S.

1999-2002 Shanghai Jiaotong University School of Medicine Ph.D.
Career
1997-1999 Shanghai Institute of Biochemistry and Cell Biology, Chinese Academy of Sciences Research Assistant

2002-2004 Shanghai Jiaotong University School of Medicine Research Associate

2005-2012 Shanghai Jiaotong University School of Medicine Associate Professor

2006-2007 University of Rochester Medical Center Senior Visiting Scholar

2013-present Shanghai Jiaotong University School of Medicine Professor
Research Interests
Our lab mainly focuses on the important scientific issue of "RNA and tumor cell fate determination". Combining multiple approaches including molecular and cellular biology, biochemistry, mouse reverse genetics and state-of-art omics techniques, our research focuses on the following areas: (1) Abnormal expression of long non-coding RNA (lncRNA) in tumor metastasis as well as its function and molecular mechanism; (2) Abnormal expressive regulation of lncRNA in tumor microenvironments such as hypoxia; (3) The function and molecular mechanism of m1A RNA epigenetic modification in the evolution of liver cancer. The members of the lab have published more than 50 SCI papers in international academic journals such as "Blood", "Cell Death Differ", "Cell Discovery" and other journals. The achievements won the second prize of the National Natural Science Award; the first prize of the Chinese Medical Science and Technology Award; the first prize of the Shanghai Natural Science Award and other awards.
Publications
Wo L, Zhang X, Ma C, Zhou C, Li J, Hu Z, Gong X, Zhan M, He M, Zhao Q#. LncRNA HABON promoted liver cancer cells survival under hypoxia by inhibiting mPTP opening. Cell Death Discov. 2022 Apr 6;8(1):171.

Zhang Y, Long X, Ruan X, Wei Q, Zhang L, Wo L, Huang D, Lin L, Wang D, Xia L, Zhao Q, Liu J, Zhao Q#, He M. SIRT2-mediated deacetylation and deubiquitination of C/EBPβ prevents ethanol-induced liver injury. Cell Discov. 2021 Oct 12;7(1):93.

Ma CN, Wo LL, Wang DF, Zhou CX, Li JC, Zhang X, Gong XF, Wang CL, He M, Zhao Q#. Hypoxia activated long non-coding RNA HABON regulates the growth and proliferation of hepatocarcinoma cells by binding to and antagonizing HIF-1 alpha. RNA Biol. 2021 Nov;18(11):1791-1806

Wang CL, Li JC, Zhou CX, Ma CN, Wang DF, Wo LL, He M, Yin Q, He JR, Zhao Q#. Long non-coding RNA ARHGAP5-AS1 inhibits migration of breast cancer cell via stabilizing SMAD7 protein. Breast Cancer Res Treat. 2021 Oct;189(3):607-619.

Chen W, Zhang K, Yang Y, Guo Z, Wang X, Teng B, Zhao Q#, Huang C, Qiu Z. MEF2A-mediated lncRNA HCP5 Inhibits Gastric Cancer Progression via MiR-106b-5p/p21 Axis. Int J Biol Sci. 2021 Jan 16;17(2):623-634.

Guo Z, Wang X, Yang Y, Chen W, Zhang K, Teng B, Huang C, Zhao Q#, Qiu Z. Hypoxic Tumor-Derived Exosomal Long Noncoding RNA UCA1 Promotes Angiogenesis via miR-96-5p/AMOTL2 in Pancreatic Cancer. Mol Ther Nucleic Acids. 2020 Aug 25; 22:179-195.

Zhang KD, Hu B, Cen G, Yang YH, Chen WW, Guo ZY, Wang XF, Zhao Q#, Qiu ZJ. MiR-301a transcriptionally activated by HIF-2 promotes hypoxia-induced epithelial-mesenchymal transition by targeting TP63 in pancreatic cancer. World J Gastroenterol. 2020 May 21;26(19):2349-2373

Wang QY, Zhou CX, Zhan MN, Tang J, Wang CL, Ma CN, He M, Chen GQ, He JR, Zhao Q#. MiR-133b targets Sox9 to control pathogenesis and metastasis of breast cancer. Cell Death Dis. 2018 Jul; 9(7): 752-765.

Luo GT, Xia X, Wang XF, Zhang KD, Cao J, Jiang T, Zhao Q#, Qiu ZJ. miR-301a plays a pivotal role in hypoxia-induced gemcitabine resistance in pancreatic cancer. Exp Cell Res. 2018 Aug 1;369(1):120-128.

Tang J, Zhan MN, Yin QQ, Zhou CX, Wang CL, Wo LL, He M, Chen GQ, Zhao Q#. Impaired p65 degradation by decreased chaperone-mediated autophagy activity facilitates epithelial-to-mesenchymal transition. Oncogenesis. 2017 Oct 9; 6(10): e387.

Zhan MN,Yu XT,Tang J,Zhou, CX,Wang CL,Yin QQ,Gong XF,He M,He JR,Chen GQ,Zhao Q#. MicroRNA-494 inhibits breast cancer progression by directly targeting PAK1.,Cell Death Dis,2017 Jan 5;8(1):e2529

M He, Q-Y Wang, Q-Q Yin, J Tang, Y Lu, C-X Zhou, C-W Duan, D-L Hong, T Tanaka, G-Q Chen, Q Zhao#. HIF-1α downregulates miR-17/20a directly targeting p21 and STAT3: a role in myeloid leukemic cell differentiation. Cell Death Differ. 2013 Mar;20(3):408-418.

Liang YJ, Wang QY, Zhou CX, Yin QQ, He M, Yu XT, Cao DX, Chen GQ, He JR, Zhao Q#. MiR-124 Targets Slug to Regulate Epithelial-to-Mesenchymal Transition and Metastasis of Breast Cancer. Carcinogenesis. 2013 Mar;34(3):713-722.

Zhang H, Wang Q, Zhao Q#, Di W. MiR-124 inhibits the migration and invasion of ovarian cancer cells by targeting SphK1. J Ovarian Res. 2013 Nov 26;6(1):84.

Liu XX, Li XJ, Zhang B, Liang YJ, Zhou CX, Cao DX, He M, Chen GQ, He JR, Zhao Q#. MicroRNA-26b is underexpressed in human breast cancer and induces cell apoptosis by targeting SLC7A11. FEBS Lett. 2011; 585(9):1363-1367.

Zhang B, Liu XX, He JR, Zhou CX, Guo M, He M, Li MF, Chen GQ, Zhao Q#. Pathologically decreased miR-26a antagonizes apoptosis and facilitates carcinogenesis by targeting MTDH and EZH2 in breast cancer. Carcinogenesis. 2011; 32(1):2-9.