College of Basic Medical Sciences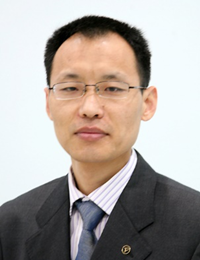 WU Yingli
Email: wuyingli@shsmu.edu.cn
Tel: 63846590-776916
Research Field
Deubiquitinating enzymes and targeted therapies
Deubiquitinating enzymes (DUBs) regulate protein degradation, localization and protein interaction by removing ubiquitination modifications of proteins, thereby participating in various biological processes such as DNA damage repair, cell survival, cell cycle, immune response, and angiogenesis. Accumulating evidence show that DUBs are an emerging class of anti-tumor targets. In recent years, our group has focused on DUBs related studies, mainly including: revealing the role and mechanism of DUBs in tumors; identifying the corresponding DUBs of various important oncoproteins or tumor suppressors; and using DUBs as the target to develop its inhibitors or agonists and envaluate their efficacy in vitro and in vitro. The results have been published in Nature communications, Signal transduction & targeted therapy, Science China Life Sciences and other journals. These studies will provide new mechanisms for the occurrence and development of tumors, and provide new targets and drugs for the treatment of tumors.
Personal Introduction
Yingli Wu, male, Ph.D., doctoral supervisor, professor of Shanghai Jiao Tong University School of Medicine, chief teacher of blood system of basic medical college. He graduated from the Shanghai Institute of Hematology in 2003 and has since worked in the Department of Pathophysiology of Shanghai Jiao Tong University School of Medicine. From 2004 to 2006, he was a postdoctoral researcher at the Saint-Louis Hospital in Paris, France. He has carried out long-term chemical biology research on leukemia, and in recent years, he has paid special attention to the degradation and regulation of tumor-related proteins. He has published more than 100 SCI papers in international academic journals such as Blood, Nature Communications, Signal transduction & targeted therapy, and won 5 invention patents. He has undertaken a number of surface and cultivation projects funded by the Ministry of Biology, Medicine and Chemistry of the National Natural Science Foundation of China, and 3 key basic projects of Shanghai Municipal Science and Technology Commission. As a backbone, he participated in 2 national key basic research program projects.
Scientific Research Projects
Molecular mechanisms and effects of ML364-induced degradation of MLL fusion proteins. NO. 82170145. Start/End: 2022, 01-2025, 12. National Natural Science Foundation of China.

Role and mechanism of IKZF1 in the repair of DNA damage in myeloma cells. NO. 20ZR1430600. Start/End: 2020, 07-2023, 7. Shanghai Natural Science Foundation.
Publications
Jing B, Liu M, Yang L, Cai HY, Chen JB, Li ZX, Kou X, Wu YZ, Qin DJ, Zhou L, Jin J, Lei H, Xu HZ, Wang WW, Wu YL*. Characterization of naturally occurring pentacyclic triterpenes as novel inhibitors of deubiquitinating protease USP7 with anticancer activity in vitro. Acta Pharmacol Sin, 2018, 39(3):492-498

Lei H, Jin J, Liu M, Li XY, Luo H, Yang L, Xu HZ, Wu YL. Chk1 inhibitors overcome imatinib resistance in chronic myeloid leukemia cells. Leukemia Research, 2018, 64:17-23

Yin LM, Xu YD, Peng LL, Duan TT, Liu JY, Xu ZJ, Wang WQ, Guan N, Han XJ, Li HY, Pang Y, Wang Y, Chen ZQ, Zhu WL, Deng LH, Wu YL, Ge GB, Huang S, Ulloa L, Yang YQ. Transgelin-2 as a therapeutic target for asthmatic pulmonary resistance. Sci Transl Med. 2018, 10(427)

Yue ZW, Xiao XH, Wu JB, Zhou XZ, Liu WL, Liu YX, Li HH, Chen GQ, Wu YL, Lei XG. Ent-Jungermannenone C Triggers Reactive Oxygen Species-Dependent Cell Differentiation in Leukemia Cells. J Nat Prod. 2018, 81(2):298-306 IF 3.28

Wang Y, Tang Y, Hang H, Wang M, Pang Y, Yu Y, Wu YL, Zhu Q. cAMP induces cell apoptosis in multiple myeloma and overcomes bortezomib resistance. Am J Cancer Res. 2018, 8(1):16-29

Tang CX, Lei H, Zhang JF, Liu M, Jin J, Luo H, Xu HZ, Wu YL. Montelukast Inhibits Hypoxia Inducible Factor-1 Translation in Prostate Cancer Cells, Cancer biology therapy, 2018, Apr 30:1-7

Jing B, Jin J, Xiang RF, Liu M, Yang L, Tong Y, Xiao XH, Liu W, Lei H, Xu HZ, Deng J, Zhou L, Wu YL. Vorinostat and quinacrine synergistically induce cell death in T-cell leukemia through reactive oxygen species increase and mitophagy inhibition. Cell Death Disease, 2018, 9(6):589

Lei H,Yang L,Zhou L,Tong Y,Wu YL. Targeting acute myeloid leukemia CD34+ stem/progenitor cells with small molecule inhibitor MK-8776. Leukemia Research, 2018, 72:71-73

Shan HZ, Li XY, Xiao XH, Dai YT, Huang JY, Liu M, Yang L, Lei H, Tong Y, Zhou L, Xu HZ, Wu YL. USP7 deubiquitinates and stabilizes NOTCH1 in T-cell acute lymphoblastic leukemia. Signal Transduction and Targeted Therapy, 2018, Oct 26;3:29

Wang YY, Wu LL, Cai HY, Ma CM, Lei H, Yang L, Xu HZ, Zhu Q, Yao ZJ, Wu YL. YL064 directly inhibits STAT3 activity to induce apoptosis of multiple myeloma cells. Cell death discovery, 2018, 5: 44.

Wang YY, Wu LL, Cai HY, Ma CM, Lei H, Yang L, Xu HZ, Zhu Q, Yao ZJ, Wu YL. Sinomenine derivative YL064: a novel STAT3 inhibitor with promising anti-myeloma activity. Cell Death Disease, 2018, 9(11):1093

Wu K, Yu X, Huang Z, Zhu D, Yi X, Wu YL, Hao Q, Kemp KT 2nd, Elshimali Y, Iyer R, Nguyen KT, Zheng S, Chen G, Chen QH, Wang G, Vadgama JV, Wu Y. Targeting of PP2Cδ By a Small Molecule C23 Inhibits High Glucose-Induced Breast Cancer Progression In Vivo. Antioxid Redox Signal. 2018,30(17):1983-1998

XU Han-Zhang, Wang Zhuo-Qun, Shan Huizhuang, Zhou Li, Yang Li, Lei Hu, LIU Bin, Wu YL. Overexpression of Fbxo6 inactivates spindle checkpoint by interacting with Mad2 and BubR1.Cell cycle, 2018;17(24):2779-2789

Yang ZY, Li C, Yan C, Li JF, Yan M, Liu BY, Zhu ZG, Wu YL, Gu QL. KIF14 promotes tumor progression and metastasis and is an independent predictor of poor prognosis in human gastric cancer. BBA - Molecular Basis of Disease, 2019, 1865(1):181-192

Wang WW, Li XY, Wang ZH, Zhang JF, Dong X, Wu YZ, Fang C, Zhou AW, Wu YL. A novel "mosaic-type" nanoparticle for selective drug-release targeting hypoxia cancer cells. Nanoscale, 2019, 11(5):2211-2222

Luo Hao, Jing Bo, Xia Yu, Zhang Yugen, Hu Meng, Cai Haiyan, Tong Yin, Zhou Li, Yang Li, Yang Junmei, Lei Hu, Xu Hanzhang, Liu Chuanxu, Wu Yingli WP1130 reveals USP24 as a novel target in T-cell acute lymphoblastic leukemia, Cancer Cell Int, 2019, 19:56

Yang L, Song LL, Zhao S, Ma CM, Wu DP, Wu YL*. Isobavachalcone reveals novel characteristics of methuosis-like cell death in leukemia cells. Chemico-Biological interaction, 2019, 304:131-138

Hu J, Shen W, Qu Q, Fei X, Miao Y, Huang X, Liu J, Wu Y, Li B. NES1/KLK10 and hNIS gene therapy enhanced iodine-131 internal radiation in PC3 proliferation inhibition. Front Med. 2019 May 22

Xu X, Huang L, Zhang Z, Tong J, Mi J, Wu YL, Zhang C, Yan H. Targeting non-oncogene ROS pathway by alantolactone in B cell acute lymphoblastic leukemia cells. Life Sci. 2019, 227:153-165

Tong J, Yu Q, Xu W, Yu W, Wu C, Wu YL, Yan H. Montelukast enhances cytocidal effects of carfilzomib in multiple myeloma by inhibiting mTOR pathway. Cancer Biol Ther. 2019; 20(3):381-390.

Lei H, Tu Y, Yang L, Jin J, Luo H, Xu H, Kang J, Zhou L*, Wu YL*. Quinacrine Depletes BCR-ABL and Suppresses Ph-Positive Leukemia Cells. Cancer Investigation, 2019, Jul 11:1-11.

Tong J, Xu X, Zhang ZL, Ma CN, Xiang RF, Liu J, Xu WB, Wu C, Li JM, Zhan FH, Wu YL, Yan H. Hypoxia-induced long non-coding RNA DARS-AS1 regulates RBM39 stability to promote myeloma malignancy. Haematologica, 2020 Jun;105(6):1630-1640

Chen Xiangyun, Zhang Xingming, Cai Haiyan, Yang Wupeng, Lei Hu, Xu Han-Zhang, Wang Weiwei, Zhu Qi, Kang Jingwu, Yin Tong*, Gu Wenli *, Ying-Li Wu*. Targeting USP9x/SOX2 Axis Contributes to the Anti-Osteosarcoma Effect of Neogambogic Acid. Cancer Letters, 2020, 469:277-286

Wang Weiwei*, Fang Zhixiao, Zhang Xingming, Cai Haiyan, Zhao Yucheng, Gu Wenli, Yang Xi *, Wu Yingli*. A Self-Assembled "Albumin–Conjugate" Nanoprobe for Near Infrared Optical Imaging of Subcutaneous and Metastatic Tumors, ACS Appl. Bio Mater. 2020, 3, 1, 327-334

Wu Y, Zhou Y, Huang CJ, Kobayashi H, Yan S, Ozeki Y, Wu Y, Sun CW, Yasumoto A, Yatomi Y, Lei C, Goda K. Intelligent frequency-shifted optofluidic time-stretch quantitative phase imaging. Opt Express. 2020 Jan 6;28(1):519-532.

Yu M#, Fang ZX#, Wang WW, Zhang Y, Bu ZL, Liu M, Xiao XH, Zhang L, Zhang XM, Cao Y, Wang YY, Lei H, Xu HZ, Wu YZ, Liu W*, Wu YL*. Wu-5, a novel USP10 inhibitor, enhances crenolanib-induced FLT3-ITD-positive AML cell death via inhibiting FLT3 and AMPK pathways. Acta Pharmacol Sin, 2020, Jul 21

Shan HZ, Cao Y, Xiao XH, Liu M, Wu YZ, Zhu Q, Xu HZ, Lei H, Yao ZJ*, Wu YL*. YL064 activates proteasomal-dependent degradation of c-Myc and synergistically enhances ABT-199-induced cell death in diffuse large B cell lymphoma. Signal Transduction and Targeted Therapy, 2020, 5(1):116.

Lei H, Xu HZ, Shan HZ, Liu M, Lu Y, Fang ZX, Jin J, Jing B, Xiao XH, Gao SM, Gao FH, Xia L, Yang L, Liu LG, Wang WW, Liu CX, Tong Y, Wu YZ, Zheng JK, Chen GQ, Zhou L, Wu YL. Targeting USP47 overcomes tyrosine kinase inhibitor resistance and eradicates leukemia stem/progenitor cells in chronic myelogenous leukemia. Nature Communications, 2021, 12(1):51

Liu M, Jin J, Yang L, Liu W, Tong Y, Zhou L, Lei H, Zhou AW, Xu HZ, Wu YL. C terminal Hsp70 binding protein-mediated degradation of Ikaros inhibits proliferation of acute myeloid leukemia cells. Science China Life Sciences, 2021, Jan 8,

Cao Y, Shan HZ, Liu M, Liu J, Zhang ZL, Xu XG, Liu Y, Xu HZ, Lei H, Yu M, Zhang XM, Liu WT, Bu ZL, Fang ZX, Ji YJ, Yan H, Gu WY, Wu YL. Directly targeting c-Myc contributes to the anti-multiple myeloma effect of Anlotinib. Cell death disease, 2021, 12(4):396

Ma CM, Liu M, Zhang J, Cai HY, Wu YZ, Zhang Y, Ji YJ, Shan HZ, Zou ZH, Yang L, Liu LG, Xu HZ, Lei H, Liu CX, Zhou L, Cao Y, Zhou HC*, Wu YL*. ZCL-082, a boron-containing compound, inhibits the proliferation of non-Hodgkin's lymphoma via targeting p90 ribosomal S6 kinase 1/NF-B signaling pathway. Chemico-biological interactions, 2021, 351:109770

Lei H, Wang JQ, Hu JC, Zhu Q, Wu YL. Deubiquitinases in hematological malignancies. Biomarker Research, 2021,9:66

Wang Z, Cai J, Ren J, Chen Y, Wu Y, Cheng J, Jia K, Huang F, Cheng Z, Sheng T, Song S, Heng H, Zhu Y, Tang W, Li H, Lu T, Chen Y, Lu S. Discovery of a Potent FLT3 Inhibitor (LT-850-166) with the Capacity of Overcoming a Variety of FLT3 Mutations. J Med Chem 2021,64(19):14664-14701

Yang S, Zhu XN, Zhang HL, Yang Q, Wei YS, Zhu D, Liu MD, Shen SM, Xia L, He P, Ge MK, Pan YL, Zhao M, Wu Y, Zheng J, Chen GQ, Yu Y. ANP32B-mediated repression of p53 contributes to maintenance of normal and CML stem cells. Blood, 2021

Zhang Z, Ye C, Liu J, Xu W, Wu C, Yu Q, Xu X, Zeng X, Jin H, Wu Y, Yan H. JaponiconeA induces apoptosis of bortezomib-sensitive and -resistant myeloma cells in vitro and in vivo by targeting IKK. Cancer Biol Med, 2021

Yang Z, Yan C, Yu Z, He C, Li J, Li C, Yan M, Liu B, Wu Y, Zhu Z. Downregulation of CDH11 Promotes Metastasis and Resistance to Paclitaxel in Gastric Cancer Cells. J Cancer, 2021, 12(1):65-75

Yang J, Wang J, Liu Y, Zhang Y, Huang W, Zou Y, Qiu Y, Cai W, Gao J, Zhou H, Wu Y, Liu W, Ding Q, Zhang Y, Yin PH, Tan W. PGE2-JNK signaling axis non-canonically promotes Gli activation by protecting Gli2 from ubiquitin-proteasomal degradation. Cell Death Dis. 2021 Jul 15;12(7):707

Liu M, Zhang Y, Wu Y, Jin J, Cao Y, Fang Z, Geng L, Yang L, Yu M, Bu Z, Ji Y, Shan H, Zou Z, Liu L, Wang Y, Zhang Y, Tong Y, Xu H, Lei H, Liu W, Gao F, Wu YL. IKZF1 selectively enhances homologous recombination repair by interacting with CtIP and USP7 in multiple myeloma. International Journal of Biological sciences, 2022, 18(6):2515-2526.

Lei H, Yang L, Xu H, Wang Z, Li X, Liu M, Wu Y. Ubiquitin-specific protease 47 regulates intestinal inflammation through deubiquitination of TRAF6 in epithelial cells, Science China Life Sciences 2022, FEB 25

Ma QX, Zhu WY, Lu XC, Jiang D, Xu F, Li JT, Zhang L, Wu YL, Chen ZJ, Yin M, Huang HY, Lei QY. BCAA-BCKA axis regulates WAT browning through acetylation of PRDM16. Nat Metab. 2022 Jan;4(1):106-122.

Yin H, Jing B, Xu D, Guo W, Sun B, Zhang J, Liao Y, Song H, Wang T, Liu S, Kuang Y, Hu M, Li K, Zhang S, Zhang H, Xu J, Li X, Du J, Wu Y, Wu Y, Wang Q, Yao F, Chin YE, Zhou BP, Deng J. Identification of Active Bronchioalveolar Stem Cells as the Cell of Origin in Lung Adenocarcinoma. Cancer Res. 2022 Mar 15;82(6):1025-1037.