College of Basic Medical Sciences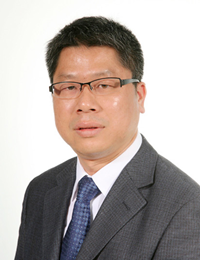 HONG Dengli
Email: dlhong@sjtu.edu.cn
Tel: 21-53520912
Research Field:
1. Initiation and evolution of leukemic stem cells and their niches.
2. Function and genome instability of hematopoietic stem cell in physiological and abnormal niches.
Personal Introduction
Prof. Hong is a haematologist. He studied medicine and obtained MD in Wuhan Tong-ji Medical University in 1998, then pursued clinical training until 2000 in bone marrow transplantation centre of Wuhan Tongji Hospital. Dr. Hong switched his career to scientific research by the postdoctoral specialization in the laboratories of Prof. Wanda Piacibello and Prof. Luigi Naldini in IRCC, Italy. He then moved to Oxford in 2003 to join in Prof. Tariq Enver's lab, where they for the first time identified a pre-leukemic stem cell (Hong D, et al. Science 2008) and he was awarded his PhD. Then Dr. Hong returned to Shanghai Jiao-Tong University School of Medicine to start a translational research of stem cell biology by recruiting a group of scientists in the field of Medical Stem Cell Biology. His laboratory is situated at the Key Laboratory of Cell Differentiation and Apoptosis of Chinese Ministry of Education, and juxtaposed to several affiliated hospitals.
Scientific Research Projects
Formation and Evolution of the Clonal Epigenetic Structure in Leukemic Stem Cells within the Bone Marrow Microenvironment (NSFC 2020.1-2024.12, ¥ 2,480,000.00)

Exploring the Stem Cell Clonal Evolution Driving by TEL-AML1 (NSFC 2010.1-2012.12, ¥ 600,000.00)

Genetic Diversification in Clonal Evolution of Stem Cells in BCR−ABL-associated ALL (NSFC 2012.1-2016.12, in collaboration with Prof. Tariq Enver in the UCL Cancer Institute, ¥ 2,800,000.00)

Initiation and evolution of cancer stem cell in leukemia and liver cancer (Chinese 973 project 2012.1-2016.12, ¥ 3,400,000.00).

Cellular composition and formation mechanism of the immune-privileged niche in leukemic bone marrow (NSFC 2015.1-2017.12, ¥ 1,000,000.00)

Stress and tumour (NSFC 2018.1-2023.12,¥ 1,750,000.00).

Microecological evolution of bone marrow microenvironment in acute leukemia during treatment (NSFC 2018.1-2022.12, ¥ 2,930,000.00)

Mechanical Transformation of FEV-driven Self-renewal of Hematopoietic Stem Cells during Development (NSFC 2019.1-2022.12, ¥ 600,000.00).

Formation and Evolution of Clonal Epigenetic Structure of Leukemia Stem Cells in Bone Marrow Microenvironment (NSFC 2020.1-2024.12, ¥ 2,480,000.00)

10. Shanghai High Level Local University Construction Project - Frontier Research Center (2021.1-2021.12, ¥ 500,000.00)
Publications
Dong X, Mu LL, Liu XL, Zhu H, Yang SC, Lai X, Liu HJ, Feng HY, Lu Q, Zhou BB, Chen HZ, Chen GQ, Lovell JF, Hong DL*, Fang C*. Biomimetic, Hypoxia-Responsive Nanoparticles Overcome Residual Chemoresistant Leukemic Cells with Co-targeting of Therapy-Induced Bone Marrow Niches. Advanced Functional Materials. 2020 Feb; 30: 2000309.

Li Z, Li SP, Li RY, Zhu H, Liu X, Guo XL, Mu LL, Cai JJ, Bai F*, Chen GQ* and Hong DL*. Leukaemic alterations of IKZF1 prime stemness and malignancy programs in human lymphocytes. Cell Death & Disease. 2018 May 9; 9(5): 526.

3.Liu TH, Tang YJ, Huang Y, Wang L, Guo XL, Mi JQ, Liu LG, Zhu H, Zhang Y, Chen L, Liu X, Zhang LH, Ye QJ, Li BS, Tang JY, Ford A, Enver T, Liu F*, Chen GQ*, Hong DL*. Expression of the fetal hematopoiesis regulator FEV indicates leukemias of prenatal origin. Leukemia. 2017 May; 31(5): 1079-1086.

Boto C, Quartin E, Cai YJ, Martín-Lorenzo A, Cenador MBG, Pinto S, Gupta R, Enver T, Sánchez-García I, Hong DL, Pires das Neves R, Ferreira L. Prolonged intracellular accumulation of light-inducible nanoparticles in leukemia cells allows their remote activation. Nature Communications. 2017 May 11; 8: 15204.

Fan D, Zhou XC, Li Z, Li ZQ, Duan CW, Liu TH, Zhang F, Huang Y, Zhang Y, Gao F, Guo Y, Gupta R, Chen GQ, Enver T, Tang JY*, Hong DL*. Stem Cell Programs are Retained in Human Leukaemic Lymphoblasts. Oncogene. 2015 Apr 16; 34(16): 2083-2093.

Duan CW, Shi J, Chen J, Wang B, Yu Y, Qin X, Zhou X, Cai Y, Li Z, Zhang F, Yin M, Tao Y, Mi J, Li L, Enver T*, Chen GQ*, Hong DL*. Leukaemia Propagating Cells Rebuild an Evolving Niche in Response to Therapy. Cancer Cell. 2014 Jun 16; 25(6): 778-793.

Wang L, Liu T, Xu L, Gao Y, Wei Y, Duan C, Chen GQ, Lin S, Patient R, Zhang B, Hong DL*, Liu F*. Fev regulates hematopoietic stem cell development via ERK signaling. Blood. 2013; 122(3): 367-375.

Hong DL, Gupta R, Ancliff P, Atzberger, A, Brown J, Soneji S, Green J, Colman S, Piacibello W, Brckle V, Tsuzuki S, Greaves M, Enver T. Initiating and cancer-propagating cells in TEL-AML1-associated childhood leukaemia. Science. 2008; 319: 336-339.
Patent
A testing kit of the existence of leukemic stem cell-protective niches in the bone marrow (No. ZL201410141003.7,authorized on Sep.28, 2016).

A testing kit of the existence of leukemic stem cells in leukemic patients (No. ZL201410201340.0,authorized on April 23, 2019).