The School of Nursing successfully held the "2021 Cambridge Online Research Development Programme Completion Ceremony"
March 16, 2022
Author: Wu Jia
Photo: Wang Xiyi
On the evening of March 14, Shanghai JiaoTong University School of Nursing held the "2021 Cambridge Research Registered Student (Online) Program Completion Ceremony". Fang Qiong, Associate Dean of the School of Nursing; Zhao Xiaoyan, Director of the Teaching Office; Wu Jia, Wang Xiyi and Su Ya, Project Supervisors, participated in this ceremony with 36 full-time students. The ceremony was hosted by Ms. Huang Jieyu, Chief Director of the Centre for Science, Technology and Cultural Integration in Asia, University of Cambridge, UK.
In line with the training goal of "Outstanding medical innovative talents with soul" of Shanghai JiaoTong University School of Medicine, based on years of experience in overseas cooperation projects, the School of Nursing has fully investigated a number of overseas universities based on the school reputation, research interest, faculty strength and student training and other multidimensional aspects, and finally decided to cooperate with the Cambridge Centre for Integration of Science, Technology & Culture, University of Cambridge (CCSITC) to carry out the Cambridge Online Research Development Programme. The program focused on 3 academic fields: nursing, global public health and medical artificial intelligence, and provided students with systematic research training through online lectures, recorded lessons, workshops and individualized research plan writing tutorials by professional tutors, aiming to enhance students' ability to complete academic research and international research independently. After more than 3 months of preparation, 36 outstanding students, including 17 undergraduates and 19 postgraduates, were selected to participate in the program through preliminary selection, written tests and interviews, which formed 3 groups of 12 students each.
The closing ceremony started with a speech by Fang Qiong, Associate Dean of the School of Nursing, who congratulated all the students who successfully completed and passed the program and thanked the professors of University of Cambridge for their careful guidance and teaching. She also expressed her expectation that this program would serve as a starting point and opportunity to provide a platform for more diversified research communications and learning for faculty and students from both schools and promote knowledge integration, and further promote the teaching and research cooperation between the School of Nursing and the University of Cambridge in various disciplines related to medicine, so as to achieve win-win benefits.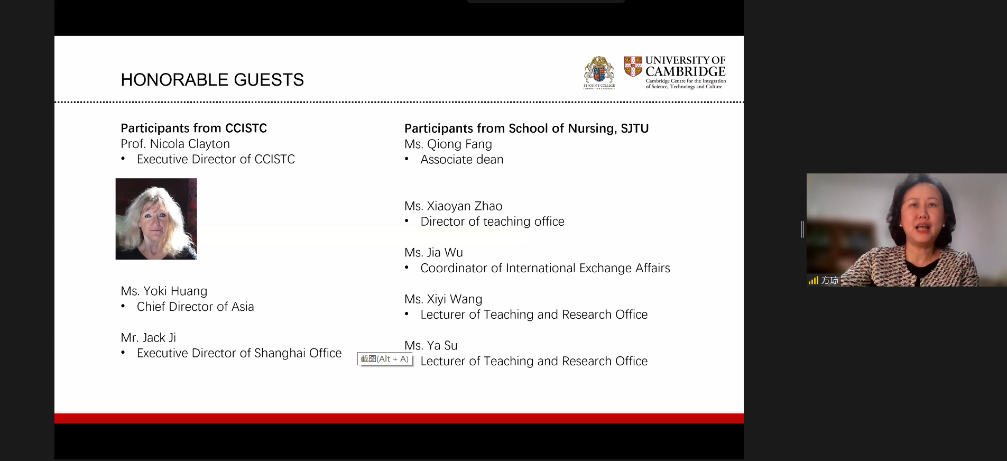 After that, Wu Jie, as an representative undergraduate student said that she had experienced different cultural atmosphere and teaching styles in the course of nursing and health management. The course was rich in content and has a well-designed teaching framework; and the course leader, Professor Olag, was lively and clear-minded, focusing on interactive communication during the course. Wu Jie also said that she had gained a fund of knowledge and experience in writing research protocals and learned practical nurse-patient communication skills as well in the course.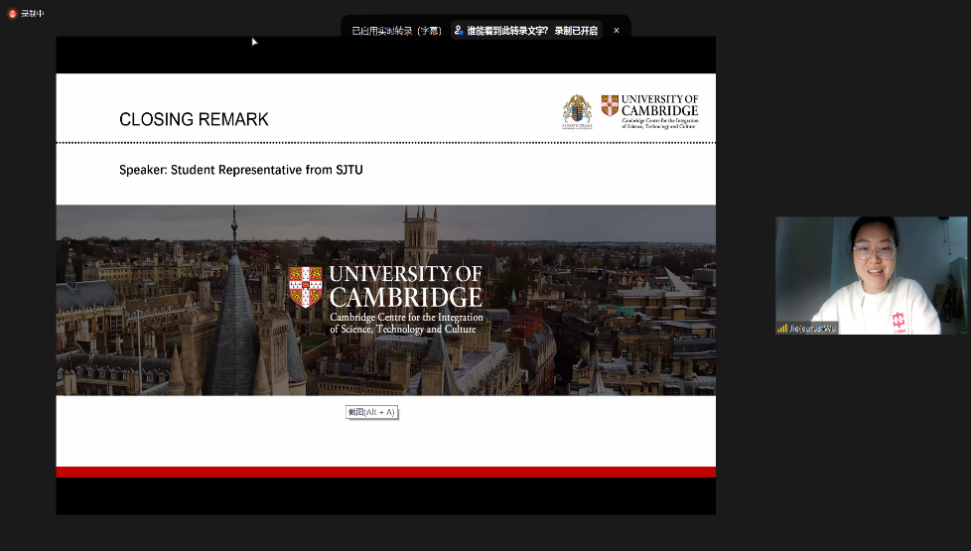 Afterwards, Zhou Shiyi, a master's student of Class 20, shared her thoughts on behalf of the master's students. She said that she had a deeper understanding of how to conduct scientific research through the course of public health, and had mastered the research methods in her field of interest more deeply. In addition, through the learning of knowledge in different fields, she felt the charm of interdisciplinary cooperation and the importance of teamwork. She said that at the beginning of the course, she was not good at expressing herself online, but with the positive encouragement and infection from the lecturers, she gradually built up the confidence of communication.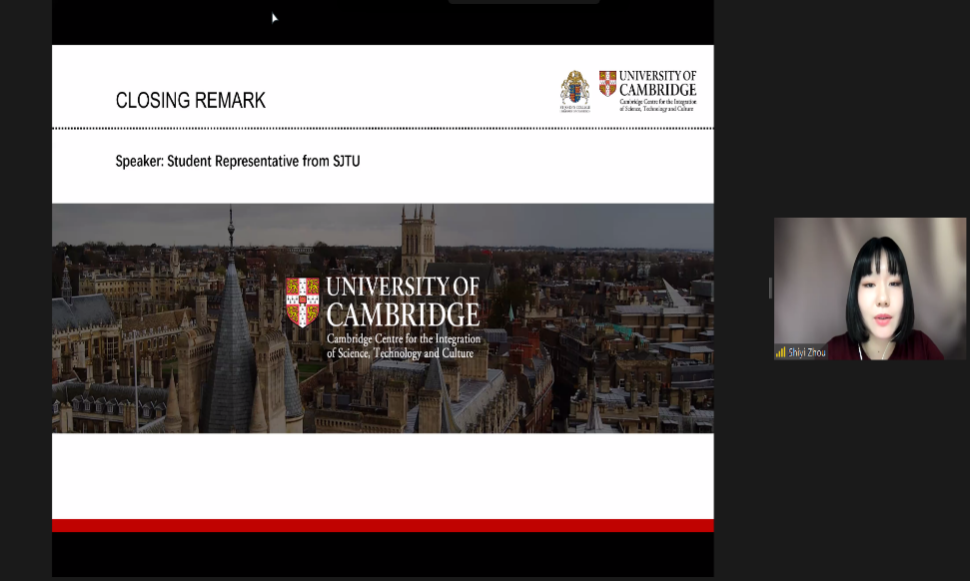 Subsequently, Yan Desiu, as an representative PhD student,. she said that during the course of the medical artificial intelligence, she stepped out of her comfort zone and stepped out of the professional field of nursing to receive new knowledge and skills. Artificial intelligence is a challenging science, and those who work on it must master knowledge related to computer science, psychology and philosophy, the latter two aspects of which are also necessary for a nurse. The similarities between artificial intelligence and nursing go beyond the similarities in related knowledge; they both aim to help humans lead better lives. She believes that the combination of AI and the nursing profession will have a very promising future.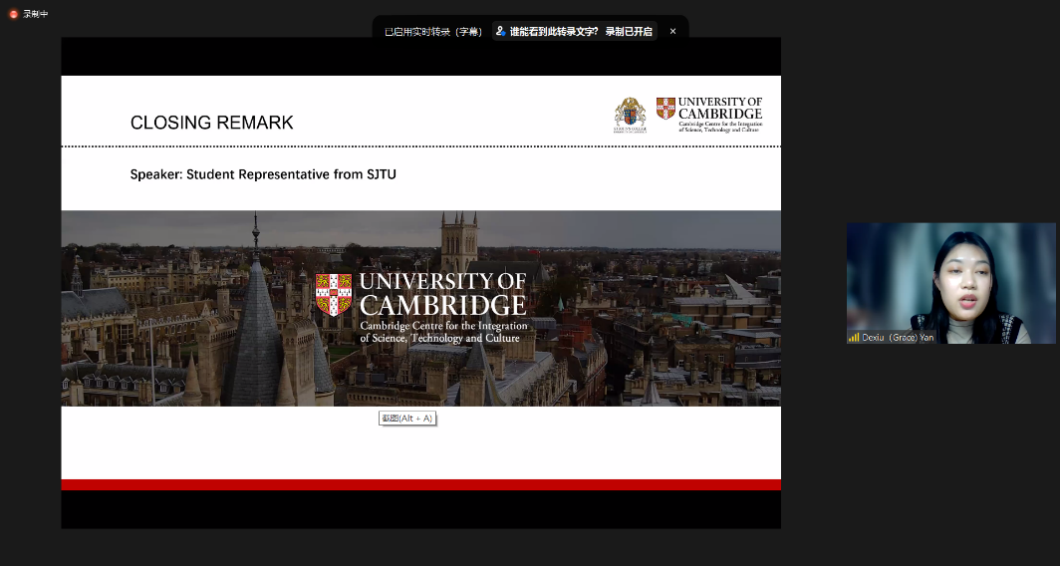 Finally, Ms. Clayton, Chief Director of CCSITC, University of Cambridge, delivered a closing speech. She firstly congratulated the students who successfully completed the 5-week online study and research program. She hoped that through the course, they would not only be familiar with the methodology of scientific research in UK universities, but also learn useful knowledge, ideas and the current status of the frontier of scientific progress through the interaction with the world's leading scholars, and improve their scientific cultivation and research ability. At the same time, she said that the world today is facing many unprecedented challenges, and since human beings living on the same planet, we need to work together to promote scientific progress and thus improve the quality of human life. At the meanwhile, she also expressed her recognition and gratitude to all the staffs of Shanghai JiaoTong University School of Nursing for their efforts.
After the speech, all online faculty and students took a group photo and exchanged greetings, looking forward to the meaningful and fruitful teaching and research cooperation between the two universities in the future.