Shanghai Jiao Tong University School of Nursing Dual Degree in Nursing-Administration
May 19, 2022
Approved as 2022 Shanghai General Higher Education Institution Dual Degree Program for Cultivating Compound Talents
In May 2022, Shanghai Academic Degree Committee issued a document in which the Nursing-Administration dual degree program of Shanghai Jiao Tong University School of Nursing was approved. The program is an innovative exploration of nursing education in response to the cultivation of compound talents and a "new milestone" for the School of Nursing to deepen its reform and promote a new round of medical school construction.
The Nursing-Administration dual bachelor's degree program is built on Shanghai Jiao Tong University's disciplinary advantages in nursing and administration majors. It adheres to both the School of Medicine's general education goal of cultivating "excellent medical innovative talents with missions in mind" and the School of International and Public Affairs' education philosophy of "To learn, To build morality, To build oneself, and To aspire". Through the integration of nursing and administration and the setting of featured courses, the program aims to cultivate nursing-administration talents to lead the development of the nursing major in China. These interdisciplinary and innovative talents are hoped to possess a solid professional foundation, and comprehensive understanding of integrated nursing and administration knowledge, and to be capable of carrying out comprehensive nursing practice and provide public health management services with a strong sense of social responsibility, humanistic care, teamwork spirit as well as international vision.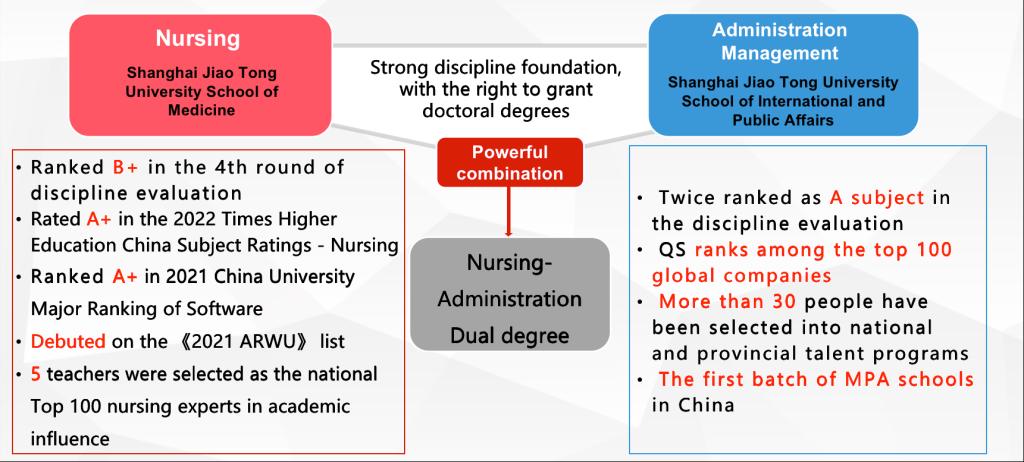 The approval of this dual degree program is an important step in the process of promoting talent cultivation and discipline development for the School of Nursing. The School of Nursing will closely collaborate with the School of International and Public Affairs to manage the program, accumulate experience, strengthen the major connotation construction, and explore a leading dual degree training model in China. By integrating administration into nursing, we aim at making nursing more effective! By integrating nursing into administration, we aim at making administration full of love and humanity! We'll spare no efforts to promote the university's "double first-class" construction to a new level!
Author: Zhou Yingying
2022.5.19