Discipline Exhibition - Nursing
August 16, 2022
Established 70 years ago, Shanghai Jiao Tong University School of Medicine leaves its unique glory in the development of medicine. The history is well documented and carried by the School's academic buildings - a block of red buildings standing out starkly against the pure white magnolia flowers. Let's trace down this 70-year history of the discipline of nursing in Shanghai Jiao Tong University School of Medicine, reviewing the time, the place, the people, and the events together.
The Past - History of the Discipline Development
---
In 1854, Florence Nightingale created the legend of nursing on the Crimean battlefield. Twenty eight years later in Shanghai, Tongren Hospital created the earliest record of nurse training in China. In 1894, the first formal nursing training program in Shanghai was established in Renji Hospital.
Starting from 1912, Guangren, Renji, Hongren, and Birtley Hospitals successively set up nursing schools. In 1915, Renji Private Advanced Nursing School added male-only classes, cultivating the first group of male 'Nightingales' in China. In 1936, Guangci Hospital set up an advanced nursing school providing a three-year nursing program, with Hu Wenyao, Chancellor of Aurora University, as its Principal. In the same year, Birtley Hospital established a nursing journal, which was probably the first academic journal of nursing in Shanghai at the time. These nursing schools, which bear deeply rooted connections with Shanghai Jiao Tong University School of Medicine, fostered a number of talents for Shanghai and the country in the first half of the 20th century, including Zuo Ying, Tao Xiangling, Shi Meili, and Lu Bing. From Chairman Mao's message and Premier Zhou's encouragement to President Xi Jinping's care, the development of the nursing discipline has been greatly supported by China's government.
In the early days of the founding of the PRC, China's nursing education was mainly conducted in secondary schools and was managed by hospitals. Seventy years ago, Shanghai Second Medical College was founded, followed by the founding of its affiliated nursing school which was later renamed Guangci Hospital Nursing School. After that, Xinhua Hospital Nursing School was founded and was renamed Xinhua Health School in 1981. In 1985, Shanghai Second Medical University added a new five-year program in advanced nursing, which became one of the first eleven undergraduate departments for nursing in China.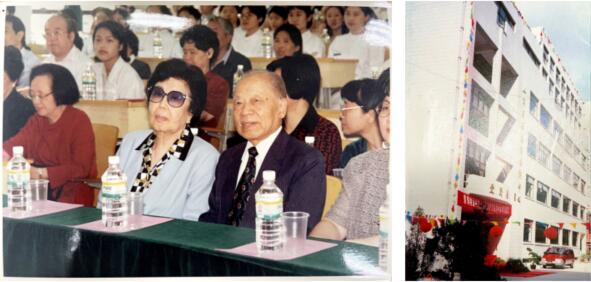 The Aiju Building - Shanghai Advanced Nursing Training Center in Ruijin Hospital donated by Liu Haoqing, a member of the Standing Committee of the National Committee of the Chinese People's Political Consultative Conference, and his wife, Kong Aiju.
In 1992, Mr. Liu Haoqing and his wife Mrs. Kong Aiju, patriotic compatriots from Hong Kong, donated to build the Aiju Building as the venue for Advanced Nursing Department of the Shanghai Second Medical University and Shanghai Advanced Nursing Training Center. Over the years, the building has witnessed generations of students and faculty members' enduring efforts and continuous strives for the development of the nursing discipline.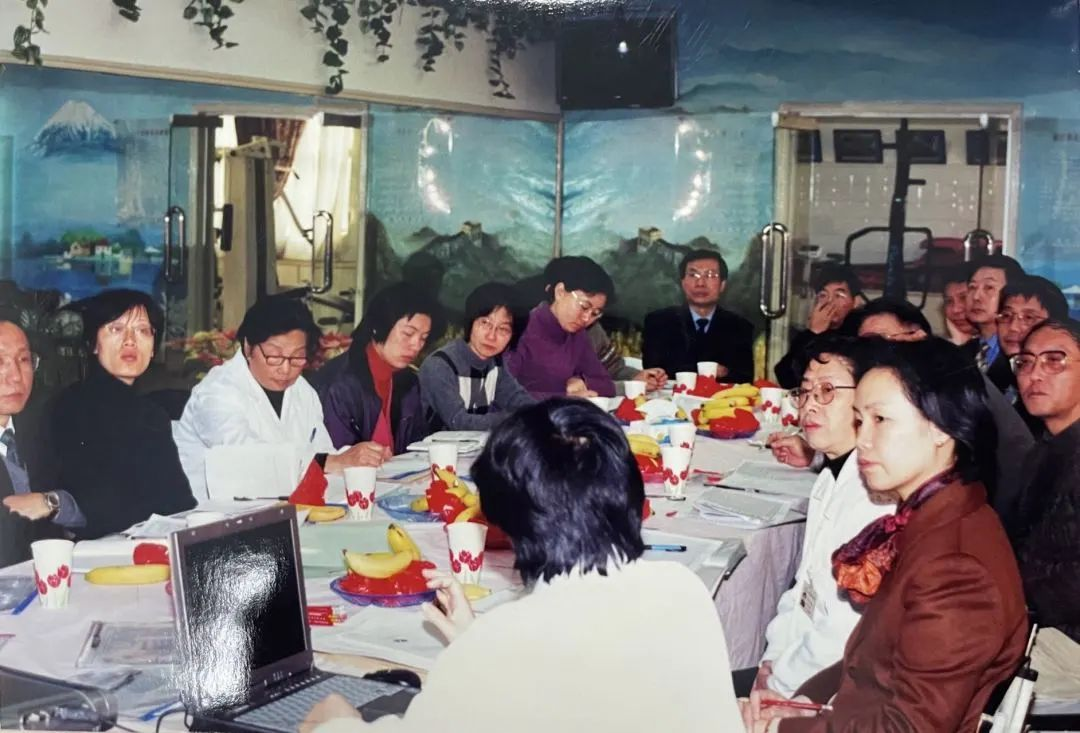 From five-year to four-year: the program setting reform of nursing discipline
In 2001, the program setting of nursing discipline was reformed from five-year to four-year. In 2003, Shanghai Second Medical University School of Nursing was established with Cai Wei as the first Dean and later it was authorized to run Master's degree programs. In 2005, the school's name was changed to "Shanghai Jiao Tong University School of Nursing". It was among the first batch in China authorized to award professional degrees in 2010 and doctoral degrees in 2011. Three years later, it developed a postdoctoral program for nursing faculty. In 2015, it was included in the "High-level Disciplines of Shanghai Higher Education Institutions" and "Teaching Incentive Program for Elite Teachers". In 2020, it was enlisted as a school for "National first-class undergraduate major". In 2022, the "Dual bachelor's degree program of nursing and administration" was launched.
The Present – Achievements and Highlights of Discipline Development
---
The nursing discipline of Shanghai Jiao Tong University School of Nursing continues to strive and forge ahead by taking the new historical opportunities and to firmly stick to its advantages and characteristics. The discipline's profound historical and cultural heritage and practical working style will surely lead the discipline to embark on a new journey.
The nursing discipline adheres to the vision of being a leading discipline both in China and abroad. Supported by the concerted efforts of the School and its affiliated hospitals, the nursing discipline has achieved remarkable results by elaborately planning its development strategy and constantly refining its development direction. In 2016, the discipline was rated as B+ in the fourth round of discipline assessment by the Ministry of Education of China. In 2022, it ranked No.3 in the 2022 Shanghai Ranking's discipline ranking of universities in China, No.139 in the 2022 Shanghai Ranking's Academic Ranking of World Universities (ARWU), and was graded A+ in the 2022 Times Higher Education World University Rankings (THE) China Academic Ranking. Currently, in the School's faculty team, there are two FAAN members, five top-100 academic influencers in nursing, and one innovation team of Shanghai high-level universities. Promoted by the Team Development Program (2021-2025) of Nursing Discipline at Shanghai Jiao Tong University School of Medicine and guided by the goal of cultivating nursing-teaching-research-management multi-ability nursing talents, 12 nursing discipline leaders, 26 discipline elites, and 80 young talents were selected in the past two years. 7 discipline directions and corresponding academic echelons have been formed, namely chronic disease nursing, critical nursing, oncology nursing, nursing management, psychiatric and psychological nursing, nursing education and pediatric nursing, producing a series of high-quality research results. Based on the scientific research bases of Shanghai Jiao Tong University, Shanghai Jiao Tong University School of Medicine, and the affiliated hospitals, 12 supporting platforms and one Research Institute of Nursing Management under the China Hospital Development Institute were built. In collaboration with five universities and research institutes, the "Nursing + X" Industry-Academia-Research Center was basically established, achieving remarkable results.
So far, Shanghai Jiao Tong University School of Nursing has formed a multi-level nursing education system including undergraduate, master of science, doctoral and post-doctoral programs. Aimed at cultivating talents with high moral standards in line with the discipline's characteristics, the School has built and implemented a "whole team, whole process and all-round" education system, and strived to cultivate innovative nursing talents that combine the merits of being experts, managers, and researchers. Over the past five years, faculty and students of the discipline have produced a number of high-impact research results, publishing more than 1,300 academic papers in top journals such as the International Journal of Nursing Studies (Q1), undertaking 75 general scientific research projects for the National Natural Science Foundation of China and the National Social Science Foundation of China, and filing 181 innovation or application patents. They have also received 24 Chinese Nursing and Municipal Science and Technology awards and Teaching Achievement awards, and published 15 monographs as chief editors or associate editors, including three textbooks in the set of 14th Five-Year Plan textbooks.
Highlight 1
---
Aligning with urgent national strategic needs, aiming at reaching world-class standards, and taking lead in the development of public health emergency nursing in China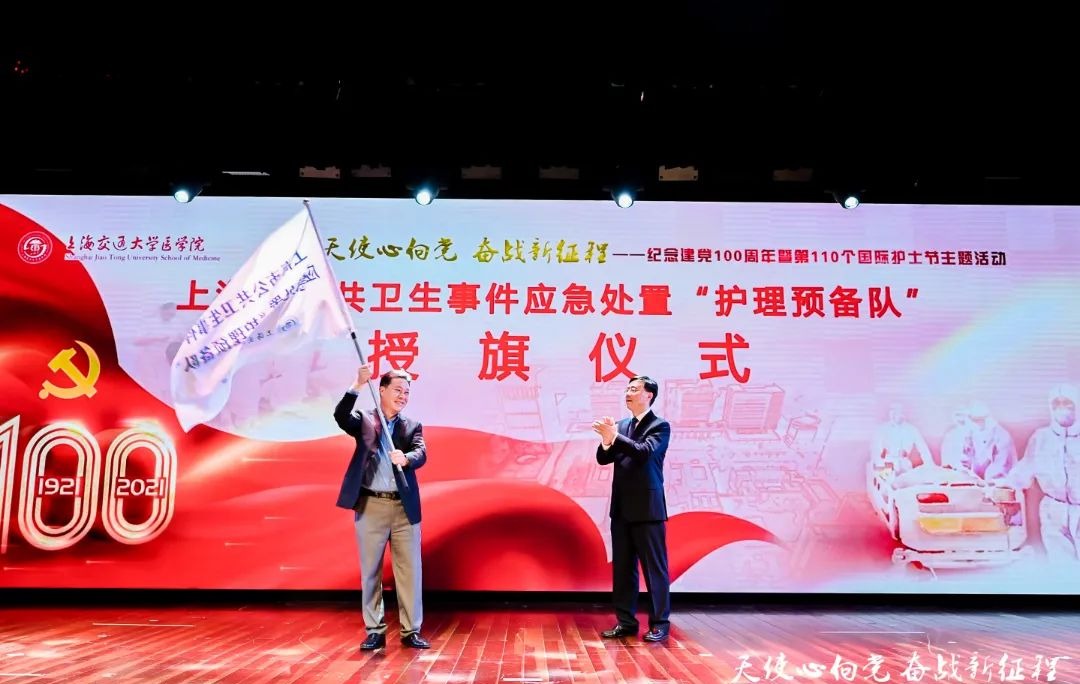 In 2021, the first Nursing Reserve Team to Respond to Public Health Emergencies in Shanghai was established.
Shanghai Jiao Tong University School of Nursing has formed a stable echelon group of young and middle-aged academic elites focusing on public health emergency nursing. In 2021, the group was selected for the first time as the Innovation Teams of Shanghai High-Level Universities. Currently, there's one core team, two collaborative teams, and one incubation team. Inside the group, there are four doctoral supervisors, eight master's supervisors, one Young Oriental scholar, one Changjiang scholar, and one discipline leader of the Health Care Commission. Eight of the research projects hosted by the group were approved as the national level projects. The group formed the first Nursing Reserve Team to Respond to Public Health Emergencies in Shanghai, which is included in the "Three-Year Action Plan for Strengthening Public Health System in Shanghai". Through the combining efforts of departments and universities and resource sharing, a fast, efficient, flexible, and decentralized team that stands ready during time of peace and emergencies with a size of 3,000 people has been formed, twelve nursing training bases have been built, and a set of sustainable and complete talent training system and management model have been constructed. The reserve team is divided into module groups to be quickly deployed in response to emergencies of different types, scales and stages. The team covers multiple functions including emergency nursing, critical nursing, medical and surgical emergency nursing, critical maternal and pediatric nursing, emergency management research, and emergency psychology. It has become the backbone force to respond to Shanghai's public health emergencies, playing an important role in maintaining urban public health safety and enhancing the resilience of urban construction.
Highlight 2
---
Reflecting the characteristics of specialized care through social services
Promoting and implementing specialized techniques in lower-tier cities
Relying on the Shanghai High-level University Project (Phase II) in 2021, seven advanced specialty bases were selected: breast nursing, midwifery nursing, anesthesia nursing, pediatric nursing, trauma and orthopedic nursing, psychiatric nursing, and wound stoma incontinence nursing. Shanghai Jiao Tong University School of Nursing carries out 35 nursing specialty clinics, including burn nursing, orthopedic nursing, xerophthalmia nursing, and follow-up care management for liver transplant patients, with an annual outpatient volume of 150,000 visits. There are 79 practical training bases at or above the municipal level, including the China Training Base for the World Skills Competition and the International Anesthesia Nursing Education Base. It has also carried out talent training in international ostomates, wound therapists and other specialized nursing orientations, led and participated in the formulation of three industry standards, and trained 161 ostomates and wound therapists from 17 provinces and cities nationwide. It hosted the Academic Exchange Event for 1,200 people in the pediatric nursing alliance both online and offline, placed three respiratory nursing programs in neighborhoods, and formed an eHealth management model based on Shanghai Pediatric Medical Center, effectively promoting the translation of research findings.
Highlight 3
---
Gathering resource advantages from multiple sources
Preliminarily establishing the "Nursing + X" Industry-Academia-Research Center
In cooperation with multiple universities and research institutes, Shanghai Jiao Tong University School of Nursing hosted a series of events and activities, such as the International Innovation Practice Summer Camp, the "Nursing + X" International Young Scholars Online Forum, "Nursing + X" Innovation Salon and "Nursing + X" Innovation and Creativity Competition, which expanded new channels for interdisciplinary cooperation among high-level young talents from different disciplines. In the first Shanghai Nursing Association Nursing Student Innovation and Entrepreneurship Project Competition, two teams from Shanghai Jiao Tong University School of Nursing won the first prize and second prize respectively. It collaborated with Shanghai Jiao Tong University School of Design on an open project of the Key Laboratory of Artificial Intelligence approved by the Ministry of Education, and applied for a cross-over project with Renji Hospital and Shanghai Jiao Tong University School of Materials Science and Engineering. The center has created a ecosystem for "Nursing + X" science and technology innovation, providing new pathways to promote the innovative development of the nursing specialty in the cross-discipline context.
The Future - Visions of Discipline Development
---
In 2022, at the critical turning moment when Shanghai Jiao Tong University School of Medicine celebrated its 70th anniversary, to comprehensively promote the new round of "Double First-Class" discipline development, the nursing discipline will continue to follow the guidance of Xi Jinping Thought on Socialism with Chinese Characteristics for a New Era, and fully implement the spirit and strategic decisions of the CPC and the State Council meetings. Shanghai Jiao Tong University School of Nursing will take the problem-oriented, goal-led, and demand-oriented approach, take into consideration the construction of the Pudong new campus, accurately target the goals of the discipline and make clear layout for the discipline development. By 2025, it aspires to become a domestically first-class and internationally advanced discipline, build a globally competitive faculty team, cultivate a new generation of nursing leaders and scientists with innovative thoughts, and carry out a series of original research projects and translate the results into applications.
Defining the positioning and layout of the discipline, and developing the discipline in stages.
Guided by the important concept of "prioritizing people's health and providing all-round and whole-cycle health services", Shanghai Jiao Tong University School of Nursing proactively caters to the urgent needs of the national health strategic and Shanghai health strategic. The school focuses on latest development of the international nursing discipline, benchmarks with the standards of world-class disciplines, and precisely plans the layout of the discipline construction and the blueprint of development in order to achieve key breakthroughs and create absolute advantages in the nursing discipline. Focusing on the construction of public health emergency nursing, nursing policy and leadership, and advantageous clinical specialty nursing, it insists on promoting the construction of disciplines in stages by making full use of the discipline's unique advantages and characteristics. Meanwhile, the School is also further broadening the horizon, exploring innovative approach to cross-disciplinary integration from the broad perspective of "Big Health and Big Nursing", and striving to build cross-disciplines such as nursing and management, nursing and engineering.
Attracting and cultivating discipline-leading talents with targeted focus, and promoting the construction of a first-class faculty team.
Shanghai Jiao Tong University School of Nursing has established a long-term supporting mechanism for talents-projects coordination by focusing on key areas to attract and nurture talents. It regularly hosts events and activities such as the International Young Scholars Forum and the New Nursing new salon. It continues to promote the talents team construction project of nursing discipline, taking nursing talents project and innovation teams as the focus point to cultivate discipline leaders and elites. It also expands the team scale of full-time and part-time faculty members to build a high-level faculty team of nursing discipline and improves the linkage mechanism of college-affiliated hospital integrated faculty construction to further promote the building of a first-class faculty team.
Planning the construction of disciplinary platform centers to promote innovation and transformation of achievements.
It's mentioned in the main task of the National Nursing Career Development Plan (2021-2025) that "the construction of nursing informationization should be strengthened with the full use of information technologies, combined with the requirements of developing smart hospitals and 'Internet + medical health'." Currently, there're multiple hurdles in the way of nursing discipline development, such as the shortage of high-level researches, insufficient cooperation between colleges and affiliated hospitals, inadequate cross-disciplinary integration, the problem of having massive amounts but not standardized data, and the existence of information isolated islands. Considering these factors, the school is planning to build a clinical nursing research center in five years. The school will continue to promote the strategy of "joint construction and sharing", enhance the service and support capacity of nursing scientific research, and focus on improving the level of clinical research in nursing disciplines. It aims to become an influential clinical nursing research and Achievement Incubation Center in Shanghai and accelerate the progress to become a clinical nursing research center with national influence through the recent five-year planning and construction.
Seventy years of tireless efforts
Seventy years of medical achievements
The Discipline of Nursing will not forget its original intention
Bearing the responsibility given by the Party and the State with determination
To live up to the historical mission of promoting public health development in the new era