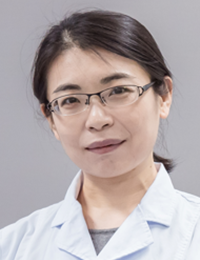 HE Jian
Ph.D., Associate Professor
Shanghai Jiao Tong University School of Medicine
Email: jih003@sjtu.edu.cn
Research Areas: Single-cell Multi-Omics Technology, Systems biology
Address: 227 South Chongqing Road, Shanghai, China
Biography
Dr. He obtained her Ph.D. degree from a joint Ph.D. program in Jilin University and University of California, San Diego under Prof. Shu Chien which is the Academician of National Academy of Sciences, National Academy of Engineering, Institute of Medicine, and American Academy of Arts and Sciences of US. Dr. He then worked in Los Alamos National Laboratory (LANL) in the United States, Chinese Academy of Sciences and Shanghai Jiao Tong University in China. In 2019, Dr. He joined the Center for Single-Cell Omics in Shanghai Jiao Tong University School of Medicine as the core director of the genomics core.
Dr. He's research focused on developing more sophisticated technology of single-cell multiple-omics analysis, using systems biology strategies to elucidate the underlying mechanism of major diseases, especially oncology and discover novel biomarkers, and AI Drug Screening. As of June. 2022, Dr. He has authored 60 high-quality scholarly articles including 25 first-authored and correspondence author papers, which have been extensively cited. Also, Dr. He has filed 15 patents. Also, she has been awarded research grants and awards from National Natural Science Foundation, China Postdoctoral Science Special Foundation, and so on. Dr. He was invited to contribute review articles by high influential research journals in her field and give oral presentations at national and international conferences. Dr. He also serves as an article reviewer of numerous notable international journals.
Selected publications
TRPV1, is a potential biomarker associated with lung cancer via excluding immune infiltration. MedComm. 2022 Accepted.

Int J Environ Res Public Health. 2021, 18(21): 11038.

Clin Cancer Res 2021;27(6_Suppl): P42. DOI: https://doi.org/10.1158/1557-3265.COVID-19-21-P42.

J Clin Transl Hepatol. 2022;10(1):90-103.

Aging and disease. 2021, 12, 5;

MedComm. 2021;1-13.

Chem Biodivers. 2019;16(9):e1900176.

Single-Cell RNA-Seq Reveals Naïve B cells Associated with Better Prognosis of HCC. Preprint BioRxiv. doi: https://doi.org/10.1101/ 731935

EBioMedicine. 2016;12:4-5.

Current organic chemistry. 2017, 21(19): 1-22.

Oncotarget. 2017; 8(61): 103968–103974.

Scientific Reports, 2017 Aug 21;7(1):8867.

Molecular Medicine Reports, 2018,17: 3599-3606.

Organic Process Research & Development. 2016, 20 (6), pp 1093–1096.

BioTechniques. 2016; 60 (3):129-135.

Molecules. 2013; 18 (1):1-13.

J Hematol Oncol. 2021;14(1):22.

Prostate. 2020;80(6):508-517

Nanoscale. 2020;12(6):3795-3802.

Mol Med Rep. 2017, 16(4):4320-4326.

Chemistry Letters. 2017, 46(8) 1141–1144.

Scientific Reports, 2017, 7:46067.

Journal of Cellular and Molecular Medicine. 2017, 21(11):2909-2925.

Nanoscale. 2016; 8(11):6110-7.

SCIENTIA SINICA Vitae2016, 46(2): 192-198

RSC Adv. 2015, 5, 25768-25776.

Genome Research. 23(5):878-888.PMID: 23493677.

Journal of Biomedical Science. 2011; 18(1) 1-9.PMID: 21854621.