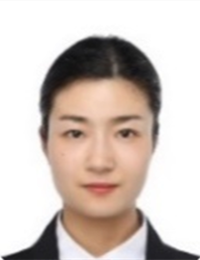 ZHOU Yanqiu
Email: 16483596@life.hkbu.edu.hk
Tel: 852-55797956
Research Areas: Environmental epidemiology
Education
Anhui Medical University 2009-2013
Bachelor of Sanitary Inspection
Huazhong University of Science and Technology 2013-2015
Master of Public Health Supervisor: Prof. Xu Shunqing; xust@hust.edu.cn
Hong Kong Baptist University 2016-present
PhD of Analytical Chemistry Supervisor: Prof. Cai Zongwei;zwcai@hkbu.edu.hk
Thesis title: Human Exposure to Benzotriazoles and Benzothiazoles during Pregnancy and Health Implications
Skills
Project Management: Proficiency in study design.

Experimental Techniques: Method development and application of chromatography coupled with mass spectrometry, cell culture, targeted metabolomics study.

Instrumental Analysis: Specialized in mass spectrometry: ICP-MS,UHPLC-MS/MS,HRMS.

Statistical Software: Expertise in SAS, SPSS, Simca, Stata, and R.

Academic Ability: Good at academic writing, critical review, and presentation.

Teaching Experience: Serve as a laboratory teaching assistant and in charge of the undergraduate final year project.

Peer review: Journal of hazardous materials, Science of the total environment, Environmental toxicology & pharmacology

Peer tutor: Provide tutorial service to research student
Professional experience
Internship
2012 Hefei Center for Disease Control and Prevention

2014 Wuhan Center for Disease Control and Prevention
Prospective Cohort study | 2013-2015
State Key Laboratory of Environmental Health | Wuhan
Recruited the study subjects and collected the biological samples.

Established the sample database.

Administered the questionnaire via phone call to follow up the subjects.

Examined the body burden of heavy metals in urine sample using ICP-MS.
Gestational chemical exposure and risk assessment | 2016-present
State Key Laboratory of Environmental and Biological Analysis | Hong Kong
Developed the method to quantify the levels of environmental pollutants and steroid hormones in urine sample using UHPLC-MS/MS.

Characterized the exposure profile of benzotriazoles and benzothiazoles (BTs) among pregnant women in Wuhan, China.

Evaluated the relationship between BTs exposure in early pregnancy and the risk of gestational diabetes mellitus.

Investigated the association between exposure to BTs and fetal growth.

Identified the metabolic biomarkers in urine sample that were associated with BTs exposure.

Conducted the metabolomics study of benzothiazole exposure on MCF-7 cell.
Selected publications
Zhou, Y., H. Liu, J. Li, S. Xu, Y. Li, H. Zhao, H. Jin, W. Liu, A. C. Chung & Y. Hong (2018) Profiles, variability, and predictors of urinary benzotriazoles and benzothiazoles in pregnant women from Wuhan, China. Environment international, 121, 1279-1288.

Zhou Y, Qu J, Liu W, Liao J, Li Y, Zhao H, et al. 2019. Early pregnancy exposure to benzotriazoles and benzothiazoles in relation to gestational diabetes mellitus: A prospective cohort study. Environment international, 135:105360.

Zhou, Y. & Z. Cai (2019) Determination of hormone in human urine by UHPLC‐TQMS. Rapid Communications in Mass Spectrometry.

Zhou, Y., Y. Li, S. Xu, J. Liao, H. Zhang, J. Li, Y. Hong, W. Xia & Z. Cai (2020) Prenatal exposure to benzotraizoles and benzothiazoles in relation to fetal and birth size: A longitudinal study. Journal of Hazardous Materials, 398, 122828.
Selected Conferences
HKSMS Symposium The 20th & The 21th Annual General Meeting of The Hong Kong Society of Mass Spectrometry (30th June, 2018 & 22nd June, 2019, Hong Kong): Oral presentation

ASMS Conference on Mass Spectrometry and Allied Topics (2nd - 6th June, 2019, Atlanta Georgia, USA): Poster presentation

NCEC2019 & The 10th National Conference on Environmental Chemistry (15th - 19th August, 2019, Tianjin, China): Oral presentation

AOMSC 2020 - 8th Asia-Oceania Mass Spectrometry Conference (4th - 7th Jan, 2020, Macau): Oral presentation
Community activities
Work as a volunteer at a charity agency (Food Angel).

Write for the public on South China Morning Post in the hope of facilitating the process of boarding the biological and chemical samples in the Great bay.

Conduct a seminar on scientific research publication.