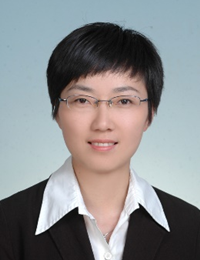 HUA Li
Experimentalist
Department of Epidemiology & Biostatistics
Email: seyhuali@shsmu.edu.cn
Tel: +86(21)-63846590
Address: 227 South Chongqing Road
BIOGRAPHY
Li Hua received her bachelor degree in clinical medicine from Southeast University School of Medicine (1999-2004), and her master degree in clinical laboratory diagnostics from Shanghai Jiao Tong University School of Medicine (2007-2010). Since September 2010, she has been working in the Department of Epidemiology & Biostatistics, School of Public Health, Shanghai Jiao Tong University School of Medicine. She is participated in teaching of "Clinical Molecular Epidemiology" and "medical research data management and statistical analysis", and community cohort study. She has rich experience in processing of clinical samples and molecular biology experiments. Her main research field include epidemiology and biostatistics, epidemiological study of digestive tract diseases, and microbial infectious diseases.
Publications
Wang J#, Ma T#, Ma D#, Li H#, He Q, Deng X. The Impact of Air Pollution on Neurodegenerative Diseases. Ther Drug Monit. 2021 Feb 1;43(1):69-78. doi: 10.1097/FTD.0000000000000818. PMID: 33009291.

Wang H, Zhang B, Wang X, Mao J, Li W, Sun Y, Yuan Y, Ben Q, Hua L*, Qian A*. TRPV4 Overexpression Promotes Metastasis Through Epithelial-Mesenchymal Transition in Gastric Cancer and Correlates with Poor Prognosis. Onco Targets Ther. 2020 Aug 21; 13:8383-8394. doi: 10.2147/OTT.S256918. PMID: 32943876; PMCID: PMC7468412.

Xu Z, Wang N, Xu Y, Hua L, Zhou D, Zheng M, Deng X. Effects of chronic PM2.5 exposure on pulmonary epithelia: Transcriptome analysis of mRNA-exosomal miRNA interactions. Toxicol Lett. 2019 Nov;316:49-59. doi: 10.1016/j.toxlet.2019.09.010. Epub 2019 Sep 11. PMID: 31520698.

Xu Z, Li Z, Liao Z, Gao S, Hua L, Ye X, Wang Y, Jiang S, Wang N, Zhou D, Deng X. PM2.5 induced pulmonary fibrosis in vivo and in vitro. Ecotoxicol Environ Saf. 2019 Apr 30; 171:112-121. doi: 10.1016/j.ecoenv.2018.12.061. Epub 2018 Dec 28. PMID: 30597315.