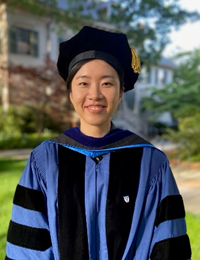 XU Yaqing
Assistant Professor
Email: yaqing.xu@sjtu.edu.cn
Research interest: interaction analysis, variable selection, deep learning
Biography
Dr. Xu received her Ph.D. degree in Biostatistics at Yale University in 2021.Her research mainly focuses on statistical methodologies for analyzing gene-environment interaction in complex diseases and novel deep learning techniques in healthcare applications. She is also actively involved in collaborative research on clinical trials, epidemiology, and other biomedical fields.
Education
2016-2021 Yale University, School of Public Health, Ph.D. in Biostatistics

2014-2016 Yale University, School of Public Health, MS in Biostatistics

2010-2014 Shandong University, School of Mathematics, BS in Statistics
Professional experience
2021.7 – present, Assistant Professor, Shanghai Jiao Tong University, School of Public Health,
Teaching
Fall 2021, Medical Statistics (graduate level)

Spring 2021, Epidemiology and Medical Statistics (undergraduate level)

Spring 2021, Advanced Health Statistics
Selected Publications
Xu Y, Wu M, Ma S. Multidimensional molecular measurement-environment interaction analysis for disease outcomes. Biometrics. 2021; 1-13.

Mei H, Xu Y, Wang J, Ma S. Evaluation of Survival Outcomes of Endovascular Versus Open Aortic Repair for Abdominal Aortic Aneurysms with a Big Data Approach. Entropy. 2020 Dec;22(12):1349.

Xu Y, Wu M, Zhang Q, Ma S. Robust identification of gene-environment interactions for prognosis using a quantile partial correlation approach. Genomics. 2019 Sep 1;111(5):1115-23.

Xu Y, Zhong T, Wu M, Ma S. Histopathological Imaging–Environment Interactions in Cancer Modeling. Cancers. 2019 Apr;11(4):579.

Xu Y, Wu M, Ma S, Ejaz Ahmed S. Robust gene–environment interaction analysis using penalized trimmed regression. Journal of statistical computation and simulation. 2018 Dec 12;88(18):3502-28.