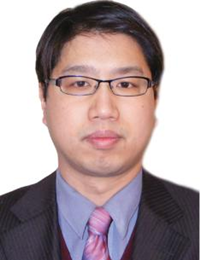 CAI Yuyang
Ph.D
Associate Professor of Health Management & Policy, School of Public Health, Shanghai Jiao Tong University School of Medicine
Email: caiyuyang@sjtu.edu.cn
Tel: +86(0)21-63846590
Research Areas: Health System Dynamics, Digital Health & Innovation, Public Health Emergency Management, Global Health
Biography
Prof. Yuyang CAI is working for the Shanghai Jiao Tong University School of Medicine as an associate professor in Health Management & Policy. He is also with the China Institute for Urban Governance of Shanghai Jiao Tong University as senior research scientist.
Prof. CAI used the advanced methodologies, such as system dynamics, behavior economics and data mining to study health systems and published more than 30 papers in international peer reviewed journals and 90 papers in Chinese scientific core journals. During the outbreak of COVID-19 in China, he and his team has published the important research paper entitled ''Mining the Characteristics of COVID-19 Patients in China: Analysis of Social Media Posts'' in the JMIR and further conducted the research on the evolution of health & economic policies in China.
Prof. CAI has strong ability in knowledge product design, knowledge transfer and business consulting. He served as a consultant for ''Bloomberg Data for Health initiative'' from 2016-2018 and joined the project of the Asia Development Bank as the ''Healthy City'' expert in 2019. He also has been a guest expert and interviewer for health topics on the Oriental TV in Shanghai since 2015. Currently He is still involved of the evaluation of health reform & innovation, health resource planning and policy design etc. as principal consultant or principal investigator. His insight on the health policies & economic evolution in China was widely recognized by Merrill Lynch etc.
Prof. CAI had studied in Zhejiang University, Fudan University & Tsinghua University at the different stages of his life. And he visited the Yale School of Medicine & Yale Global Health and Leadership Institute as the Gruber Global Fellow in 2013. He also trained as business consultant and project manager in IBM Great China before his academic career, where he offered IT system & consulting service for prestigious global agencies worldwide.
Prof. CAI is currently serving the deputy director of the System Dynamics committee of the Chinese Society of Systems Engineering, the deputy director of the Youth Committee of the Shanghai Democratic Construction Society and the executive director of the Institute of Community Medicine and Health Management at Shanghai Jiao Tong University.
Publications
Su, Z., McDonnell, D., Shi, F., Liang, B., Li, X., Wen, J., Cai, Y. *, Xiang., Y.-T., & Yang, L. (2021). Chinese International Students in the United States: The Interplay of Students' Acculturative Stress, Academic Standing, and Quality of Life. Frontiers in Psychology, 12(1721). doi:10.3389/fpsyg.2021.625863

Lu W, Huang Y, Gao C, Cai Y*, Yang L. Three phases of COVID-19: theoretical thinking on epidemic prevention and control. Ann Palliat Med 2021;10(7):8271-8275. doi: 10.21037/apm-21-1582

Su, Z., McDonnell, D., Cai Y*. The promise and perils of Unit 731 data to advance COVID-19 research. BMJ Global Health, 2021;6:e004772. doi:10.1136/bmjgh-2020-004772

Su, Z., McDonnell, D., Ahmad, J., Cheshmehzangi, A., Li, X., Meyer, K., Cai, Y*., Yang., L., & Xiang, Y.-T. (2020). Time to stop the use of 'Wuhan virus', 'China virus' or 'Chinese virus' across the scientific community. BMJ Global Health, 5(9), e003746. doi:10.1136/bmjgh-2020-003746.

Ye W, Lu W, Tang Y, Chen G, Li X, Ji C, Hou M, Zeng G, Lan X, Wang Y, Deng X, Cai Y*, Huang H* and Yang L* (2020) Identification of COVID-19 Clinical Phenotypes by Principal Component Analysis-Based Cluster Analysis. Front. Med. 7:570614. doi: 10.3389/fmed.2020.570614

Zhao J, Jia J, Qian Y, Zhong L, Wang J, Cai Y. COVID-19 in Shanghai: IPC Policy Exploration in Support of Work Resumption Through System Dynamics Modeling. Risk Manag Healthc Policy. 2020;13:1951-1963

Ye, W., Chen, G., Li, X. Cai, Y.*, Yang L*. Dynamic changes of D-dimer and neutrophil-lymphocyte count ratio as prognostic biomarkers in COVID-19. Respir Res, 2020,21, 169.

Huang CΔ, Xu XΔ, Cai YΔ, Ge Q, Zeng G, Li X, Zhang W, Ji C, Yang L. Mining the Characteristics of COVID-19 Patients in China: Analysis of Social Media Posts. J Med Internet Res, 2020;22(5):e19087.

Wang# W, Lu# M, Cai Y*, Feng# N. Awareness and use of e-cigarettes among university students in Shanghai, China. Tobacco Induced Diseases. 2020;18(September):76. doi:10.18332/tid/125748.

Shi L, Zhong L, Cai Y*. Economic burden of smoking-attributable diseases in China: A systematic review. Tobacco Induced Diseases. 2020;18(May):42-50. doi:10.18332/tid/120102.
Research Funding
Improvement of the quality of "Healthy Shanghai" by data-driven strategy. Think Tank Project of SJTU (NO. ZKYJ-2020014), 2020

SD simulation applied to hospital management and resource allocation. NHC Key Laboratory of Health Economics and Policy Research (No. NHC-HEPR2018005), 2018

Research on doctor-patient relationship based on the perspective of big data of the health hotline, National Social Science Fund of China (No.17BSH056), 2017

Medical & Health Value Chain Integration and Management. Key Project of National Natural Science Fund of China (No. 71432006). Subproject, 2014

Research on key technologies of regional medical and health information exchange and sharing and demonstration projects. National 863 High-tech Program (No. 2013AA020418), Subproject, 2013

Health Service Dilemma of Floating Pregnant Women in the Jiading District of Shanghai, China. CMB West Lake Seed Grant, 2011.
TEACHING ACTIVITY AND MENTORSHIP
Health Economics I & II (for undergraduate and master students)

Health informatics (for undergraduate students)

International Health Systems (for master students)

Health Economics and Policy (for eight-years medical students)
HONORS AND AWARDS
Science and Technology Progress Award (IPC for COVID-19), Shanghai Preventive Medicine Association(2020)

The Second Prize of Teaching Achievement, Shanghai Jiao Tong University (2019)

The First Prize of Course Design Competition, Shanghai Jiao Tong University School of Medicine (2018)

Shanghai Industry-University-Research Cooperation Talents Training Program (2016)

Shanghai Jiao Tong University Summer Social Practice, Excellent Instructor (2015)

Shanghai Health Development Research Center, Young Expert in Health Policy (2014)

Yale Global Health and Leadership Institute, Gruber Global Fellow (2013)

Chinese Medical Foundation (US), Faculty Development Award (2012)

Wang Kuancheng Medical Talent Fund / Senior Talent Fund (2010, 2012)
ACTIVITIES RELATED TO MEDIA
Oriental TV Channel, Interview: inclusive health insurance for Shanghai citizen. 2021-04-30

Oriental TV Channel, Interview: Volunteers on the front line of the fight against the COVID-19. 2020-03-25

Oriental TV Channel, "China Now", Interview: What has China's fight against the pandemic contributed to the world? 2020-02-24

Oriental TV Channel, Interview: We are in the war against the COVID-19. 2020-02-14

CBN, Interview: The turning point remains to be further observed. 2020-02-3

Oriental TV Channel, Interview: Innovative drug development is booming in Zhangjiang Development Zone. 2019-11-27

Shangguan News, Expert comments: Pilot DRG in 30 cities. 2019-06-13

Oriental TV Channel, Interview: Science & technological innovation upgraded health care. 2018-12-20

Oriental TV Channel, Interview: Health policies in the 100 new initiatives in Shanghai. 2018-07-13

Oriental TV Channel, Interview: Reform of Medical Device Registrant System. 2018-03-8

Oriental TV Channel, Interview: High-priced oncology drugs are included in the health insurance. 2017-01-11

Oriental TV Channel, Interview: Does the ambulance need to be charged with a meter? 2016-05-05

Oriental TV Channel, Interview: Cheap "life-saving" medicines are out of stock, what we should do? 2016-04-28

Oriental TV Channel, Interview: Escalation of conflicts between doctors and patients. 2016-01-22

Oriental TV Channel, Interview: Multi-sited licensed & practice for medical doctor. 2015-06-9

Capital Shanghai, Interview: Redemption of publicly funded free medical care. 2013-11-18