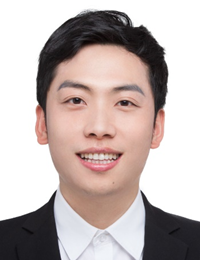 LV Yipeng
Lecturer
School of Public health, Shanghai Jiaotong University school of medicine, China
Email: epengl@sjtu.edu.cn
Tel: +86 15601820037
Research Areas: Health Emergency Management, Health Policy, Health Economy, Primary Health Care.
Personal Profile
He received his Ph.D. in Social Medicine and Health Management from Naval Medical University, and Joint Ph.D. from Columbia University in the United States. He joined Shanghai Jiaotong University School of Medicine in 2020. He has been engaged in health emergency management research for a long time. He was responsible for conducting a survey on primary health needs in ten cities from five provinces in southeastern China. The study clarified the structure features of soldiers' health demand during peacetime and wartime. He has participated in several emergency health drills and relevant research papers were awarded as the 2020 Excellent Papers of the "PLA Medical Service" Journal. This research promoted the construction of the army's emergency response mobile team. He has rich theoretical and practical experience in health policy and economic evaluation research. Entrusted by the government, he deeply participated in the research on the medical and health system of Deyang City, Sichuan Province. He was responsible for completing the "Deyang Health Development White Paper (Complete Book)" and was released by the government. This achievement promoted the city's 14th Five-Year Health Development Plan.
Main research
Research on emergency rescue and management of primary health care (PHC). To explore the rule of the demand for primary medical and health services during the early stage of public health emergency. Measure the structure and quantitative characteristics of the stock and increment of health resources in health service providers. Clarify the position and role of PHC in emergency response, in order to build a coordinated rescue chain in the emergency response process.

Explore the cost-effectiveness evaluation of public health measures in people's health promotion.
Achievements
In recent years, he has published 43 papers in the field of health emergency and management, including 11 SCI journal papers and 11 Chinese core journal papers as the first author or corresponding author. He participated in 18 research projects, such as the National Natural Science Foundation of China (NSFC) and the National Institutes of Health foundation (NIH) Research Fund of the United States, of which in charge of 6 projects. He got 17 authorized patents, including 8 patents for the top three persons in charge, and 1 national invention patent. 1 monograph by the deputy editor and 8 monographs (including 3 English monographs) as co-editors has been published. He is now a reviewer for SCI journals such as "BMC Public Health" and "BMC Medical Education" and Chinese core journals of PKU such as " Chinese Health Resources" and "Chinese General Practice", and serves as a young editorial board member of the journal.
Main honors: 2020 Shanghai Pujiang Talents award
Main Projects and Grant Support
The Shanghai Pujiang Program

2020PJC081 2020.10-2022.10 24 months

Model construction and policy evaluation of multi-agent collaborative grading treatment system for sudden and major infectious diseases——Based on the perspective of vulnerability

Soft Science Project of Shanghai Science and Technology Innovation Action Plan

22692192000 2022.3-2023.3 12 months

Research on urban primary health care emergency response strategies for the early stage of emergency

Shanghai Jiao Tong University "Start-up Plan for New Young Teachers"

Yipeng Lv 21X010501094 2020.6-2023.6 36 months

Research on the responsiveness evaluation and mobilization strategy of urban primary medical emergency rescue alliance during the emergent epidemic period

Deyang Health Commission Project

DYWJ202002016 2020.7-2022.6 24 months

White Paper on Health Development of Deyang City - Research on the Construction of "City Health Profile"

Shanghai Yichuan Community Health Service Center Project

YC2020SQYW002101 2021.7-2022.6 12 months

The Construction of Yichuan Community Health Service Center Portrait and Research Path Planning

Shanghai Dapuqiao Community Health Service Center Project

2QJORS32Q021Q6 2020.8-2021.1 6 months

A study on the regional characteristics of diseases among residents in the multi-dimensional commercial-residential combined community of Dapuqiao Community Health Service Center
Main Publication
Lv Y, Gao Y, Tang B, Cheng F, Chen Z, Wu J, Yang H, Liu X. The impact of school life and family involvement on Western China junior high school students' wellbeing at multidimensional levels. Arch Public Health. 2022 Apr 2;80(1):106. doi: 10.1186/s13690-022-00863-w. PMID: 35366942; PMCID: PMC8975725.

Lv Y, Zafari Z, Jiao B, Chun C, Zhang L, Wang Z, Muennig PA. Should the Government Be Allowed to Take Control over Your Car as Part of a Disaster Management Plan? Int J Environ Res Public Health. 2020 Oct 24;17(21):7780. doi: 10.3390/ijerph17217780. PMID: 33114374; PMCID: PMC7663635.

Lv Y#, Xue C#, Ge Y#, Ye F, Liu X, Liu Y, Zhang L. Analysis of Factors Influencing Inpatient and Outpatient Satisfaction with the Chinese Military Health Service. PLoS One. 2016 Mar 23;11(3):e0151234. doi: 10.1371/journal.pone.0151234. PMID: 27007805; PMCID: PMC4805190.

Lv Y#, Tang B#, Liu X#, Xue C, Liu Y, Kang P, Zhang L. A Comparative Study of Scientific Publications in Health Care Sciences and Services from Mainland China, Taiwan, Japan, and India (2007-2014). Int J Environ Res Public Health. 2015 Dec 24;13(1):79. doi: 10.3390/ijerph13010079. PMID: 26712774; PMCID: PMC4730470.

Deng Q#, Lv Y#, Zhao F#, Yu W, Dong J, Zhang L. Factors associated with injuries among tornado victims in Yancheng and Chifeng, China. BMC Public Health. 2019 Nov 25;19(1):1556. doi: 10.1186/s12889-019-7887-6. PMID: 31767001; PMCID: PMC6878644.

Deng Q#, Lv Y#, Xue C#, Kang P, Dong J, Zhang L. Pattern and spectrum of tornado injury and its geographical information system distribution in Yancheng, China: a cross-sectional study. BMJ Open. 2018 Jun 22;8(6):e021552. doi: 10.1136/bmjopen-2018-021552. PMID: 29934390; PMCID: PMC6020979.

Yu W#, Lv Y#, Hu C#, Liu X, Chen H, Xue C, Zhang L. Research of an emergency medical system for mass casualty incidents in Shanghai, China: a system dynamics model. Patient Prefer Adherence. 2018 Jan 31;12:207-222. doi: 10.2147/PPA.S155603. PMID: 29440876; PMCID: PMC5798575.

Yu W#, Chen H#, Lv Y#, Deng Q, Kang P, Zhang L. Comparison of influencing factors on outcomes of single and multiple road traffic injuries: A regional study in Shanghai, China (2011-2014). PLoS One. 2017 May 11;12(5):e0176907. doi: 10.1371/journal.pone.0176907. PMID: 28493893; PMCID: PMC5426634.

Kang P#, Lv Y#, Deng Q#, Liu Y, Zhang Y, Liu X, Zhang L. Investigating Lushan Earthquake Victims' Individual Behavior Response and Rescue Organization. Int J Environ Res Public Health. 2017 Dec 11;14(12):1556. doi: 10.3390/ijerph14121556. PMID: 29232912; PMCID: PMC5750974.

Hu C#, Yu W#, Lv Y#, Chen H, Deng Q, Zhang L. Study on the Health Status and Health Service Utilization of the Elderly of a Remote and Poor Village in a Mountainous Area in Jinzhai, Anhui. Int J Environ Res Public Health. 2017 Apr 12;14(4):408. doi: 10.3390/ijerph14040408. PMID: 28417937; PMCID: PMC5409609.

Kang P#, Lv Y#, Hao L#, Tang B, Liu Z, Liu X, Liu Y, Zhang L. Psychological consequences and quality of life among medical rescuers who responded to the 2010 Yushu earthquake: A neglected problem. Psychiatry Res. 2015 Dec 15;230(2):517-23. doi: 10.1016/j.psychres.2015.09.047. Epub 2015 Oct 21. PMID: 26476590.