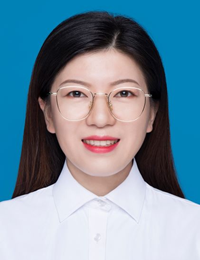 LEI Xiaoning
Assistant professor
Email:xiaoninglei@sjtu.edu.cn
Tel: +86(0)21-63846590-776522
Research Areas: Environmental epidemiology
Educational Background
09/2014-06/2018
Joint PhD, Penn State University College of Medicine and East China University of Science and Technology, in Environmental Science and Engineering
09/2011-06/2014
Shihezi University, MS in Applied Chemistry
Professional Experience
08/2020- present
Assistant Professor in Department of Environmental Health, School of Public Health, Shanghai Jiao Tong University School of Medicine
Visit and Post Experience
07/2018-07/2020
Postdoctoral, Fudan University, in Environmental health,
09/2012-02/2013
Visiting student, Environmental sciences National Marine Environmental Monitoring Center
Research Interests
1.Air pollution exposure and public health, focusing on:
(1) Personal exposure assessment
(2) PM2.5 and its chemical compositions
2. Prenatal emerging contaminants exposure and offspring health, focusing on:
(1) Perfluorinated compounds, phenolic contaminants, and microplastics
(2) Growth and neurocognitive development
Research Projects
01/2021-06/2024
Program of Science and Technology Commission of Shanghai Municipality (21ZR1435800), Effects of exposure to traffic-related air pollution (TRAP) during the pregnancy on infant's neurodevelopment and their epigenetic regulatory mechanisms, PI
01/2021-12/2023
Interdisciplinary Program of Shanghai Jiao Tong University (YG2021QN02), Interactive effects of exposures to PM2.5 and ozone mixture on infant's neurodevelopment and the possible mechanisms, PI
08/2020-07/2023
the Young Faculty Startup Plan of Shanghai Jiao Tong University (21X010501089), A preliminary study of the effects of exposure to microplastics on brain development:the modifying role of gut microbiota, PI
09/2019-07/2020
Postdoctoral Science Foundation of China (2019M661377), Study on the exposure assessment of ultrafine particles and its effect on lung function, PI
12/2018-06/2020
Shanghai Key Laboratory of Meteorology and Health Project (QXJK201802), Effects of personal PM2.5 exposure on cardiovascular system and identification of key toxic constituents, PI
Selected Publications
Lei, XN#; Chen, RJ; Wang, CC; Shi, JJ; Zhao, ZH; Li, WH; Bachwenkizi, J; Ge, WZ; Sun, L; Li, SQ; Cai, J*; Kan, HD* (2020). Necessity of personal sampling for exposure assessment on specific constituents of PM2.5: Results of a panel study in Shanghai, China. Environment International. 141, 105786.

Lei, XN#; Chen, RJ; Wang, CC; Shi, JJ; Zhao, ZH; Li, WH; Yan, BZ; Chillrud, S; Cai, J*; Kan, HD* (2019). Personal Fine Particulate Matter Constituents, Increased Systemic Inflammation, and the Role of DNA Hypomethylation. Environmental Science & Technology, 53(16), 9837-9844.

Lei, XN#; Chen, RJ; Li,WH; Cheng, Z; Wang, HL; Chillrud, S; Yan, BZ; Ying, ZK; Cai, J*; Kan, HD* (2021). Personal Exposure to Fine Particulate Matter and Blood Pressure: Variations by Particulate Sources. Chemosphere. 280, 130602.

Lei, XN#; Muscat, JE; Zhang, B; Sha, XY; Xiu, GL* (2018). Differentially DNA methylation changes induced in vitro by traffic-derived nanoparticulate matter. Toxicology, 395, 54-62.

Lei, XN#; Muscat, JE; Huang, ZS; Chen, C; Xiu, GL*; Chen, JH (2018). Differential transcriptional changes in human alveolar epithelial A549 cells exposed to airborne PM2.5 collected from Shanghai, China. Environmental Science and Pollution Research, 25(33), 33656-33666.

Lei, XN#; Goel, R; Sun, DX; Bhangu, G; Bitzer, ZT; Trushin, N; Ma, L; Richie, JP; Xiu, GL*; Muscat, JE (2020). Free radical and nicotine yields in mainstream smoke of Chinese marketed cigarettes: Variation with smoking regimens and cigarette brands. Chemical Research in Toxicology.