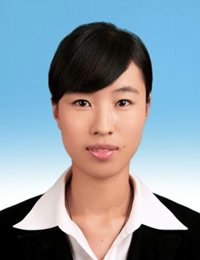 ZHANG Yan
Senior Experimentalist
Department of Environmental Health
Email: yan_262@sjtu.edu.cn
Tel: +86(21)-63846590
Address: 280 South Chongqing Road
Biography
Yan Zhang obtained a Bachelor's degree of Preventive Medicine from Jilin University and Master degree of Medicine from Shanghai Jiao Tong University. Her major research work is on the prenatal environmental exposures and offspring health. She is the principal investigator on the Natural Science Foundation of China (81602823), the Shanghai 3-year Public Health Action Plan (GWV-10.2-YQ20) and the Scientific Research Program of Shanghai Municipal Commission of Health and Family Planning (201640174) in recent years.
Publications
Zhang Y, Pan C, Ren Y, Wang Z, Luo J, Ding G, Vinturache A, Wang X, Shi R, Ouyang F, Zhang J, Li J, Gao Y*, Tian Y*; Shanghai Birth Cohort Study. Association of maternal exposure to perfluoroalkyl and polyfluroalkyl substances with infant growth from birth to 12 months: A prospective cohort study. Science of the Total Environment. 2022 Feb 1;806(Pt 3):151303.

Yan Zhang#, Didi Chen#, Rong Shi, Michihiro Kamijima, Kiyoshi Sakai, Ying Tian*, Yu Gao*. Indoor volatile organic compounds exposures and risk of childhood acute leukemia: a case-control study in Shanghai. Journal of Environmental Science and Health, Part A. 2021; 56(2):190-198.

Yan Zhang#, Lin Ji#, Yi Hu, Lap Ah Tse, Yiwen Wang, Kaili Qin, Guodong Ding, Yijun Zhou, Xiaodan Yu, Fengxiu Ouyang, Jun Zhang, Yu Gao*, and Ying Tian*, for the Shanghai Birth Cohort Study. Exposure to Organophosphate Pesticide and Menstrual Cycle Characteristics in Chinese Preconception Women. American Journal of Epidemiology, 2020;189(5):375-383.

Yiwen Wang#, Yan Zhang#, Lin Ji, Yijun Zhou, Rong Shi, Michihiro Kamijima, Jun Ueyama, Yu Gao*, Ying Tian*. Prenatal exposure to organophosphate pesticides, maternal paraoxonase 1 genotype, and childhood neurodevelopment at 24 months of age in Shandong, China. Environmental Science and Pollution Research, 2020 Jan;27(2):1969-1977.

Lei Yuan#, Yan Zhang#, Weidong Wang, Renjie Chen, Yang Liu, Cong Liu, Haidong Kan*, Yu Gao*, Ying Tian*, Shanghai Birth Cohort Study. Critical windows for maternal fine particulate matter exposure and adverse birth outcomes: The Shanghai birth cohort study. Chemosphere, 2020 Feb;240:124904.

Chen Limei, Wang Caifeng, Zhang Yan, Zhou Yijun, Shi Rong, Cui Chang, Gao Yu*, Tian Ying*. Polybrominated diphenyl ethers in cord blood and perinatal outcomes from Laizhou Wan Birth Cohort, China. Environmental Science and Pollution Research International, 2018;25(21):20802-20808.

Hu Yi#, Ji Lin#, Zhang Yan, Shi Rong, Han Wenchao, Tse Lap Ah, Pan Rui, Wang Yiwen, Ding Guodong, Zhang Qingying, Gao Yu*, Tian Ying*. Organophosphate and Pyrethroid Pesticide Exposures Measured before Conception and Associations with Time to Pregnancy in Chinese Couples Enrolled in the Shanghai Birth Cohort. Environmental Health Perspectives, 2018;126(7):077001.

Wang Yiwen, Zhang Yan, Ji Lin, Hu Yi, Zhang Jingjing, Wang Caifeng, Ding Guodong, Chen Limei, Kamijima Michihiro, Ueyama Jun, Gao Yu*, Tian Ying*. Prenatal and postnatal exposure to organophosphate pesticides and childhood neurodevelopment in Shandong, China. Environment International, 2017;108:119-126.