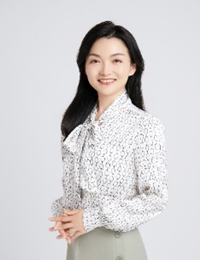 XIANG Mi
Associate Professor
School of Public Health Shanghai Jiao Tong University
Email: xiangmi@sjtu.edu.cn
Tel: 63846590-776145
Research Interests
Health-related behavior monitoring, evaluation, and interdisciplinary intervention

Health risk assessment, prediction and targeted interventions

Preventions and management of obesity, chronic disease, and mental disorders
Experience and accomplishments
Dr.Xiang focuses on health-related behavior management, metabolic and mental disease prevention and management, and health risk assessment and intervention. She earned her Ph.D. degree in Health management from Waseda University in Japan. After graduation, Dr.Xiang remains active in health-related research and worked as an assistant at the Center Hospital of the National Center for Global Health and Medicine (NCGM). She has served as an associated professor at the School of Public Health, Department of the Maternal and Child Health. Her teaching courses mainly involve pediatrics, healthcare, and health education. She also teaches at the Ottawa-Shanghai Joint School of Medicine.
In the past three years, Dr.Xiang has served as the principal investigator in two national projects, two projects of the Science and Technology Commission of Shanghai Municipality, one international project and multiple school projects. In addition, she has participated in multiple national and provincial projects, selected by the Science and Technology Innovation Action Plan, the Science and Technology Commission of Shanghai Municipality in 2021. Beyond her research contribution, she is a current member of the Pediatric Health Commission of the Shanghai Preventive Medicine Association, the Japanese Society of Physical Fitness and Sports Medicine, the Japanese Society of Public Health, Society of Behavioral Medicine. She is also an active reviewer of several peer-reviewed journals.
Publications
Zhao J, Xu J, He Y, Xiang M*.(2022) Children and adolescents' sleep patterns and their associations with mental health during the COVID-19 pandemic in Shanghai, China. J Affect Disord. 2022 Jan 10;301:337-344.

Han T, Dong J…Xiang M* et al. (2021). Nutrient supplementation among pregnant women in China: an observational study. Public Health Nutr.1-19.

Xiang M, Sun X, Wei J, Cao ZB. (2021) Combined effects of vitamin D supplementation and endurance exercise training on insulin resistance in newly diagnosed type 2 diabetes mellitus patients with vitamin D deficiency: study protocol for a randomized controlled trial. Trials. Dec 6;22(1):888. doi: 10.1186/s13063-021-05861-x.

Chen X, Qi H, Liu R, Feng Y, Li W, Xiang M, et al. (2021). Depression, anxiety and associated factors among Chinese adolescents during the COVID-19 outbreak: a comparison of two cross-sectional studies. Transl Psychiatry.11(1):148.

Xiang M*, Zhang Z, Kuwahara K (2020). Impact of COVID-19 pandemic on children and adolescents' lifestyle behavior larger than expected. Prog Cardiovasc Dis. Jul-Aug;63(4):531-532.

Tang S, Xiang M#*, Cheung T, Xiang YT (2020). Mental health and its correlates among children and adolescents during COVID-19 school closure: The importance of parent-child discussion. J Affect Disord. Jan 15;279:353-360.

Xiang M, Yamamoto S, Mizoue T (2020). Depressive symptoms in students during school closure due to COVID-19 in Shanghai. Psychiatry Clin Neurosci. Dec;74(12):664-666.

Zhang Z, Liu S, Xiang M#, et al. (2020). Protecting healthcare personnel from 2019-nCoV infection risks: lessons and suggestions. Front Med. Apr;14(2):229-231.

Xiang M, Zhang Z, Liang H. (2019). Sedentary behavior relates to mental distress of pregnant women differently across trimesters: An observational study in China. J Affect Disord. 260:187-193.

Xiang M, Konishi M, Hu H, et al. (2019). When and How Should Chinese Pregnant Women Exercise? A Longitudinal Study in China. Int J Environ Res Public Health. 17(1).

Xiang M, Kunugita N, Dohi S, et al. (2019). Association between anthropometric indices of obesity and risk of cardiovascular disease in Japanese men. J Occup Health. 00, 1-8.

Xiang M, Zhang J, Liang H, et al. (2019). Physical activity and dietary intake among Chinese pregnant women: an observational study. BMC Pregnancy Childbirth. 19(1):295.

Mo D, Xiang M#, Luo M, et al. (2019). Using Gamification and Social Incentives to Increase Physical Activity and Related Social Cognition among Undergraduate Students in Shanghai, China. Int J Environ Res Public Health. 16(5): E858.

Fang Y, Ma Y, Mo D, Zhang S, Xiang M*, Zhang Z, et al. (2019). Methodology of an exercise intervention program using social incentives and gamification for obese children. BMC Public Health. 19(1):686.