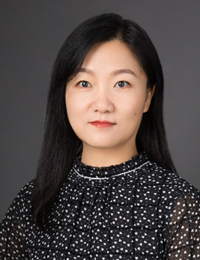 LI Chen
Professor, Ph.D.
Email: cli@shsmu.edu.cn
Tel: 021-63846590
Research Direction
The establishment and development of MS methods, and its applications in clinical cancer research, cancer mouse models, cardiovascular diseases, and signal transduction research;

Multi-omics research on colorectal cancer, pancreatic cancer, lung cancer.

Development and application of cutting-edge single-cell proteome technologies.
Biography
In 2006, Prof. Li obtained Ph.D. in biochemistry and molecular biology from Shanghai Institute of Biochemistry and Cell Biology (SIBCB), Shanghai Institutes for Biological Sciences (SIBS), Chinese Academy of Sciences (CAS). From 2006 to 2020, she worked in SIBCB, SIBS, CAS. During the period, she was appointed as associate professor. In March 2020, she joined in the Center for Single-Cell Omics, School of Public health, Shanghai Jiao Tong University School of Medicine as core director of single-cell mass spectrometry core.
Prof. Li has published 24 original papers in prestigious journals, participated in 1 international series and 1 Chinese science book, and taken part in the applications for 27 Chinese invention patents (12 granted). As presenter, she has presided over a Knowledge Innovation Program of SIBS, CAS, a Youth Science of Foundation from National Natural Science Foundation of China, and a Shanghai Science and technology Innovation action plan project. As participator, she has involved into three National Key Basic Research Program of China (973 Program), two Major Research Plan of National Natural Science Foundation of China, one General Program from National Natural Science Foundation of China, one Strategic Leading Science and Technology, CAS, and one Key Special Projects in National Development Plan. Prof. Li has been awarded Dean's Award for Outstanding Scholarship in CAS, JiuYuan Scholarship from Tan JiaZhen Fund of Fudan University, and SANOFI-SIBS Scholarship for Outstanding Young Scientist.
Publications (#first author, *corresponding author)
Li H#, Fu X#, Zhao J#, Li C#, Li L, Xia P, Guo J, Wei W, Zeng R, Wu J*, Sun Y*, Huang L*, Wang X*. EXOC4 Promotes Diffuse-Type Gastric Cancer Metastasis via Activating FAK Signal. Mol Cancer Res. 2022 Apr 26; OF1-OF14. doi: 10.1158/1541-7786.MCR-21-0441. Online ahead of print.

Wu Y, Cao Y, Xu K, Zhu Y, Qiao Y, Wu Y, Chen J, Li C*, Zeng R*, Ge G*. Dynamically remodeled hepatic extracellular matrix predicts prognosis of early-stage cirrhosis. Cell Death Dis. 2021 Feb 8;12(2):163.

Feng L#, Sun YD#, Li C, Li YX, Chen LN, Zeng R*. Pan-cancer Network Disorders Revealed by Overall and Local Signaling Entropy. J Mol Cell Biol. 2021 Dec 6;13(9):622-635.

Sun Y#, Li C#, Pang S, Yao Q, Chen L*, Li Y*, Zeng R*. Kinase-substrate edge biomarkers provide a more accurate prognostic prediction in ER-negative breast cancer. Genomics, Proteomics & Bioinformatics. 2020 Oct;18(5):525-538.

Li C#, Sun Y#, Yu G#, Cui J#, Lou Z#, Zhang H, Huang Y, Bai C, Deng L, Liu P, Zheng K, Wang Y, Wang Q, Li Q, Wu Q, Liu Q, Shyr Y, Li Y, Chen L, Wu J*, Zhang W*, Zeng R*. Integrated Omics of Metastatic Colorectal Cancer. Cancer Cell. 2020 Nov 9;38(5):734-747.

Han J#, Yu M#, Bai Y#, Yu J#, Jin F, Li C, Zeng R, Peng J, Li A, Song X, Li H*, Wu D*, Li L*. Elevated CXorf67 Expression in PFA Ependymomas Suppresses DNA Repair and Sensitizes to PARP Inhibitors. Cancer Cell. 2020 Dec 14;38(6):844-856.

Tang Y#, He Y#, Li C# Mu W, Zou Y, Liu C, Qian S, Zhang F, Pan J, Wang Y, Huang H, Pan D, Yang P, Mei J*, Zeng R*, Tang QQ*. RPS3A positively regulates the mitochondrial function of human periaortic adipose tissue and is associated with coronary artery diseases. Cell Discovery. 2018 Aug 21;4:52.

Zhu X, Yuan C, Tian C, Li C, Nie F, Song X, Zeng R, Wu D, Hao X, Li L*. The plant sesquiterpene lactone parthenoide inhibits Wnt/β-catenin signaling by blocking synthesis of the transcriptional regulators TCF4/LEF1. J Biol Chem. 2018 Apr 6;293(14):5335-5344.

Li M#, Li C#, Liu W, Liu C, Cui J, Li Q, Ni H, Yang Y, Wu C, Chen C, Xing Z, Liu X, Zeng T, Zhao M, Chen L, Wu J*, Zeng R*, Chen L*. Dysfunction of PLA2G6 and CYP2C44 associated network signals imminent carcinogenesis from chronic inflammation to hepatocellular carcinoma. J Mol Cell Biol. 2017 Dec 1;9(6):489-503.

He X#, Zhang W#, Yan C#, Nie F, Li C, Liu X, Fei C, Li S, Song X, Jia Y, Zeng R, Wu D, Pan W*, Hao X*, Li L*. Chemical biology reveals CARF as a positive regulator of canonical Wnt signaling by promoting TCF/β-catenin transcriptional activity. Cell Discovery. 2017, 3, 17003.

Liang J#, Cao R#, Wang X, Zhang Y, Wang P, Gao H, Li C, Yang F, Zeng R, Wei P, Li D, Li W, Yang W*. Mitochondrial PKM2 regulates oxidative stress-induced apoptosis by stabilizing Bcl2. Cell Res. 2017 Mar;27(3):329-351.

Li F#, Fang Z#, Zhang J#, Li C, Liu H, Xia J, Zhu H, Guo C, Qin Z, Li F, Han X, Wang Y, Feng Y, Wang Y, Zhang W, Wang Z, Jin Y, Sun Y, Wei W, Zeng R, Chen H, Ji H*.Identification of TRA2B-DNAH5 fusion as a novel oncogenic driver in human lung squamous cell carcinoma. Cell Res. 2016 Oct;26(10):1149-1164.

Sheng Q#, Li R#, Dai J#, Li Q, Su Z, Guo Y, Li C, Shyr Y*, Zeng R*. Preprocessing significantly improves the peptide/protein identification sensitivity of high-resolution isobarically labeled tandem mass spectrometry data. Mol Cell Proteomics. 2015 Feb;14(2):405-17.

Fei C, Li Z, Li C, Chen Y, Chen Z, He X, Mao L, Wang X, Zeng R, Li L*.Smurf1-mediated Lys29-linked non-proteolytic poly-ubiquitination of Axin negatively regulates Wnt/β-catenin signaling. Mol Cell Biol. 2013, 33(20):4095-105.

Wang S#, Yin J#, Chen D, Nie F, Song X, Fei C, Miao H, Jing C, Ma W, Wang L, Xie S, Li C, Zeng R, Pan W, Hao X*, Li L*. Small-molecule modulation of Wnt signaling via modulating the Axin-LRP5/6 interaction. Nat Chem Biol. 2013 Sep;9(9):579-85.

Li C#, Ruan HQ#, Liu YS#, Xu MJ, Dai J, Sheng QH, Tan YX, Yao ZZ, Wang HY, Wu JR, Zeng R*. Quantitative proteomics reveal up-regulated protein expression of the SET complex associated with hepatocellular carcinoma. J Proteome Res. 2012 Feb 3;11(2):871-85.

Wu C#, Wei W#, Li C, Li Q, Sheng Q, Zeng R*. J Proteome Res. Delicate analysis of post-translational modifications on Dishevelled 3. J Proteome Res. 2012 Jul 6;11(7):3829-37.

Liu YS#, Luo XY#, Li QR, Li H, Li C, Ni H, Li RX, Wang R, Hu HC, Pan YJ, Chen HQ*, Zeng R*. Shotgun and targeted proteomics reveal that pre-surgery serum levels of LRG1, SAA, and C4BP may refine prognosis of resected squamous cell lung cancer. J Mol Cell Biol. 2012 Oct;4(5):344-7.

Micutkova L, Diener T, Li C, Rogowska-Wrzesinska A, Mueck C, Huetter E, Weinberger B, Grubeck-Loebenstein B, Roepstorff P, Zeng R, Jansen-Duerr P*. Insulin-like growth factor binding protein-6 delays replicative senescence of human fibroblasts. Mech Ageing Dev. 2011 Oct;132(10):468-79.

Sun B, Guo S, Tang Q, Li C, Zeng R, Xiong Z, Zhong C, Ding J*. Regulation of the histone acetyltransferase activity of hMOF via autoacetylation of Lys274. Cell Res. 2011 Aug;21(8):1262-6.

Liu Y#, Li C#, Xing Z, Yuan X, Wu Y, Xu M, Tu K, Li Q, Wu C, Zhao M*, Zeng R*. Proteomic mining in the dysplastic liver of WHV/c-myc mice--insights and indicators for early hepatocarcinogenesis. FEBS J. 2010 Oct;277(19):4039-53.

Li C, Hong Y, Tan YX, Ai JH, Zhou H, Li SJ, Zhang L, Xia QC, Wu JR, Wang HY*, Zeng R*. Analysis of microdissected cells by two-dimensional LC-MS approaches. Methods Mol Biol. 2008;428:193-208.

Ding Y#, Xi Y#, Chen T, Wang JY, Tao DL, Wu ZL, Li YP, Li C, Zeng R, Li L*. Caprin-2 enhances canonical Wnt signaling through regulating LRP5/6 phosphorylation. J Cell Biol. 2008 Sep 8;182(5):865-72.

Li C#, Tan YX#, Zhou H, Ding SJ, Li SJ, Ma DJ, Man XB, Hong Y, Zhang L, Li L, Xia QC, Wu JR, Wang HY*, Zeng R*. Proteomic analysis of hepatitis B virus-associated hepatocellular carcinoma: Identification of potential tumor markers. Proteomics. 2005 Mar;5(4):1125-39.

Li C, Hong Y, Tan YX, Zhou H, Ai JH, Li SJ, Zhang L, Xia QC, Wu JR, Wang HY*, Zeng R*, Accurate qualitative and quantitative proteomic analysis of clinical hepatocellular carcinoma using laser capture microdissection coupled with isotope-coded affinity tag and two-dimensional liquid chromatography mass spectrometry. Mol Cell Proteomics. 2004 Apr;3(4):399-409.

Tu C, Li C, Chapter 13, Sample preparation; Ding S, Tang L, Li C, Chapter 23, The application of proteomics; Editor: Zeng R, Xia Q, Protein Chemistry and Proteomics, 1 ed. ISBN: 7-03-012401-4/Q.1331 BeiJing: China Science Publishing, 2004.4