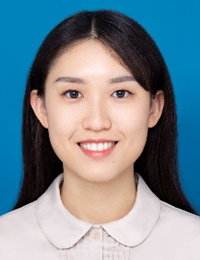 GU Lei
Laboratory Technician
Single-Cell Proteomics and Metabonomics Core
Email: leigu@shsmu.edu.cn
Address: Room 301, East 5 building, No 227, South Chongqing Road
Educational Background
Sep 2013 – Jun 2017 M.S. in, East China University of Science and Technology, Pharmacy, BA

Sep 2017 – Jun 2020 M.S. in, East China University of Science and Technology, Pharmacy, MA
Research Interests
MS-Based Proteomics & Metabolomics
Publications
Gu L, Liu X, Wang YQ, Zhou YT, Zhu HW, Huang J, Lan LF, Zheng J, Yang CG, Zhou H. Revelation of AbfR in regulation of mismatch repair and energy metabolism in S. epidermidis by integrated proteomic and metabolomic analysis. J Proteomics. 2020 Aug 30;226:103900. doi: 10.1016/j.jprot.2020.103900.

He S, Liu X, Lin Z, Liu Y, Gu L, Zhou H, Tang W, Zuo J. Reversible SAHH inhibitor protects against glomerulonephritis in lupus-prone mice by downregulating renal α-actinin-4 expression and stabilizing integrin-cytoskeleton linkage. Arthritis Res Ther. 2019 Jan 29;21(1):40. doi: 10.1186/s13075-019-1820-3.

Zhou Y, Gao J, Zhu H, Xu J, He H, Gu L, Wang H, Chen J, Ma D, Zhou H, Zheng J. Enhancing Membrane Protein Identification Using a Simplified Centrifugation and Detergent-Based Membrane Extraction Approach. Anal Chem. 2018 Feb 20;90(4):2434-2439. doi: 10.1021/acs.analchem.7b03710.