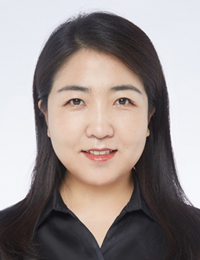 MA Yinxing
Assistant Researcher
Center for single-cell omics, Stem cell in cancer group
Email: 184471@shsmu.edu.cn
Office: Room 403, East 5 building, 227 South Chongqing Road, Shanghai, China
Biography
Yinxing MA earned her master's degree at the School of Life Sciences at Lanzhou University (China) in 2013. She then did her doctoral and post-doctoral training in France in the Drs. Yegor Vassetzky / Svetlana Dokudovskaya laboratory in CNRS unit UMR9018 at Université Paris Saclay and Gustave Roussy Cancer Research Institute (Villejuif, Paris area). In 2021, she joined the laboratory of Christopher Heeschen as an assistant researcher in the Center for single-cell omics at Shanghai Jiao Tong University School of Medicine.
Research Interest
Mitochondrial dysfunction and molecular pathways of disease

The role of mitophagy in chemotherapy resistance.
Current Research
Due to late detection and highly metastatic characteristics, pancreatic ductal adenocarcinoma (PDAC) is one of the most lethal cancers in humans. PDAC cells vary in their tumorigenic capabilities with the presence of a subset of PDAC cells known as pancreatic cancer stem cells (CSCs), which are more resistant to currently used therapeutics. Our previous data showed that pancreatic cancer stem cells (CSCs) are especially vulnerable to mitochondrial-targeted therapies (i.e., metformin) due to their reliance on oxidative metabolism. We hypothesized that CSCs activate mitophagy and mitochondrial biogenesis, which coordinately maintain a healthy mitochondrial pool and support tumor growth. We aim to demonstrate the mechanism of mitophagy in regulating the stemness and function of pancreatic cancer stem cells, study the role of mitophagy in chemotherapy resistance, and develop multimodal therapeutic strategies to eliminate cancer stem cells and differentiated cancer cells.
Education background
2013.9-2017.9, Ph.D. in Molecular and Cellular Biology, Université Paris Saclay, France

2010.9-2013.6, M.S. in Cell Biology, University of Lanzhou, China

2006.9-2010.6, B.S. in Biotechnology, University of Lanzhou, China
Professional Experience
2021.03-present, assistant researcher in Center for Single-Cell Omics, Shanghai Jiao Tong University School of Medicine.

2018.01-2020.10, postdoctoral researcher in Gustave Roussy Cancer Research Institute, CNRS unit UMR9018, France
Grants
2021 Shanghai Pujiang Program, 21PJ1408800, 2021.10-2023.09
Publications
Ma Yinxing; Moors Alexis; Camougrand Nadine; Dokudovskaya Svetlana ; The SEACIT complex is involved in the maintenance of vacuole–mitochondria contact sites and controls mitophagy, Cellular and Molecular Life Sciences, 2019, 76: 1623-1640

Ma, Yinxing; Vassetzky, Yegor; Dokudovskaya, Svetlana ; mTORC1 pathway in DNA damage response, Biochimica et Biophysica Acta-Molecular Cell Research, 2018, 1865(9): 1293

Ma, Yinxing; Silveri, Licia; LaCava, John; Dokudovskaya, Svetlana ; Tumor suppressor NPRL2 induces ROS production and DNA damage response, Scientific Reports, 2017, 7(1): 0-15311

Anna Karpukhina; Ivan Galkin; Yinxing Ma; Carla Dib; Roman Zinovkin; Olga Pletjushkina; Boris Chernyak; Ekaterina Popova; Yegor Vassetzky ; Analysis of genes regulated by DUX4 via oxidative stress reveals potential therapeutic targets for treatment of facioscapulohumeral dystrophy,Redox Biology, 2021, 43: 2213-2317

Li, Bo; Liang, Jinxia; Lu, Feng; Zeng, Guandi; Zhang, Jindao; Ma, Yinxing; Liu, Peng; Wang, Qin; Zhou, Qian; Chen, Liang ; Discovery of Novel Inhibitor for WNT/β-Catenin Pathway by Tankyrase 1/2 Structure-Based Virtual Screening, Molecules, 2020, 25(7): 0-1680